Premier League title looks increasingly unlikely for Man City on current form
In the aftermath of Manchester City's 3-1 home defeat to Leicester on Saturday, many of the home fans will have comforted themselves with the knowledge that the 2015-16 Premier League season is far from over. The result knocked the home side out of second place and down into fourth in the table, opening up a six-point gap between themselves and their opponents.
With 13 more matches to play, there's plenty of time for Manuel Pellegrini's team to claw back that deficit and overhaul all of their fellow title-challengers -- it's something the manager hasn't been quiet about in his press conferences, either, when asked if the team are under pressure.
"We have to play another 13 games more, so we have a lot of points to continue fighting [for]. I don't think you can know who will [win] the title at this moment."
Those words, coming straight after Saturday's defeat, were inevitable in their predictability but it's impossible not to feel like they're said with hope rather than expectation. Pellegrini is banking on an end to the season that would be against the grain for everything that's gone before it. Leicester have been the most consistent and have played the best football all year. City, meanwhile, have been in patchy form and have failed to put any sequence of results together in the league.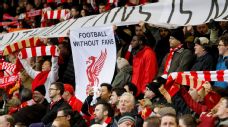 The earliest they can now win back-to-back Premier League games for the first time since the middle of October is March 2, roughly five months after doing so against Newcastle and Bournemouth. To do that, they would have to beat Tottenham at the Etihad and Liverpool at Anfield; it's entirely conceivable that they'll need to wait until mid-March when they face Aston Villa and Norwich instead.
A team that goes five months without winning consecutive league games, regardless of injury problems or misfortune, does not have any cause to complain when their title ambitions go unfulfilled. If anything, should City go on to take the crown from here, it will reflect worse on the rest of their challengers. They're a side currently devoid of confidence and direction, if not talent.
The comebacks the club has made in the past have little bearing, too. Roberto Mancini's City famously overhauled an eight-point deficit to Manchester United with only six matches of the campaign remaining in 2012. Pellegrini inspired his side to hunt down Liverpool's seven-point lead following the 3-2 loss at Anfield in 2014. Yet in both of these seasons, it was a blip in form that saw the team fall behind -- and, for the most part, they had been performing exceptionally and building runs of victories. It's different in 2015-16: City's sequence of five wins at the beginning of the campaign that stands out as the anomaly.
In each of the previous title wins, many would have backed the club to beat their rivals in big games. Mancini masterminded the 1-0 victory over Manchester United in the third-last game of the season to retake top spot in 2012. Two years later, Pellegrini's record against the eventual top six was pretty good, even if the away form let him down a little. In stark contrast, the Chilean is still yet to beat any of the current top six in the Premier League in seven attempts this season, drawing three times and losing four.
There seems to be little confidence in this team when they come up against a challenge -- Liverpool, Tottenham, Leicester and, to an extent, Stoke have all humiliated City. With each defeat, the team has looked more fragile and shell-shocked than before.
Pellegrini is right that his side have 36 more points to play for, and he's correct that there is plenty of time for Leicester to collapse under the pressure of becoming favourites. But where is the evidence that his team can take advantage should it happen? It's not been forthcoming for five months.
The Chilean has handled the switch-over between himself and Pep Guardiola with great dignity, but those questioning why the club are changing managers need only to look at this season's record. With the depth in squad Pellegrini has at his disposal, the injuries he's suffered shouldn't have had the impact it has done. In short, they've clearly under-performed.
City might still be in four competitions, but that's the bare minimum expected at this stage in the season. They're only deep into the League Cup; the Premier League is never won in February, they've only played two rounds of the FA Cup and it's a failure of a European campaign if they don't qualify from the group into a knockout phase that's not yet underway.
Things have become stale at the Etihad and need freshening up. The team might have cut bigger points deficits in a shorter time frame in the past to win the league but it will be a huge surprise if they manage it this season. Whether the announcement that Guardiola will take over is undermining Pellegrini for the final few months is irrelevant -- City haven't looked like potential champions on a consistent basis for nearly a year and a half.
David Mooney is ESPN FC's Manchester City blogger. Twitter: @DavidMooney