Manuel Pellegrini deserves thanks from Manchester City supporters
News that a well-dressed man in Bavaria is due in Manchester this summer has set the tongues wagging across the football world. Without buying a single player, Manchester City have taken over transfer deadline day with their own version of Blue Munich.
Spare a thought in the midst of this clamour for Manuel Pellegrini, in the throes of a brave attempt to close his three-year City career with every trophy on offer to the club. There are shades of Pep Guardiola's own arrival at Bayern, when Jupp Heynckes, long destined for the football retirement home, cleared the board in 2012-13 with a fantastic Bundesliga, Pokal and Champions League Treble after his successor had been announced -- in a carbon copy of what has happened in Manchester -- on the previous Jan. 16.
Nobody in their right mind would begrudge the Chilean the same kind of loud fanfare Heynckes received as he leaves the Etihad touchline for the final time next May. With Arsenal due in Manchester for the last home game of the season, it could well be quite an emotional occasion.
The early announcement allows for all that speculation to dissipate, leaving City and Pellegrini to concentrate on making the very best effort possible at finishing the 2015-16 season as successfully as they can.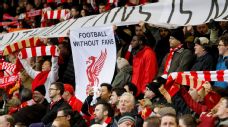 For those claiming Pellegrini is a lame duck, there are two ways of viewing his last months in charge: Rewarded for his efforts with a one-year extension to his original contract, he has been shown great respect by the club in tricky circumstances, regularly updated on all procedures to entice Guardiola to Manchester and given a golden handshake of that extra year that he will not now need to fulfill. Pellegrini himself has made no qualms of the fact that he has been kept in the loop at all times.
The other response is that, if he is a lame duck, he has been so for some time. The open secret of Guardiola's decision to opt for City has -- despite the best efforts of some sections of the tabloid press in the UK -- actually been a fait accompli for some months.
Lame duck or not, what Pellegrini must now guard against is a feeling of "waiting for Pep" to filter through to his playing squad. They will be made well aware that they have not yet won anything this season and that the pressure is on to do so. Going through the motions when all avenues of success are still very much open does not appear to be an option under the Chilean.
He has always striven to distance himself from the idle chatter and neverending debate that the rest of the football world so enjoys and will no doubt continue to concentrate on the huge job in hand: to wrest the title away from Arsenal, Leicester and Tottenham, to grasp the two domestic cups and to go as far as possible in the Champions League.
While not the most media-adept manager City have ever had -- showbiz types with more words than actions often seemed to show up at this club to little effect in the past -- Pellegrini has the respect of the vast majority of the City faithful. He has imbued the squad with a fast, attractive one-touch passing game that his successor will not be unfamiliar with. His first season featured such an avalanche of attacking football, most City supporters thought they had passed away and gone to heaven. Not since the go-go days of Kevin Keegan had the locals been so royally entertained.
The difference now was that this taciturn ex-centre-back from South America was making the delightful football win things for the club as well. A league title and a Capital One Cup in his first season sent his reputation into orbit. A blank season of stuttering failure brought out a more pale-faced and tight-lipped Pellegrini last season, but -- with the club's transfer restrictions lifted last summer -- he was allowed the influx of new blood his attacking plans merited.
There is little doubt, then, that the Chilean will leave City on the very best of terms, a dignified man leaving with songs of praise ringing in his ears. City fans love and respect a trier; they have long worshipped at the altar of open attacking football and they never forget those who have contributed so readily and so fully to the club's roll of honour.
In Manuel Pellegrini, they have enjoyed an individual, who -- despite his occasional tactical stubbornness and an unwillingness to make a song and dance of natural football occurrences for the cameras -- has devoted three unblinking years of concentration to the good of Manchester City. If he can manage to secure a trophy or two by season end, he will join the small elite group of Joe Mercer, Malcolm Allison and Roberto Mancini, who have been responsible for the club's most trophy-laden years.
For that, he must be respected, and thanked in equal measures.
Simon is one of ESPN FC's Manchester City bloggers. Follow him on Twitter @bifana_bifana.