Man City need goals vs. Everton to upset recent history
If there's one lesson that Manchester City should have learnt from their 0-0 draw with Everton earlier in January, it's that Roberto Martinez's team are perfectly capable of coming to the Etihad stadium and shutting up shop in Wednesday evening's League Cup semifinal second leg.
That's frustrating given how the Toffees seem happy to concede to every other team in the division -- that match was their only clean sheet in their last five Premier League games -- and it's even more annoying for City fans given that their side need to score at least twice inside 90 minutes in order to progress to the final. A 1-0 scoreline will only be enough after extra time.
Not many City supporters would expect their side to keep a shut-out for normal time, let alone 120 minutes given their recent propensity to be troubled by simple things like throw-ins. Indeed, the resistance Manuel Pellegrini's side put up to West Ham in their 2-2 draw on Saturday was pitiful at times.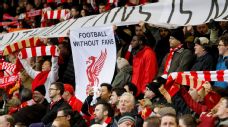 It doesn't bode well that they'll be up against a striker who has historically caused them problems. Romelu Lukaku may not have scored in his last three matches, but he had 12 goals in 12 fixtures before that, so the Belgian is hardly lacking in confidence at the moment.
The defence must have learned lessons, though. Neither Martin Demichelis nor Nicolas Otamendi are blessed with blistering pace and both were outdone by a swift Everton attack in the goalless draw earlier in January. The regular problems of positioning and concentration seemed to have been solved in a run of three consecutive clean sheets, but the defence were back to square one on Saturday evening.
Despite a strong start for Otamendi, there are still question marks over his style of play. He's increasing breaking ranks from the back line and getting caught out of position, while he has a tendency to dive in which is bordering on the reckless.
When it comes off, a challenge to steal possession can fire a team up and get the crowd going. When it doesn't, it can lead to gaps in behind, nerves in the stands, and potential yellow or red cards.
It does not help the defence that Pellegrini is keen to switch around personnel, too. Goalkeeper Joe Hart has been a figure of consistency, though the manager has previously said that his deputy, Willy Caballero, is the first-choice for the domestic cups.
The Argentine is yet to really impress in Manchester, having conceded 22 in his 15 appearances for the club so far. He's also looked nervous in dealing with crosses and hasn't filled the fans with confidence.
While Everton might take comfort in City's defensive frailties, surely Martinez's men must be concerned by the form that the strikeforce is beginning to play themselves into. During the goalless draw between these sides in the Premier League, City were a little stunted in attack -- Sergio Aguero was still finding his feet following his recent injury lay-off and a number of other players, the likes of David Silva or Kevin De Bruyne, didn't quite click.
Pellegrini knows he needs goals in the semifinal and with Aguero, who has five goals in his last three games, looking even better alongside a partner, it would be strange to see the Chilean opt against reshaping the team to a 4-4-2 system and starting with Kelechi Iheanacho. The youngster is showing signs of being able to bring the best out of the Argentine, with their performances bearing similarities to how Aguero linked up with Alvaro Negredo in the Spaniard's first months at Eastlands.
In the centre of the pitch, the supporters have been crying out for the manager to ease the pressure on Yaya Toure. Clearly, he's still an influential part of City's team -- but Pellegrini does rely on the Ivorian an awful lot. He's no longer the player he was when the Chilean joined, and he can't be expected to play a full much at high intensity twice a week.
With the return to fitness of Fernandinho and a much more settled Fabian Delph beginning to look impressive, it might be wise for Toure to begin the match on the bench. That would allow Pellegrini the option of giving the team a huge boost later in the match, but also a dynamic and more mobile midfield that should be better equipped to cope in a 4-4-2.
Since the takeover in 2008, City haven't won a two-legged tie that they've been trailing after the first fixture. It's going to be a tough evening's work for Pellegrini to prevent Everton adding their names to a list that includes the likes of Hamburg, Dynamo Kiev and Sporting Lisbon -- teams that have recently been to the Etihad in the lead in a tie and left having qualified for the next round.
David Mooney is ESPN FC's Manchester City blogger. Twitter: @DavidMooney