Kelechi Iheanacho needs Manchester City faith from Manuel Pellegrini
As Manchester City failed to find the breakthrough in Wednesday night's 0-0 draw with Everton, Kelechi Iheanacho spent the last 20 minutes trotting up and down the touchline in his tracksuit.
The Nigerian striker kept glancing in the direction of manager Manuel Pellegrini to see if he was being summoned to the pitch, but the nod never came. And seconds after inexplicably failing to give a penalty for John Stones' foul on Raheem Sterling, referee Roger East blew the final whistle with just one City substitute on the pitch.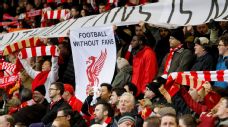 It was a frustrating night for everyone in the ground. Fans were frustrated -- particularly the thousands that missed the kickoff because of the traffic chaos in Manchester. The players and Pellegrini were frustrated at failing to find the goal their second half-dominance deserved, and Iheanacho must surely have been frustrated at not getting an opportunity to build on his impressive performance in the 3-0 FA Cup win at Norwich City just four days earlier.
The 19-year-old wouldn't admit to it -- he is a class act on and off the pitch, repeatedly talking about working hard, being patient for his opportunity and earning the trust of his manager. But it's not clear what he must now to do prove to his boss that he is ready, willing and more than able to play a major part.
Iheanacho has excited City fans ever since he first featured on the tour of the United States in summer 2014. He made his first appearance in a 4-1 friendly victory over Sporting Kansas and capped a fine debut with a delightful side-foot goal.
It was a calm and classy finish and showcased Iheanacho's cool killer instinct when he gets a sight of goal. In fact, he was so unflustered at a surprise call-up to the first team on the preseason tour that he was the only City player to score in a penalty shootout against Liverpool at Yankee Stadium days later as Aleksandar Kolarov, Yaya Toure and Jesus Navas sent their spot-kicks flying to various spots around New York.
Iheanacho has lost none of his composure or quality 18 months on. He has five goals this season, averaging one every 61 minutes, and he showed he's not overawed by a big occasion when he instinctively met a loose ball to snatch a last-minute winner at Crystal Palace in September.
Iheanacho started the game against Norwich in the cup and smartly side-footed in City's second as the Canaries were clinically swept aside.
The teenager also impressed when he struck up an instant relationship with strike partner Sergio Aguero in the first game they started together. Freed from the pressure of being the one in a 4-2-3-1, Aguero was able to roam -- picking up the ball from deep for a sensational solo goal on the way to his sharpest and best performance since his return from a heel injury. But the Argentine was back as a solo frontman for the Everton stalemate and found it tough to find space and opportunities without someone alongside him to shoulder the burden.
Pellegrini's decision to ditch the more attacking 4-4-2 is partly shaped by the absence of inspirational skipper Vincent Kompany. The Chilean's first season in charge was marked by a brilliant, free-flowing and carefree attitude that brought a glut of goals as they claimed the Premier League title. But in this topsy-turvy season when almost all of City's league rivals have seriously stepped up their quality, Pellegrini has opted for a more pragmatic approach. His side have produced four goalless draws already, compared two in his previous two seasons.
It has come at a cost to Iheanacho. He is behind Wilfried Bony in the pecking order and with just one striker starting, his opportunities are limited. But Bony's goalscoring and injury record are patchy since his £28 million move from Swansea last January, and Aguero must be gently nursed through a hectic schedule to save him from another injury setback.
Iheanacho is more than ready to play his part as City go for silverware on four fronts. Pellegrini has promised to give him more game time and must now give him his chance.
Jonathan is ESPN FC's Manchester City correspondent. Follow him on Twitter: @jonnysmiffy.