Manchester City's defensive woes make John Stones an ideal signing
With the transfer window upon us, here's a look at what to expect from Manchester City ...
Will Manuel Pellegrini be busy in the transfer market?
Some weeks ago, the answer to this would have been a resounding no. With heavy investment in Raheem Sterling, Kevin De Bruyne, Fabian Delph and Nicolas Otamendi completed, there seemed little need for more outlay.
That was then, but this is now. City have fallen prey to a rash of injuries this season unparallelled at any other Premier League club so far. They played without Vincent Kompany, David Silva and Sergio Aguero for long periods and those that have stayed fit now look jaded.
Everyone is well aware that this is not a good time to attempt to bolster a squad, with clubs unwilling to sell and prices inflated beyond normal levels. City's sole signing a year ago, Wilfried Bony from Swansea, is a case in point, arriving for £28 million and seldom impressing since.
With injured players beginning to return, it could be that City will soon be close to full strength again, but will Pellegrini want to take that risk? The first half of what could be a historic season for both club and embattled coach has been badly hampered. Those that have remained fit are now being overworked and have had little chance to recuperate.
City's heavy involvement on all four fronts suggests earlier predictions of inactivity may need to be revisited.
What do City need?
What the club needed in the summer was supplied: a solid reliable centre-half, a jet-fast wideman and an all-action midfielder-striker who had just been voted Bundesliga Player of the Year.
That Otamendi, Sterling and De Bruyne have all settled reasonably well is a sign that the club's scouting had been carried out accurately and properly. Now they must react in a different way, with little time and with holes to plug. Despite Otamendi's arrival, the defence still looks leaky. Eliaquim Mangala has been a resounding flop since his arrival from Porto and there is little patience to allow the Frenchman to continue on his error-strewn path.
Yet again, City are looking at the prospect of having to aim for a central defender. Having let Jason Denayer go on loan, Pellegrini has watched both Mangala and Martin Demichelis flounder and Kompany sit out great chunks of the season. It is a worrying and destabilising trend.
The Chilean will be keen to stop this from continuing to happen as the season gets serious. Interest in Lille winger Sofiane Boufal is also real, according to reports in France, with the scoring winger offering a possible alternative to City's non-scoring winger Jesus Navas, but he's more likely to end up at PSG.
Transfer targets
The much-coveted John Stones of Everton is a long-term target at Chelsea and the London club narrowly failed to get their man in the summer. Everton are traditionally tough trading partners for City, demanding high fees for Jack Rodwell and in particular Joleon Lescott in recent years.The fee for Stones would be astronomical.
Press reports have mentioned Sassuolo defender Sime Vrsaljko, but the Croatian plays at right-back and although Pablo Zabaleta's injury-dotted season has been tiresome, this is not the focal point of the side's problems.
Any thought that Yaya Toure´s limbs may be beginning to feel the strain will also have to wait until the summer, as his touted replacement, Paul Pogba of Juventus, is neither about to leave the Italian club at this stage, nor anywhere close to deciding just where he will play next. Andre Gomes, Valencia's Portuguese starlet, is also rumoured by some Italian sources to be of interest, but perhaps only if and when City's projected new manager is sorted.
City's reliance on Bony and the inexperienced Kelechi Iheanacho to cover for Aguero's long absences have also left them looking short of firepower up front, having offloaded Edin Dzeko and Stevan Jovetic in the summer. Again, big money reinforcements are unlikely at this stage, despite the need.
Ideal signing
There is wide belief that City's lack of a defensive leader in the shape of their captain Kompany has been costing too many goals and too many dropped points so far this season.
Stones brings a solidity and reliable level of consistency to Everton's back four that would come as a breath of fresh air to City fans used to watching a carnival of careless and dishevelled defending this season. He is mature, a solid reader of the game, strong and clean in the tackle and accurate in his distribution. Although highly unlikely to arrive, he would bring all the qualities that have been sadly missing up to now.
Teammate Ross Barkley has also been an on-and-off favourite of some newspapers to swap dark blue for sky blue. His ferocious midfield energy may be a replacement for Toure's flagging levels at some stage if City fail to land Pogba. However, it is hard to see Everton being willing to play ball on transfers with a side they must try to knock out of the League Cup semifinals to stand a chance of winning their first silverware in decades.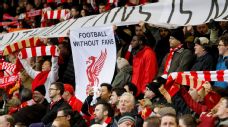 Exit door
With the injury situation as it is, Pellegrini is unlikely to allow any players to jump ship. For a squad considered the Premier League's strongest, his options in some quarters have been pretty restricted.
Having tried to follow the mantra of recruiting two equally gifted players for each position, it would be rash to start offloading. Having said that, if the right swap or player plus cash deal emerged, it would not be a surprise to see Bony or Mangala sacrificed. Demichelis also seems to have stayed on four months too long and may be released to return to his homeland earlier than was at first anticipated.
Although not at the top of the list of priorities, second-choice goalkeeper Willy Caballero has not impressed when given the chance and there may be some movement here too.
Simon is one of ESPN FC's Manchester City bloggers. Follow him on Twitter @bifana_bifana.