Liverpool must avoid letdown to stay in contention for spot in top four
Liverpool face Crystal Palace on Sunday after a good run of results has strengthened their challenge for a top-four place.
There will be confusion at Anfield with fans not knowing what to expect. The Reds might have beaten Palace in their past two meetings, but both were at Selhurst Park. The South Londoners have won on their past two trips to Anfield.

Liverpool

Crystal Palace
Game Details
One was an ignominious 3-1 defeat when fans were bidding farewell to Steven Gerrard, soon to leave for the LA Galaxy. Liverpool's best servant of the modern era certainly wouldn't have wanted to go out on such a low.
Palace also gave Jurgen Klopp his first defeat as Liverpool manager, so there's plenty to be concerned about. That's before anyone mentions the return of Christian Benteke. The big Belgian striker was not a success at Anfield, although given one season and playing for two coaches who hardly regarded him as suiting their style certainly didn't help.
As an Aston Villa striker, Benteke was unbeaten at Anfield, on the winning side twice and responsible for most of the damage inflicted by Paul Lambert's teams. Some people just have lucky grounds, and the irony is that Benteke would certainly consider Anfield one -- were it not for his one year in Liverpool red.
These facts are often glossed over as mere superstition by those who worship Liverpool unconditionally. Those who know how irrational football can be will be keeping a close watch on the big forward -- probably through their fingers.
It certainly isn't reassuring that Klopp said at a news conference that Joel Matip hadn't trained leading up to the fixture. Benteke will probably be the responsibility of Dejan Lovren anyway, but the two centre-halves together have been something of a lucky charm for the Reds, avoiding defeat each time they've paired up.
Simply avoiding defeat isn't an option for Liverpool on Sunday, though. Winning home games against teams looking over their shoulders at the relegation zone ought not to be a concern, yet Liverpool's last home game -- a 2-2 draw with Bournemouth -- says all you need to know about the Merseyside club's bizarre season.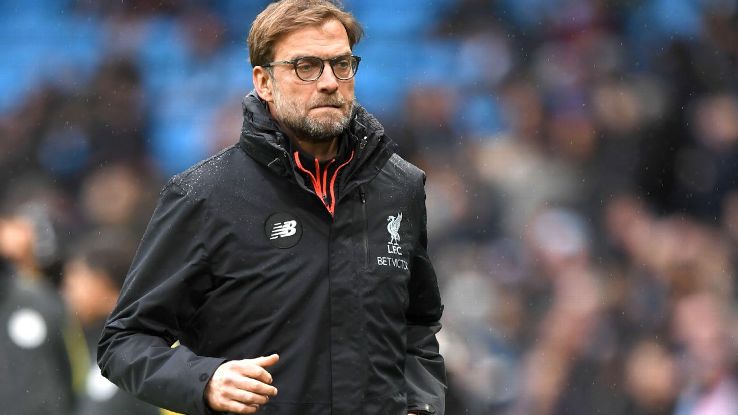 Palace boss Sam Allardyce doesn't have a great record at Anfield. All the problems his Bolton team caused the Reds were at the Reebok Stadium. He didn't last long enough at Newcastle to reach Anfield, suffered a 4-0 walloping with Blackburn and two defeats with West Ham.
His last visit with Sunderland looked to be equally forlorn at 2-0 when a walkout protest by some fans about ticket prices seemed to unnerve Liverpool, so much so that Sunderland walked out themselves with a point.
Mamadou Sakho has done a great job at Selhurst Park in his loan spell, so his absence is bound to affect Palace. They will work hard and try to contain like any Allardyce team would, but players like Benteke, Wilfried Zaha and Yohan Cabaye can hurt you back. It will be an intriguing game.
It gives Liverpool a chance to fortify third place in the Premier League. Most of their other challengers are on FA Cup duty at the weekend, except Manchester United, who face a tricky match at Burnley.
Sean Dyche's men might be awful on their travels, but their home form is taking them to midtable safety and now Jose Mourinho finds himself ensnared in a fixture overload. With the Europa League semifinal and trips to Manchester City and Arsenal coming up, one of Klopp's rivals for top four finds himself in a tricky situation.
Klopp has his own problems though. One game a week has not given his squad immunity from injuries, and Liverpool's squad was already thinning rapidly before this week's setbacks.
This might well be Klopp trying a few mind games, giving the impression of a tired side that then races out of the traps and surprises its opponent. There were certainly no signs of tiredness or complacency at West Brom, where Liverpool's only problem was inadequate finishing and not getting the job done long before the final whistle.
A lot of players in Europe won't be training as hard now as they were in August. That's the nature of modern football. The spring weeks are spent recuperating from the previous game's efforts, and most clubs are just looking to get their season finished with as little damage as possible.
When Liverpool have turned it on this season few have been able to live with them. By the end of April, all that's really required is to get the result and scrape your way to the required points, however you get them.
Style gives way to substance for now. A lack of backbone and discipline is something Liverpool have been criticised for in recent years. Sunday, like the trips to Stoke and West Brom, is merely about the result, and supporters hope it will be a similar outcome for the Reds.
Steven Kelly is one of ESPN FC's Liverpool bloggers. Follow him on Twitter @SteKelly198586.