Torres won trophies at Chelsea, but he could have been a true Liverpool great
Fernando Torres has opened up about his controversial departure from Liverpool, feeling he was unfairly portrayed as a "traitor" when he joined Chelsea for £50 million in January 2011. But how will the Spanish striker look back on his decision to leave Anfield?
The frontman endured a difficult spell with Liverpool's Premier League rivals at Stamford Bridge, but he also achieved some success in his three-season stay.
Here is a list of pros and cons of Torres' Liverpool exit:
Pros
He won trophies
Torres left his boyhood club Atletico Madrid for Liverpool in 2007, believing it to be the next big step in his career. The striker was attracted by the prospect of becoming an integral member of Rafael Benitez's successful Liverpool side at the time and hoped that trophies would eventually follow.
He joined Liverpool the summer after the club's second Champions League final appearance in three seasons and it seemed like the era of success would continue. But by the time he left the Reds in January 2011, they were a club on a massive decline and had not won a trophy since 2006. At 27, Torres felt time was running out in his quest for honours and decided he would have to move elsewhere to achieve those aims. Chelsea came calling and he signed on the dotted line.
Regardless of the stats and overall quality of play for the London club, Torres earned Champions League (2012), Europa League (2013) and FA Cup (2012) winners' medals -- exactly what he set out to achieve.
He's right about Liverpool
In a new book to be released later this month, Torres proclaims that Liverpool are "around the same position in the league as when I left" and he's correct. The Reds have finished in the top four just once in the past seven seasons -- hovering between sixth and eighth -- and have lifted just one trophy in that period: the 2012 League Cup.
Torres' brilliance alone would have perhaps been enough to improve Liverpool's success in that period, but he could see that the Merseyside club were not going to reclaim their status as a European powerhouse any time soon. Time was not on his side.
Time heals everything
While his departure will have prevented him from being perceived as a club great in the eyes of many Liverpool supporters, Kopites still hold Torres firmly in their hearts. The breakup may have cut deep at first but, as with everything, time heals old wounds. His recent return to Anfield proved as much.
When Torres first returned to his old stomping ground in royal blue, the reaction was far from pleasant. But, with a few years to cool off, the Kop serenaded Torres during Steven Gerrard and Jamie Carragher's charity match at Anfield in March 2015, with Torres initially unsure of the reaction he would receive.
"It was just very emotional," Torres said afterward. "Everybody knows Liverpool fans are different class and for me today it is one of those things you can only dream about. It is just amazing to be able to be here and I just want to thank everybody for the welcome."
Cons
He was never the same striker
Torres did not turn out to be a £50 million player at Chelsea and the warning signs were evident from an early stage. It took him 14 appearances to find the back of the net for his new club and not many more would follow.
There were suggestions that he was not the same lethal striker towards the end of his time at Liverpool due to the wear and tear of a number of injuries. It could be argued that Torres was the most affected by Tom Hicks and George Gillett's disastrous ownership of Liverpool, as manager Rafael Benitez relied heavily upon the striker and did not have the funds available to purchase an adequate backup. He was often hurried back from the treatment table and that eventually took a toll.
In total, Torres made 172 appearances for Chelsea and scored 45 goals in all competitions. But when you compare those numbers to his record of 81 goals in 142 games at Liverpool, it's clear where he spent the prime of his career.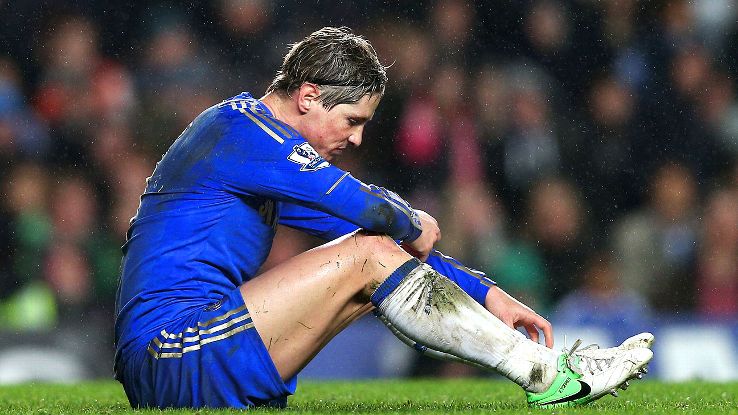 He never played in a team that featured Suarez and Gerrard
Jan. 31, 2011, was one of the craziest days in Liverpool Football Club history. Not only did Torres complete his move to Chelsea, the Reds also replaced him with the signings of Luis Suarez and Andy Carroll -- the latter for a club-record £36m fee.
Carroll's stint on Merseyside did not work out, but Suarez went on to become one of the best players in the world in his three and a half years with the club.
At Liverpool, Torres had a telepathic relationship with Steven Gerrard on the pitch. The skipper would create chances that the No. 9 would finish almost effortlessly with great frequency. Throw Suarez's skill and creativity into that mix and you do wonder just how devastating the trio could have been.
He could have been one of the true Liverpool greats
Torres was absolutely adored on the Anfield terraces and, had he continued at the same goal-scoring rate, he would have been well on his way to sitting alongside the true greats in supporters' eyes and Liverpool folklore. He reached the 50 league goal mark faster than any player in club history, enough to earn him a status as a fan favourite at Anfield -- a connection that was absent during his time in the capital.
In a fan poll on Liverpool's greatest players in history run on the club's official website back in 2013, Torres was listed ninth behind the likes of Suarez, Ian Rush and Robbie Fowler. His standing among that collection of players is still impressive, given it was only a few years after he broke the hearts of the fans that were voting. But there is a strong argument to suggest that if he had stayed he could have featured even higher on that list.
Glenn is ESPN FC's Liverpool correspondent. You can follow him on Twitter: @GlennPrice94.