Benteke flops again but Sturridge or Firmino could offer Belgian a reprieve
Liverpool exited the FA Cup on Tuesday at the hands of West Ham and in Christian Benteke's case, it was another night of proof for those who never believed he would fit in.
Though given the Reds have struggled with form all season and flattered to deceive in most matches, others would say he has been a perfect fit.
Liverpool's frailty at the back -- Angelo Ogbonna's winner in extra time came via a set piece, yet again -- would normally have dominated postmatch discussion but Benteke's misses preyed on most minds instead. That's rather convenient for some, including Jordon Ibe, who is now routinely poor.
One renowned Liverpool website speculated on whether this game would tip Jurgen Klopp over the edge and end the Belgian's Liverpool career once and for all, while Dave Usher claimed Tuesday night was possibly Benteke's best Liverpool performance -- while still giving him just 5/10.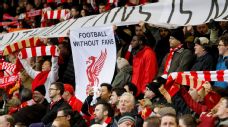 Yet although there were glaring misses and some of the same frustrations from previous games, there was something on the night that sparked a fragment of promise: Daniel Sturridge. The striker was easily the most gifted individual on the field. Benteke and Sturridge have barely played together before but in those 75 minutes, there may be a seed of something that could grow in the future.
Benteke's £32.5 million acquisition never looked suitable from the opening game of the season, a 1-0 win at Stoke, where Liverpool launched the ball too quickly to the one player isolated up front. There has been lots of sympathy, similar to that given to another Reds misfit in Mario Balotelli. A struggling side meshed to what initially appeared an ill-fitting striker seemed a recipe for chaos and so it proved.
Strikers have to play even when their game is not fully functional, though. A huge fixture pile-up comes with the obligatory rotation, which deems a permanent selection virtually impossible, but it disrupts rhythm and has been troubling for other recent signings.
They may simply be not good enough either but it is fair to say circumstances haven't helped. Even on Tuesday, fans looked forward to a side with Benteke and Sturridge up front with Philippe Coutinho just behind them, but Klopp decided the Brazilian's intriguing hour of football -- with a free-kick equaliser the highlight -- was enough for a player just back from injury.
People are critical of Benteke and rightly so but judging a footballer when he has never played in Liverpool's strongest team is unfair and premature. Others say that he should be able to rise above the chaos, but every footballer needs the proper setting.
Most coaches seem reluctant to pick two out-and-out strikers, yet Liverpool enjoyed a stunning 2013-14 campaign with Sturridge and Luis Suarez in attack. But this current Liverpool side does not have a strong enough midfield to support those further forward, never mind the question marks over the attack. Coutinho and Roberto Firmino are better going forward, Adam Lallana has never been able to fit in, James Milner works hard but lacks creativity and Lucas Leiva was always defensively sound but poor going forward.
The tendency to pack midfield, then, has impacted on Liverpool so much they have often played with no strikers at all. It's therefore no wonder that Benteke flounders in such an environment.
Klopp's continued defence of the Belgian appears to many as bluff; upbeat talk than ensures an expensive asset won't depreciate so much he can't be sold later on.
There's the possibility he also sees, admittedly in fragments, a player who on his day is almost impossible to stop. Benteke was exceptional even in a struggling Aston Villa side and also scored one of the goals of the season at Manchester United last September, albeit in a 3-1 defeat.
But whatever the problems, there were signs of good link-up play with Sturridge at times on Tuesday and a slender chance of that leading to something fruitful in the future.
Because of his ongoing injury concerns or rumours of him wanting to leave, many fans have discounted Sturridge as part of Liverpool's revival under Klopp. If that was the case, it still doesn't stop Klopp trying out a Firmino/Benteke partnership.
The Brazilian just won an award for his January performances and has scored five league goals so far this calendar year.
Both he and Benteke cost a substantial amount of money and it seems unlikely Liverpool will write off either. Perhaps the solution to the Belgian's shortcomings all season has been there all along -- it just hasn't been tried until now.
Steven Kelly is one of ESPN FC's Liverpool bloggers. Follow him on Twitter @SteKelly198586.