Message to Jurgen Klopp: Less grinning, more winning at Liverpool
When is the Jurgen Klopp effect going to kick in? Not the feel-good, fan-friendly cuddlefest that Anfield has delighted in since the German arrived in October. The Liverpool manager's honeymoon seems endless, but sometime soon he needs to accumulate some cold hard points. A victory against Leicester City this week would be a step in the right direction.
Brendan Rodgers was sacked after eight Premier League games this season. He had a mere three wins and 12 disappointing points under his belt. Klopp has overseen 15 games since, has won six league games and accumulated 22 points.
In starkest terms, Rodgers took 1.5 points per game, Klopp 1.46.
Liverpool have reached the League Cup final -- rather unconvincingly -- and remain in the FA Cup after the 0-0 draw with West Ham United. Yet if the only Premier League "bounce" engendered by Klopp was the 4-1 victory away to Manchester City and the 3-1 win over Chelsea at Stamford Bridge, then Liverpool need to worry.
The most concerning thing is there is very little pattern to the team's play. Last season, with almost the same group of players, Rodgers managed to eke out a 13-game unbeaten league run. It was a truly underwhelming sequence but the former manager was able to organize the lacklustre squad into a semblance of competitiveness.
His successor has not shown many signs of developing any sort of consistency. The gegenpressing of Borussia Dortmund has seen little deployment. Sure, the squad is not suited to such a technique but Klopp has not shown he has much else in his tactical bag of tricks.
The Liverpool manager's failure to get the best out of Christian Benteke is worrying. The striker is a proven top-flight goal scorer. In 109 Premier League appearances, he has scored 48 goals. Under Klopp, he looks lost.
During his spell at Aston Villa, the forward had a reputation for being distracted easily and losing concentration when not involved in the game. He appeared to be the sort of player who would be suited to the new manager's inspirational style. Benteke has been neither inspired nor directed into a more productive way of playing.
Is it wrong to expect Klopp to have had a more profound influence on underperforming players? Not give his reputation.
Against West Ham, the Liverpool manager played a young, relatively inexperienced side. There was merit in this. Klopp needs to take a look at the entire playing staff in competitive action before the season ends and he begins to reshape his squad. The youthful team had the better of the game and might have won, but at crucial moments they looked disorganized and allowed their opponents time and space on the ball. There were promising flashes of ability from Brad Smith, Cameron Brannagan, Kevin Stewart and Joao Teixeira -- none of whom had started a Premier League game -- but there was little pattern to the play.
After complaining about the number of games his team play at this time of year, Klopp ended up with a replay. Moaning about fixture congestion has little upside. It will change nothing and hands the players a chance to plead tiredness. This is a squad that stopped playing for Rodgers. They do not need excuses.
There did not appear to have been a lot of thought going into the match. Still, at least the Anfield crowd got to see Steven Caulker, on loan from Queens Park Rangers, in his natural position in defence. On his previous appearances in a red shirt Caulker had been deployed as an auxiliary centre-forward. Even Rodgers, a pioneer in positional chicanery, would have baulked at such a move.
The game against Leicester on Boxing Day has been one of the high points of Klopp's short tenure. Claudio Ranieri's team came to Anfield with a head of steam but found themselves out-thought and outplayed. Liverpool pressed their rivals in unexpected areas and neutralised Leicester's system comfortably. If they can do the same at the King Power Stadium, it will give the squad confidence.
Things need to get better quickly. It is no excuse to say that this is not Klopp's squad. It will take at least two summer transfer windows for the 48-year-old to put his stamp on the personnel. He was brought in to replace Rodgers because he is a better manager. At the moment, the upgrade is having little effect.
It is too early to write Klopp off, but he has been at Anfield long enough to be asked awkward questions about why things have not improved, though. His record at Dortmund and the chaotic nature of Liverpool's recruitment over the past three years means that Klopp will get plenty of time. But a little more coherence on the pitch would be welcome in the short term.
It would be nice to see less grinning and more winning from Klopp. Liverpool need more than charisma. A winning run starting at Leicester would be worth more than a thousand smiles and quips.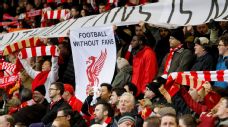 London is the capital of Premier League football
The last all-London FA Cup final was in 2002, when Arsenal beat Chelsea 2-0 at the Millennium Stadium in Cardiff. With all five Greater London Premier League clubs in the fifth-round draw, there has to be a good chance of two clubs from the capital meeting in the showpiece event in May for the first time at the new Wembley.
These are heady times for London with Arsenal challenging for the title, Tottenham Hotspur on the rise, West Ham and Watford in the top 10 and Crystal Palace within sight of a European spot. Chelsea will get better again, too, and who would put it past Guus Hiddink to take them deep into the Champions League knockout stages.
Three years ago people were calling Manchester the capital of football, but it looks like the balance of power in the Premier League is shifting south.
Winston Reid showing his value at West Ham
What a difference a year has made for Winston Reid. The West Ham United defender seemed to be on all the top clubs' wish-lists 12 months ago. Manchester United were sniffing round, Tottenham Hotspur seemed eager to sign him and Arsenal considered making a bid. With his contract coming to a close at Upton Park, potential suitors thought they could get him cheap.
Then, after seeming to suddenly drop off everyone's radar, the defender signed a long-term contract. He's had a difficult few months with injury and has had to fight for his place in Slaven Bilic's side, but Reid is showing why he was the object of so much attention last year.
West Ham must be delighted that none of their rivals forced the issue on a move last year.
Karl Robinson's FA Cup lesson
Karl Robinson is an impressive young manager. The MK Dons boss was positively glowing after his side's FA Cup tie against Chelsea, even though his team lost 5-1 in the fourth round. What lessons did he learn? "Don't win in the third round," he quipped. When asked about the overall experience, he was serious. "I loved it," he said. "Competing against the best."
Robinson's team was outmatched and over-run, but the glint in his eye suggested he's planning another tilt at the big boys soon. If the sheer joy of being involved in the game can take you to the top, the 35-year-old will reach the summit.
Tony Evans has been a sports journalist for more than 20 years. He writes for ESPN FC on the Premier League. Twitter: @tonyevans92a.