Spotlight is on Jurgen Klopp to address Liverpool's scoring woes
It's easy to lose sight of it in view of the continuing poor results, but there has been plenty to admire in Liverpool's play since Jurgen Klopp arrived at Anfield. Some of the football has been excellent, the shape of the team has improved massively and progress has certainly been made in many areas.
Unfortunately that progress has been frequently undermined by two significant flaws that Klopp has been unable to overcome; there is not enough goals in the team and they are repeatedly found wanting when it comes to defending set-plays, especially corners.
Liverpool could still be successful even with their vulnerability from set-pieces, but being unable to score goals is a handicap that is impossible to overcome. If you can't score goals then you can't win consistently. Of course there will be the occasional day when it clicks and the goals flow, such as last week's 3-3 draw with Arsenal and the 4-1 win at Manchester City in November, but those are the exceptions rather than the norm.
More often than not it's been a real grind for the Reds this season (and indeed last) as goals have been so hard to come by. Sunday's 1-0 home defeat to Manchester United was as predictable as it was painful for Kopites.
Klopp can only do so much with the players he has, and it appears he's doing about as much as it's possible to do without actually getting on the field and putting the ball in the back of the net himself. He has had an impact and the players have generally responded well to his tactics. Yet they are still languishing in the mid-table obscurity that previous manager Brendan Rodgers left them in, and the reason for that is their inability to convert chances.
Liverpool are second in terms of the amount of chances they've created this season. They are also second in the amount of shots they've had. This shows that they must be doing some things right and that Klopp's tactics and style of play are frequently putting them in position to threaten the opposition goal. However, they are 19th in "chance conversion" at just 10.3%. In layman's terms, they need 10 chances to score.
This is not down to bad luck or players just being in a barren spell. It's who they are and there's not really anything Klopp can do to change that. Things have become so desperate that in the last couple of games he's resorted to using on-loan centre-back Steven Caulker as a makeshift striker just for the nuisance value he might provide in the air. Desperate times call for desperate measures, and Liverpool are becoming increasingly desperate by the week now.
The defenders rarely score, the midfielders are only marginally more dangerous, the attacking midfielders have been a massive disappointment and Liverpool's problems up front are well documented.
It's not all doom and gloom though and a complete overhaul is not needed. Two players who can find the net regularly could completely transform Liverpool's fortunes. Some may feel that he Merseysiders are a million miles away, and without the right additions that's probably true, yet performances do suggest that they are at least on the right track under Klopp. They just need one or two attacking players who can convert the numerous chances that are being created.
That's all it would take to be challenging the Premier League's current title aspirants. Leicester City are currently second only on goal difference to leaders Arsenal because they have Jamie Vardy and Riyad Mahrez consistently banging in goals. How many other Leicester players would get anywhere near the Liverpool side, let alone any of the genuine contenders? Not too many, yet Leicester are flying high because they've got goals in their team. Liverpool need to find their own Vardy and Mahrez. If they could do that, then many of the players who are coming in for such heavy criticism now would perhaps be viewed in a different light, as they were two years ago when the Reds went so close to the title.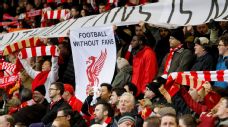 More often than not the performances are encouraging and Liverpool are rarely outplayed. It happens occasionally of course; defeats at Newcastle, Watford and West Ham were well deserved as the Reds never got going in any of those games. They were poor in a 1-0 win at Sunderland too, but mostly they are playing relatively well and have usually been undone by failing to take their chances. That can be fixed, but the solution to their problems is not on the current playing staff, not unless you still count Daniel Sturridge, and you really shouldn't.
While the England man is as good a goalscorer as you're likely to find on these shores, he can't even put together a run of training sessions, let alone a run of games. Liverpool have to proceed as though he doesn't even exist, because for all intents and purposes he doesn't. The only impression he's making these days is on the club's wage bill, where he's been accounting for a whopping £150,000 a week since signing a contract extension in October 2014.
Christian Benteke can score goals but he can't solve Liverpool's problems when he's not in the starting lineup. He's found himself on bench duty because when he's not scoring he doesn't contribute much else. His style doesn't appear to mesh with Klopp's and despite the club's dire need for a reliable goalscorer, he's recently found himself out in the cold. It's a difficult situation for Klopp because the Belgian is the only consistent scorer he has available to him, but the team doesn't function anywhere near as well when he's in it.
There's a strong argument that Klopp needs to just persevere with Benteke as he's the most likely source of goals at the German's disposal, but that argument has been weakened every time Benteke has set foot on the field recently. Liverpool's football is far more fluid with Roberto Firmino leading the line, but three league goals in 19 appearances for the Brazilian tells its own story.
For all his struggles Benteke has managed double that amount. Neither is the answer -- despite the pair costing in excess of £60m combined -- but with the transfer window open for another couple of weeks the opportunity is at least there for Klopp to address the lack of goals.
If the Reds still have any serious ambitions about reaching the top four this year then they simply have to sign someone who can help boost their pitiful goal tally of just 25 from 22 games. Finding a 30-goal a season striker in this transfer window is of course going to be virtually impossible, but improving on what they have really should not be too difficult, as the bar has been set incredibly low by this current group of players. A striker should be the priority, but anybody who is likely to add goals should be looked at. For example, a central midfielder or a wide player who can weigh in with double figures would make an enormous difference to this side too.
The right signing or two this month could give Liverpool the impetus to kick on and finish the season strongly, whereas inaction will surely see more of the same; lots of effort, some nice football, but not enough goals in the team for them to consistently win football matches. Klopp knows who this group of players are now, the only question is whether he waits until the summer to address the issues or if he acts now.
The next two weeks will show just how serious Liverpool are as a club about the rest of this season.
Dave Usher is one of ESPN FC's Liverpool bloggers. Follow him on Twitter: @theliverpoolway.