Liverpool's inconsistency is Jurgen Klopp's biggest challenge
Liverpool's spritely showing in a hugely entertaining 3-3 draw with Arsenal on Wednesday night provided the latest evidence of the Reds' ability to go toe-to-toe with the biggest teams. Liverpool have only managed a paltry 25 Premier League goals this season, and 10 of those have come in three games against Chelsea, Manchester City and Arsenal. Significantly, in the other 18 Premier League games they've managed just 15 goals.
It's an alarming statistic but it demonstrates just how suited manager Jurgen Klopp's style is to playing against teams who want to play football and build from the back. Southampton also play that way and they were hit for six in the Capital One Cup, But when Liverpool have come up against opponents who are happy to just bypass midfield and make it impossible for them to execute their high pressing style, they've rarely been able to function anywhere near as effectively.
Arsenal of course rarely change their style for anybody, but the frenetic pressing from Liverpool in the opening stages forced them to hit it long to Olivier Giroud far more than they normally would. It goes against Arsenal's natural style though and when they did revert to type, Liverpool had success putting them under pressure in their own half of the field, and it made for a hugely exciting spectacle.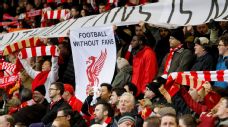 Sunday's opponents, Manchester United, are more of an unknown quantity though. United have been cagey for most of the season and have come under heavy criticism from their own supporters for being too conservative, especially at Old Trafford. There's a lot of possession football but not a great deal of attacking flair, other than when the lively Anthony Martial is on the ball. Much of United's football this season has been uninspiring -- some would even say dull -- but that changed this week when they were much more adventurous in an entertaining 3-3 draw away at Newcastle.
So which United will roll up at Anfield on Sunday? United boss Louis van Gaal will surely know that taking the game to Liverpool plays right into Klopp's hands, therefore it's far more likely that United will sit deep and defend in numbers while waiting for the inevitable chance they'll get on the counterattack or from a corner, which is almost as good as a penalty against Liverpool these days.
Joe Allen's last minute equaliser against the Gunners should see the Merseysiders going into Sunday's game with confidence, but the key now is to build on the good attacking play they showed against Arsene Wenger's side and ensure they can carry that momentum into the rest of the season. It's by no means certain they will though.
For as well as Liverpool played for long spells against Arsenal, we didn't really learn anything new, other than that perhaps Roberto Firmino may have finally found his feet. Even then it would be foolish to read too much into the Brazilian's dazzling display on Wednesday night, as he also ran Manchester City ragged a couple of months ago, only to then do absolutely nothing in the weeks that followed. His talent isn't in question and he's shown what he can do on the big stage, but the real test is whether he can now produce it consistently. Sunday's game is a significant one for him as he needs to build on his excellent showing against the Gunners.
Indeed, much of Liverpool's hopes for the remainder of the season rest on Firmino's shoulders now. Injury-plagued Daniel Sturridge appears to be a completely lost cause while Christian Benteke continues to struggle to adapt to Liverpool's style, and vice versa. The lack of goals is the biggest reason why the Reds are a lowly ninth in the table. But it's not all doom and gloom as they are just one step away from a Wembley appearance in the Capital One Cup, still in the FA Cup and have just about advanced to the knockout stages of the Europa League. And despite so many disappointing results in the Premier League they are still only five points off a top four spot.
There's an awful lot still to play for, but if Klopp's men are to achieve anything then someone is going to have to start finding the net regularly. After his excellent showing against Arsenal, Firmino looks to be the man most likely, so Liverpool simply cannot afford for him to go back into his shell in the manner he did after the City game.
Other than Firmino's encouraging performance, much of what Kopites witnessed on Wednesday night had an all too familiar feel about it. An unconvincing display from goalkeeper Simon Mignolet and yet another awful goal conceded from a corner kick undermined much of the good work at the other end. It must be a source of huge frustration for Klopp than when the defence and goalkeeper perform well, it's the attack that doesn't get the job done. Yet when the forward line finally gets it together, it falls apart at the other end.
Overall, though, the Arsenal game has to be seen as a step forward for the Reds as not only did they perform well and outplay the league leaders for long periods of the game, but they also showed character to keep battling away and eventually come from behind to force that late equaliser. More of the same is required on Sunday, but until Liverpool can find a way to repeat that level of performance in the less glamorous games, they'll not be making a charge up the table any time soon. That's the biggest challenge facing Klopp between now and May.
Dave Usher is one of ESPN FC's Liverpool bloggers. Follow him on Twitter: @theliverpoolway.