Is Christian Benteke good enough for Liverpool under Jurgen Klopp?
Accepted wisdom can change incredibly quickly, especially when it comes to transfers. Over the summer, when Liverpool bought Christian Benteke for £32.5 million, the price might have seemed high, but there were very few questions about the player they were getting. Benteke was a skilled finisher with both his feet and his head as well as a physically gifted player, big and strong enough to hold the ball up, and fast enough to run in behind defenses.
It's been a rough six months for Benteke, though. He has only six goals to his name so far this season, and everybody's thinking has changed. He's no longer a well-rounded striker; instead, he's an obvious stylistic mismatch, who might have struggled to fit in under previous manager Brendan Rodgers and will be woefully out of place with the even more energetic style instituted by Jurgen Klopp. So, what happened?
The first thing to note is that Benteke's overall production hasn't actually dropped off all that much. Last season at Aston Villa, he was scoring 0.46 goals per 90 minutes on the field. This season at Liverpool, he's scoring 0.44, a scoring rate that puts him at 10th in the league this season (among players who have played more than 900 minutes). He's generating a high number of shots 3.06 per 90 this season (the second-highest of his career), up from 2.83 last season. At least from an output standpoint, he is exactly what he has always been in the attack.
The problem is that Benteke's production looks very different in the context of Liverpool than in the context of Aston Villa. At Villa, those 2.83 shots per game were 26 percent of the team's total while Benteke was on the field, the sixth-highest load of any player with at least 1,800 minutes. Yes, he's shooting more at Liverpool, but he's taking a lower percentage of his team's shots, only 21 percent, a steep drop-off that puts him way down the league in 28th place among players with 900 minutes or more of playing time.
So while he may be shooting more than he did at Aston Villa, he's not shooting enough to keep him from seeming lost in Liverpool's attack. The trend is even more noticeable when it comes to Benteke's overall involvement. Last year at Villa, he averaged 5.45 touches per 90 minutes in the penalty area, a whopping 34.4 percent of his team's total penalty-area touches with him on the field. That figure led the league in 2014-15. This year the touches are up to 6.62, but the percentage is down to 25.7 percent.
That might not be a bad thing if his mere presence was helping Liverpool generate good shots in other ways. But Liverpool don't do that. They are one of the most prolific shooting teams in the Premier League; only Manchester City has taken more shots than Liverpool's 324. But they're only eighth in expected goals at 29.06. It's not as if defenses are reacting to the threat of Benteke, which in turn opens up prime opportunities for the likes of Philippe Coutinho, Roberto Firmino and Adam Lallana. Rather, the rotating cast of attackers who play alongside Benteke are letting fly from hither, thither and yon, and not getting any benefit from the goal scorer in front of them. And Benteke is seeing just about as much of the ball as he did with Villa despite playing for a Liverpool team that spend a lot more time in their opponent's half.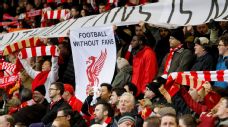 While Benteke was stranded on moribund Villa teams, the question was always: What could he do with a good team around him? The concern now is that the answer to that question is: the same thing he did at Aston Villa. It's possible that Benteke's skill set is conducive to creating chances when there's no other option, but that he's less suited to being in a team that are already creating lots of shots but needs to somehow turn those mediocre (at best) chances into better scoring opportunities. Benteke created shots for himself where none would have existed otherwise. Now that he's in the land of plenty, that skill becomes redundant.
That's not to write Benteke off. Six months really isn't a long time to learn to play well with others when you've spent four years carrying the burden all by yourself. That's especially true when those six months have seen a major coaching change and a heavy dose of injury upheaval. A year from now, Benteke could be just another piece that snaps into place for Klopp's Liverpool. Right now, he's a major concern. And the worry isn't that he's a flop. He's not a flop. The worry is that since coming to Liverpool, Benteke has been exactly what he's always been, and that might just not be good enough for Liverpool.
Mike L. Goodman is a Washington, D.C.-based soccer writer and analyst covering European soccer, the U.S. Men's National Team and more. Follow him on Twitter @TheM_L_G.