What makes Jurgen Klopp the logical hire for the Liverpool job
Just hours after Brendan Rodgers' sacking was confirmed on Sunday evening, it became clear that there were only two genuine contenders to take the vacant Liverpool post. Football moves quickly these days, and immediate action was required.
When Kenny Dalglish was dismissed three years ago, it was shortly after the Premier League season had finished, and therefore Fenway Sports Group had time to decide upon his successor. Liverpool fans were forced to be patient.
Three years ago, though, there were various names in the frame with roughly similar footballing pedigrees: Rodgers, Roberto Martinez and Andre Villas-Boas were all young, fresh-faced coaches who spoke about philosophy, about possession, about a project. It was worth interviewing them, trying to find differences between their approaches, assessing the pros and cons.
This time around, it has been a two-horse race between two excellent candidates. Jurgen Klopp is a double Bundesliga winner and reached the Champions League final two years ago, while Carlo Ancelotti has won the Champions League three times, and league titles in three different countries. This, with all due respect to Rodgers, is a different calibre of manager entirely. And even those who considered Rodgers' dismissal harsh will have been more understanding when they realised the two contenders to replace him.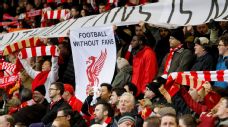 It's also useful because Klopp and Ancelotti couldn't be more contrasting figures. If FSG had any idea what they wanted from a manager, the decision is a simple one. Klopp is a young, vibrant manager who built a Dortmund side almost from scratch by developing youngsters and turning run-of-the-mill workhorses into top-quality performers, producing a brilliant counterattacking side which excelled at transitions.
Ancelotti is an elder statesman who has specialised in taking charge of established teams with multiple veterans, keeping those players happy and extending their careers, usually focusing upon possession football and individual brilliance upfront. Both are highly respected managers, but they couldn't be more different.
For that reason, the logical choice is, put simply, Klopp. The German excels in a tactical sense but became equally renowned for his peculiarities, his ability to feed off the Dortmund crowd's passion, to stir up emotion in his players. Klopp needs that intensity to thrive, and it's something he'll discover in abundance at Anfield. Equally, Liverpool supporters want someone who buys into the history and culture of the club, someone who appreciates The Kop, someone who will wind up his rivals. Ancelotti somehow just doesn't feel Liverpool -- he's a little too distant.
But Klopp feels Liverpool. "It doesn't have to be an absolute top club," he said last month when discussing his next move. "There are other good projects that are exciting, teams who need help." And that, right now, is Liverpool. Klopp probably knew of the possibility long ago. Liverpool hope to have him in place by Friday.
Klopp joining Liverpool would be a truly fascinating development. It's relatively rare for a genuine managerial giant to join the Premier League, and almost unheard of for them to sign for a club outside the elite, attempting to break into the top four.
There's something contradictory about the way managers talk about a "long-term project" while their careerist mentality means they've jumped between clubs rapidly. Villas-Boas promised not to leave Porto after a single season, for example, and then immediately joined Chelsea and talked about long-term ambitions. It's understandable, and a natural consequence of both modern football's managerial merry-go-round, and its increasing inequality. But it means managers promise things which they have not experienced.
Klopp is different. With his first club, Mainz, he won promotion to the Bundesliga for the first time in their history and even took them into Europe. Although he left the club after seven years, with them back in the second division, there's no doubt that he left a tremendous legacy at the club where he also spent his entire playing career.
The same, too, applies to Dortmund. They finished seventh, ninth and 13th in the seasons before his arrival, and then during his first four years came in sixth, fifth, first and first. Crucially, every season it felt like there was a genuine progression, the evolution of the side coming through intelligent recruitment and increased familiarisation with Klopp's methods.
Even Klopp's final three seasons were still impressive: Dortmund were runners-up in the league twice, in the cup twice, and in the Champions League too. There's a tendency in football to categorise serial runners-up as somehow feeble, to question their winning mentality, yet this is a sport which comes down to fine margins, and which is increasingly dominated by richer clubs. Challenging Bayern Munich consistently was impressive, not least because they were capable of poaching Dortmund's star players.
Last season was a disaster. In the relegation zone at the turn of the year, Dortmund eventually recovered to finish seventh. This will be held against Klopp, understandably, and it's worth considering that he probably also stayed at Mainz a little too long. But the league table doesn't tell the story of Dortmund's season. Time and time again, Dortmund were still sensational between the penalty boxes, pressing and passing as well as ever, dominating almost every match and outplaying opponents. It wasn't like Klopp's methods were suddenly useless.
They let themselves down in the penalty areas, where goalkeeper Roman Weidenfeller's sudden collapse can't reasonably be blamed on Klopp, while up front Dortmund found it impossible to replace their key man, Robert Lewandowski, a situation Liverpool will be somewhat familiar with.
A peculiar statistic from the 2014-15 Bundesliga season is that seventh-placed Dortmund recorded the second-most shots in the division and conceded the second-fewest (behind Bayern both times). This underlines the fact that the organisation of the side, with and without the ball, was excellent; it was at either end, where it comes down to shooting straight and making saves, where Dortmund were poor.
In a reactionary football world that wants definitive answers to every question, and everything divided into "success" or "failure," the truth about Klopp's final campaign at Dortmund is less sexy: he was probably just a bit unlucky.
Granted, there were some worrying factors. The number of individual errors reached a point where it was natural to look for a root cause of poor concentration, and Dortmund's injury problems were surely partly attributable to such a high-intensity style of play over a period of years, especially as Dortmund never had a particularly deep squad under Klopp. The Premier League is even more physical than the Bundesliga, and once you consider more lenient refereeing, boggy pitches, no winter break and four extra games a season, Klopp will have to be careful how he pushes his players.
Klopp would require patience from the Liverpool supporters, although he must be patient himself too. Rodgers was often guilty of changing things too frequently for the sake of it, talking about a philosophy while not giving his players time to learn a particular system, and Klopp's Dortmund were best in a straightforward, no-nonsense and arguably functional 4-2-3-1 formation. Towards the end there was a temptation to meddle too much; Klopp once used three formations in a single first half against Leverkusen, for example -- and it didn't work.
Ultimately, no one really knows how Klopp will fare, especially with wider questions about the ownership of the club and the structure in terms of recruitment. Maybe Klopp will finally land Liverpool a Premier League title; maybe they're destined for more frustrating years in the Europa League. But considering Liverpool's current situation, it's difficult to imagine they could possibly land a better coach.
Michael Cox is the editor of zonalmarking.net and a contributor to ESPN FC. Follow him on Twitter @Zonal_Marking.