Football morality is skewed, but Suarez warrants censure
So it's back to this: All the awards, all the plaudits, all the redemption -- gone in the glint of a tooth. Luis Suarez is back in the headlines for all the wrong reasons. Again.
The four-month ban only seems to lose sight of the actual severity of the action, lost as part of football's usual hysteria and psychodrama around its biggest matches and stars. Once again the authorities, in this case FIFA, have acted again from a position of being seen to do something rather than acting because they genuinely believe they should have or at least doing it responsibly. This isn't the most evil thing that ever happened in football.
I have always speculated on what punishment Zinedine Zidane would have received had he any intention of staying in the game after his head-butt on Marco Materazzi in the 2006 World Cup final. As someone who has been on the receiving end of both actions, I can say I'd rather be bitten than butted, but that is not reflected in football's often skewed logic and morality.
In the same season Suarez received a 10-match ban for biting Chelsea's Branislav Ivanovic, Everton's Marouane Fellaini got three games for ramming his head into the face of Stoke's Ryan Shawcross more than once. Nobody in England thought this was odd in the slightest, while Zidane now happily plies a new trade at Real Madrid as a coach. People seem to think his violent assault is quite funny now. Go figure. The worst thing that happened in the Uruguay vs. Italy match was the shocking red card tackle, but Claudio Marchisio will miss one game. One.
Liverpool fans will be wondering about the timing of the offence. In Netherlands, Luis Suarez bit Otman Bakkal and was soon on his way out of Ajax, sold to Liverpool. In the middle of his English ban, there was much talk about an Arsenal bid and whether his actions in the Chelsea match were deliberate in order to bring matters to a head. Now, with talk of bids from both Barcelona and Real Madrid, was this third time coincidence?
It's extremely doubtful. It seems ludicrous that even in the moral vacuum of modern football, any club could be seen to be making a play for someone who had transgressed so publicly so often. Still, there was very little talk of Arsenal's moral laxity by bidding for Suarez in the summer of 2013, so maybe the Spanish giants could get away with it, even now.
These discipline aberrations often affect the truly gifted players. Maybe the pressure and dependence on them become too much to handle. It isn't just Zidane; Diego Maradona's infamous handball and drugs ban; Paolo Di Canio's assault on an English referee; Eric Cantona's kung fu kick on a Crystal Palace fan in 1995 all spring to mind.
It isn't just that they think they are above all laws -- like Nietzsche's Superman -- the pressure put on them by fans, nations and most of all themselves just becomes too much at key moments. There was no call to rid the sport of their presence; nowadays they are considered icons of the game. But with Suarez, it seems like he might ultimately be a trendsetter -- although that is judging by a virulent English media, which is not always the wisest thing to do. He'll have to stand down for four months now, but surely another incident will finish him off?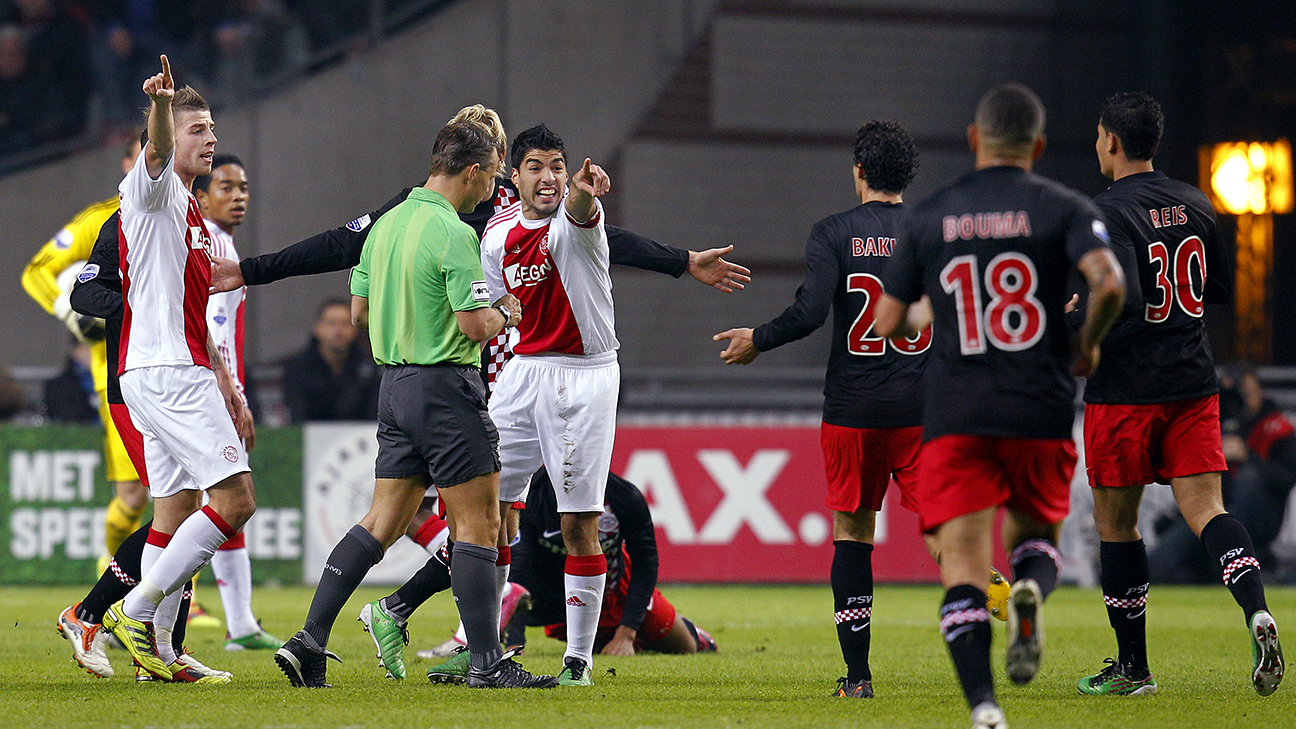 Fans can rationalise anything. It's hard to take lectures from Manchester United supporters who now claim their club acted strictly on Cantona with a nine-month ban. For a start, they only removed him for a certain time and were absolutely aghast when that wasn't enough for the authorities. Then they concocted a ludicrous defence of the violent act as some kind of heroic anti-racist crusade, when the truth was the volatile Frenchman just snapped and wanted to take his anger out on someone. They still loved him as Liverpool fans love Suarez even now.
But that's a mere smokescreen, as without doubt many Reds supporters were embroidering their own defences for what was a pretty rotten act. True, it's hard to take moral lessons from pundits who committed worse transgressions in their own careers, but everyone will be riding their high horses now, and it's not as if Suarez had much of a case, if any. "It happens all the time" was his post-match defence. No, it doesn't.
So is he worth all the trouble now? Probably not, and four months is a long time to do without a player's services no matter how great he is in the ones he actually gets to play. Cutting your losses becomes the only option, surely? That's before the subject of Liverpool's tattered reputation is even discussed.
But I do have to return to football's skewed morality. When the apparent bite initially looked like a head-butt, it was regarded as out of order, but nothing that wasn't seen often on a football pitch. Once it becomes a bite, all hell breaks loose and panic sets in. Perhaps it is associated with animal behaviour, mental illness, something that cannot be controlled. But in this sport, players can set out to break legs and be back playing in a few weeks' time without any attendant disgust or even critique.
It did cross my mind last year that Suarez might have suffered some kind of breakdown in the Chelsea game. He may well have taken the "short" ban and public vitriol rather than an indeterminate stay out of the game because he could no longer control his own actions. Far-fetched perhaps but biting someone on a football pitch for a third time is far-fetched and suggests a complete lack of control, something that forced the authorities' hand this time. He will surely seek help now, and Liverpool have one of the best psychiatrists in Steve Peters to go to.
Such is the cynicism in the game that he was accused of doing it in 2013 to force a move out of England. But how crazy would that be to do it a third time? In order to lower the asking price? I get the sense, as with Arsenal last season, that even now a new club might be regarded as someone giving him a clean slate. The talk might be of forgiveness -- charity, even. The discussions of immorality will lie solely on Liverpool if they stand by him for a fourth time -- a club desperately clinging to their one truly world-class player.
If they decide to sell Suarez, then business is business and the Spaniards should not expect to get him on the cheap. It was a forlorn hope to expect this storm to blow over, although Liverpool may still consider legal action. They usually chicken out, though.
With this overreaction, FIFA have probably called a halt to a genuine debate on what really constitutes violence on a football pitch, because it still seems to me that head-butting and leg-breaking tackles really deserve a higher level of outrage than a bite.