Leicester and Claudio Ranieri dare to dream of Premier League title
There are many ways to react to the news the bookmakers have made you favourites to win the Premier League. Some managers might enquire as to what took them so long. Others might simply ignore it. Leicester boss Claudio Ranieri, fresh from his side's remarkable 3-1 win over Manchester City, just laughed.
"The bookmakers?" he chuckled. "I don't believe the bookmakers. The bookmakers said at the beginning of the season, Ranieri will be sacked first!"
He had a point. While bookmakers need to be right more than they are wrong in order to avoid swiftly becoming ex-bookmakers, they certainly don't have a 100 percent strike rate. But Ranieri will have to get used to this. Fluctuating odds are just a small sliver of what awaits him and Leicester City.
All season long, the prevailing view among supporters and pundits has been that Leicester City's success won't last, and with good reason. While not completely unprecedented, this sort of thing is very, very rare in the Premier League era.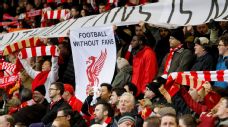 Norwich came close in 1992-93; Nottingham Forest finished third in their first season back in the top flight in 1994-95; and Ipswich were in the Champions League places right up until the final weeks of the 2000-01 season, but no rank outsider has ever won the title. Indeed, only five teams (Manchester United, Manchester City, Chelsea, Arsenal and Blackburn Rovers) have ever won the trophy, and only three others (Aston Villa, Newcastle and Liverpool) have ever joined them in the top two.
Some people, mainly Nottingham Forest and Aston Villa fans, have suggested their respective title triumphs of 1978 and 1981 were bigger shocks, but the fact they happened within three years of each other -- and in a seven-year period that also saw Queens Park Rangers, Ipswich (twice), Watford and Southampton finish second -- does suggest the hierarchy was a little more fluid back then.
The same could be said for Ipswich's title under Sir Alf Ramsey in 1962. It was one of the biggest shocks in English league history but not quite at the same level as what Leicester are hoping to achieve.
Champions League money has warped the Premier League, creating leagues within leagues. Frankly, if Leicester were fifth and pushing for fourth, it would still be the biggest story of the season. Unless, of course, Sunderland took their place at the top, but let's try not to lose our heads.
The very notion of an unfashionable team narrowly avoiding relegation one season and then sitting at the top of the table with 13 games left is so ludicrous that if you'd seriously suggested that it was possible last summer, you'd have been laughed out of the room. So you can understand there's going to be some serious interest in Leicester City now.
The late stages Saturday's victory brought a sneak preview of what is to come. When footballers unfamiliar with success batten down the hatches and try not to do something silly, it can become something of a self-fulfilling prophecy. Mistakes can be made. The marking for Sergio Aguero's goal was sloppy, and the back-pass from Danny Simpson was horrendous, giving Aguero a chance to make it 3-2 that he squandered.
The title run-in is going to be terrifying for Leicester. Ranieri, however, is playing a perfect game in front of the world's media. "Bring to me all the pressure," he said after the game. "Let them play free."
He would not be drawn on the questions everyone wanted to ask. Can this be done? How much of a shock would it be? Would it be the greatest shock in British sporting history? No, he wasn't having any of that.
"This season is a crazy league," he said shaking his head. "I don't know why. If we win ... I don't want to think about it. My mind goes over seven days. Arsenal -- another tough match, another fantastic set of players, another fantastic stadium. We are alive, we want to fight, we want to concentrate on these last matches."
There will be more of this to come. More odds, questions and demands for context. It's almost a coping mechanism for a nation that cannot believe what it's seeing and needs to quantify the madness.
Ranieri is the man to whom everyone will look. They will look for stress, anger or anything unusual in his demeanour. At every turn he will have to keep his bat straight and remind people that there is a long way to go and that Leicester have won nothing yet.
"The spirit is fantastic," he said. "I've said this since the beginning. There is a fantastic dressing room. When they are on the pitch they help each other and fight for each other. It is the best period I remember in my career."
And that is where Leicester's strength lies. There is something special happening here, and they've all bought into it. Not only did all of their key players stay at the club during the transfer window, but there also was barely a hint that anyone would leave, which suggests words were had with agents. Words like: "Switch your phone off. I'm not going anywhere."
Manchester City

Leicester City
Game Details
Can they do it? Of course they can. Will they do it? Cynical, weathered and utterly pessimistic observers will still back a cruel and humourless universe to correct itself at the end as it did in 1996 and 2014 when Newcastle and Liverpool came so close.
But this is bigger than Newcastle or Liverpool. This is something else entirely. Leicester will not want for neutral support. They do not lack a manager with the maturity to cope and they have players in the form of their lives.
Maybe, just maybe, the bookmakers might be right after all.
Iain Macintosh covers the Premier League and Champions League for ESPN FC. Follow him on Twitter @IainMacintosh.