Juventus ready to clinch Serie A title against Roma, continue historic run
For the sixth year running, Juventus have delighted their fans with a fluid and winning brand of football. With trophy upon trophy won, going undefeated in the 2011-12 season and reaching the Champions League final twice, the Italian side have reclaimed their pre-Calciopoli reputation and are back to being the force they once were.
Yet despite all the wins, the glory and the spectacular array of talent the club has purchased and sold in these past few seasons, no side has delighted as much as this year's group. While much of the early part of the season was dedicated to criticising a "weakened" midfield, there's no doubt that what Massimiliano Allegri has constructed this year is a side that the world and Juve fans believe are the best in Europe, with or without the coveted Champions League trophy.
AS Roma
Juventus
Game Details
The midfield boasts combative and creative players, the forward line is both thrilling and efficient while the defence is, as always, a mighty force. Playing as a collective unit -- but one that boasts reliable talent in every area of the pitch -- there is no player Juve doubt or an opponent they do not feel they can defeat.
It is remarkable to see how the side move, with every player trying to make themselves available for the pass. Comfortable and decisive in possession and excellent off the ball, the Bianconeri are well versed in how to exploit space, how to be incisive and how to pull defenders out of position.
Moreover, a new formation -- coupled with the endless wins -- has fortified a once-fragile mentality, unleashing the potential within the side. Every purchase has been astute, every tactical scheme prepared: Juventus are simply on another level this season.
As such, it appears a treble is the least this side should win and it all starts with the match against Roma on Sunday evening.
For a game that could well result in Juve's first trophy of the season, Allegri's men must be physically and mentally prepared for Luciano Spalletti's side. Possessing talent and fight, Roma have proven themselves to possess a little more than most other teams in the peninsula, even if internal politics and mental fragility have robbed the team of the capacity to achieve more.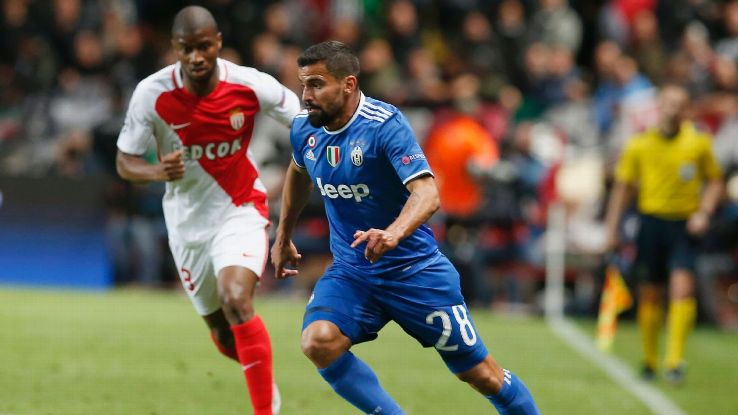 With Edin Dzeko injured and Kevin Strootman suspended, all eyes will be on how Spalletti will line up his side. The most likely option is that both Mohamed Salah and Stephen El Shaarawy will play, with Radja Nainggolan behind them should he be available, in a 3-4-1-2 formation. With both wingers capable of making quick and incisive runs, Juventus will need to be alert to the danger and work in unison to neutralise the threat.
However, there is always a chance Spalleti will hand the soon-to-retire Francesco Totti an opportunity to make a difference in a big match. One of the last remaining stalwarts of what proved to be a sensational and winning generation, Totti is the eternal legend with the capability of unlocking the toughest defences.
According to the club, Totti will stop playing this summer and instead work with the club to ensure success at management level. As such, he may well come on against Juve and try to delay the Old Lady's celebrations.
With both Sami Khedira and Claudio Marchisio out with injury, Allegri is likely to depend on Tomas Rincon to play alongside Miralem Pjanic in a 4-2-3-1 formation. A midfielder who has proved solid when brought on off the bench, Rincon has adapted well to his new surroundings. However, many would like to see Rolando Mandragora offered some time to play in these last remaining fixtures of the season.
Technical, physical and intelligent, the youngster was offered a few minutes to flex his muscles for the club in the match against Genoa and made an impression. Good at reading the game and intelligent with his passing, Mandragora could well prove to be the future of Juve's midfield. However, in order to properly assess his levels, he must be offered a chance to demonstrate his abilities; if not against Roma, then perhaps against Crotone or Bologna over season's remaining weeks.
As for the rest of the team, the quicker they mathematically secure the title, the quicker they can focus on the upcoming finals in hopes of achieving that treble.
Mina Rzouki covers Juventus and the Italian national team for ESPN FC. Follow her on Twitter: @Minarzouki.