Paul Pogba, Alvaro Morata superb for Juventus at Chievo Verona
A 4-0 win against Chievo means Juventus have now won 12 matches in a row, matching a record set by Antonio Conte's team of two seasons ago. After a term that started badly, who would have thought that the same players who struggled against the likes of Frosinone would now find themselves at the top of the league table, albeit momentarily as Napoli managed their victory a few hours later.
A team built to compete at all levels, you have to hand it to Juventus, a team made up of so many new players, but that still fights as hard against sides like Chievo Verona as they do against the giants. With Alex Sandro and Sami Khedira two examples of players who refuse to give up on possession, making sliding tackles and throwing themselves wholeheartedly into challenges to win the ball, Juventus' hard work is paying off with the team deservedly accumulating wins.
Even after scoring four, the Bianconeri never stopped looking for more goals and with players seamlessly switching positions and sacrificing themselves for the benefit of the team, Juventus manager Massimiliano Allegri was asked whether he hoped his beautiful team could play their Champions League tie against Bayern Munich now considering their confidence.
With Alvaro Morata back to his scoring best and Paulo Dybala and Paul Pogba impressing a little more each day, it remains to be seen how long it will take before the Old Lady will pip Napoli to top spot. As long as each player remains focused, determined and confident, perhaps they might just manage a trophy this season.
Chievo Verona
Juventus
Game Details
Player ratings (1-10; 10=best; players introduced after 70 minutes get no rating):
GK Gianluigi Buffon, 7 -- Against an opponent that offered very little, Buffon remained alert and stopped Chievo Verona from scoring.
DF Martin Caceres, 6 -- Hardly tested, the Uruguayan gave a solid performance to fill in for the absent Giorgio Chiellini. But in matches such as these, one wonders if Daniele Rugani should be allowed a start.
DF Leonardo Bonucci, 6 -- A few mistakes, some wonderful advances forward, Bonucci knows how to control a game and deliver the passes. A leader.
DF Andrea Barzagli, 7 -- Considering his age, it's beautiful to see how far he is willing to go to chase the ball and to stride forward when offered the opportunity. He remains the most composed Juve defender.
DF Stephan Lichtsteiner, 8 -- Allowed plenty of opportunities to stride ahead on the right, Lichtsteiner passed with ease, brought others into play and remained on hand to offer solutions to teammates. A relentless runner.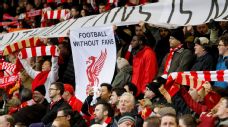 MF Sami Khedira, 7 -- Wonderful runs forward, excellent positioning. He has been guilty of a few errors but he knows exactly where to stand and how to help the team, securing an assist to prove how valuable he is to the squad.
MF Claudio Marchisio, 7 -- Allowed more of an opportunity to strike from distance, Marchisio perfectly balances his duties, winning back possession as well as pushing the team forward.
MF Paul Pogba, 9 -- Confident and technical, after a shaky start to the season the youngster has demonstrated why he's destined to win the Ballon d'Or in the future. Creative, hardworking and incredibly skilful, he creates and he scores. If only he didn't surrender to moments of selfish behaviour.
MF Alex Sandro, 8 -- While reckless and impulsive on occasion, the player's offensive contributions are crucial to a side that attack from all angles, yet that doesn't mean he hasn't been excellent in defence. Coupling accuracy with stamina, how did Juve ever play without him?
FW Paulo Dybala, 8 -- One of the smartest on the pitch, Dybala may always be targeted by the opponent but he always impacts the game. The positions he takes up, his vision going forward in addition to how well moves around the pitch make him invaluable.
FW Alvaro Morata, 9 -- Back to his intelligent and confident best. Making the right runs, slipping past defenders and whizzing forward with electric pace, the Spaniard scored another brace this week to repay the faith shown in him by the coach. A player who needed to recover his form, his brilliance had been sorely missed.
Substitutes:
MF Stefano Sturaro, 6 -- On for Khedira at half-time. Concentrated more on his defensive abilities, Sturaro is a safe substitute, a player who has the character required for such a big team and the physicality to annoy an opponent.
MF Hernanes, 6 -- Replaced Marchisio in the 69th minute. By no means a terrible performance but the Brazilian does give the impression of being out of his depth in a club like Juve. Not as confident as composed as he ought to be considering the role played.
MF Simone Padoin, NR -- Subbed on for Lichtsteiner in the 81st minute. In a squad such as this, it's difficult to see Padoin ever being offered more time to make an impact but usually provides a clean performance for those few minutes he plays.
Mina Rzouki covers Juventus and the Italian national team for ESPN FC. Follow her on Twitter: @Minarzouki.