Paulo Dybala the inspiration behind Juventus' victory over Atalanta
Finally, Juventus managed to score some goals and achieve a Serie A win, defeating Atalanta 2-0. Playing with much more intelligence going forward, it's remarkable to see how much a generous Paul Pogba and a determined Paulo Dybala improve Juve's overall game.
It's wise to remember that the opponent hardly provided a challenge. Edoardo Reja's men have neither the quality nor the drive necessary to pick up points against a side boasting so much talent, albeit one that is suffering. To make matters worse, their choice of strategy was unambitious, as they opted to prioritise defence before going on the counterattack when offered the chance. Had they shown a greater desire to attack, they may have well been rewarded.
It is perhaps for this reason that Juve were allowed to shine a little brighter, especially considering they had Dybala back in the starting lineup. A player who has scored every time he's been offered the opportunity to play a full 90 minutes, he not only managed a goal and an assist, but he won the penalty that could have led to a 3-0 scoreline. It was a fine performance from a player so often overlooked for a starting role; his immense work rate, a desire to chase lost chances and perfect positioning makes Dybala a valuable asset for a side that greatly require a little inspiration going forward.
Juventus
Atalanta
Game Details
More than beautiful technique and intelligent movement, Dybala is improving on a psychological level, playing with confidence, attitude and genuine belief in the team's ability. Yet manager Massimiliano Allegri still demands more. Perhaps aware of the overwhelming potential of the teenager, he still noted all the areas in which the youngster needs to improve. More will only come with continuity, and while the coach refuses to accept criticism regarding his handling of young talent, Allegri must surely understand that the current predicament of the club. Juventus' many struggles going forward means Allegri may need to adapt to the situation and fast forward the Dybala's development by offering the player more minutes and many more chances to learn from the mistakes he makes.
Allegri is right; Dybala has so much room to grow and physically he struggles to hold his own which can prove truly frustrating. It almost reminds fans of a certain Sebastian Giovinco, who possessed so much talent and intellect, but who was too soft at times when a stronger physical presence would have better helped his chances to make an impact at the club in which he grew up.
Unlike Giovinco, Dybala seems willing to lead Juventus forward, believing in those around him and inspiring better movements. His presence alone encouraged Pogba to play a wonderful game. While Atalanta's weak character offered the Frenchman a better opportunity to demonstrate his quality, his brilliance was largely down to the fact he played for the team and for the team alone.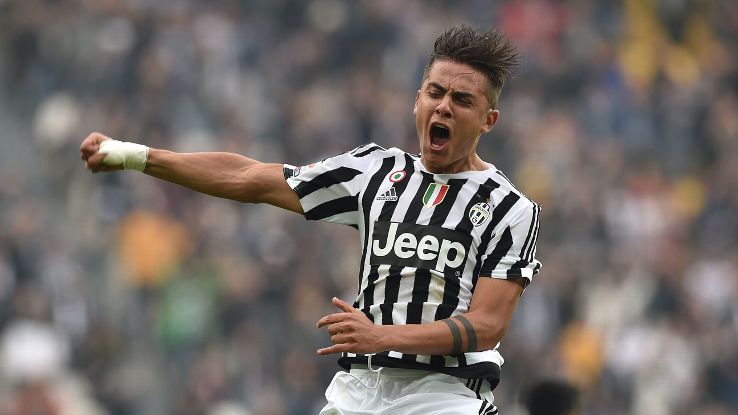 By making better decisions and trusting in the skills of those around him, Pogba impressed by managing the basics as well as the complicated. Not only was he on hand to deliver the valuable passes, but he played with more initiative and confidence, knowing when to release and when to pass to those better placed to make a difference for the team. That is what the club requires from a player donning the No. 10 jersey: the desire to play for the team and link up play effectively to inspire attacking beauty.
It seems the Pogba and Dybala work well together and have already established an understanding that can only grow with time and greater continuity. Again, it's important to note that the opponent barely offered a legitimate threat, giving the Old Lady an opportunity to recover some of her beauty. However, Sunday's demonstration in attack offers a glimmer of hope; this side has enough to succeed if the individuals play together as a unit.
With Kwadwo Asamoah back and already capable of putting in a fine performance, Allegri is now also retrieving the necessary balance required in midfield to ensure success. With the Ghanaian offering the physicality required to halt opponents, the understanding between Claudio Marchisio and Sami Khedira is also improving with the former finding his feet again after injury.
As for the German, his tactical intelligence makes all the difference to a team that requires his impeccable reading of the game.
A vital win, Juventus have already jumped up a few places forward in the table and that is despite rotation. A few more wins will help this side recover their confidence and perhaps the cynicism needed to encourage many more victories.
Mina Rzouki covers Juventus and the Italian national team for ESPN FC. Follow her on Twitter: @Minarzouki.