Darren Randolph relishing Republic of Ireland chance after NBA dreams
West Ham United's Darren Randolph is in pole position to head into next summer's Euro 2016 finals as the Republic of Ireland's first-choice keeper, but it has been a long road to success for the keep who has an American heritage.
Randolph, 28, harboured ambitions to follow in the footsteps of his Florida-born father Ed, who starred for Roger Williams University in Rhode Island on the basketball court, as he set his sights on becoming a star in America's NBA.
Even once Randolph had made it as a footballer, the goalkeeper believed he might end up representing the United States. Yet he is wearing an Irish jersey now and made his competitive international debut last October in a 1-0 win against world champions Germany in a vital qualifier that propelled Martin O'Neill's men towards the Euro 2016 finals in France next summer.
A key figure in Ireland's defeat of Bosnia-Herzegovina in the playoffs, he was also the star turn as West Ham secured an FA Cup fourth round draw against Liverpool at Anfield last month and ahead of the replay at Upton Park on Tuesday, Randolph spoke to ESPNFC.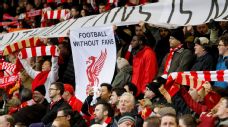 Q. Tell us about your ambition to become a basketball star.
A. My Dad has played basketball all his life and first came to Ireland in 1982 to play for Sporting Belfast in the Irish basketball league. I loved the sport; I had a big passion for basketball and I watched all the tapes of Michael Jordan my Dad had. My plan was to try and get a basketball scholarship to America, but it never quite worked out. In the end, I felt I had a better chance of getting into football in England.
Q. Do you regret not becoming a professional basketball player?
A. [At 6-foot-1] I was one of the taller guys when I played soccer or Gaelic sports back home, but everyone in basketball was taller than me. Thankfully it worked out for me in football, so I think I made the right decision to stick with that sport.
Q. So you had to make a choice which sport to pursue?
A. I also played a lot of Gaelic football growing up in Ireland. I loved playing Gaelic football, but when I got a chance to go to Charlton Athletic, football took over. It all seems a long time ago now.
Q. Would you have welcomed a call-up from the United States before Ireland?
A. I would at the time, but it never came and it is not an issue now. Ireland have given me an opportunity to play international football and I'm determined to take it. I'm so proud to play for Ireland and my family are all so proud to see me getting this chance with the senior team.
Q. How does your Dad feel about you playing for Ireland, rather than America?
A. He was delighted to see me play a few important games for Ireland. My Mum is Irish and she is obviously proud of what I have done and my Dad is as well. They just want me to do well, whatever shirt I'm wearing.
Q. Do you see yourself as Ireland's No. 1?
A. I know I need to keep impressing the Ireland manager to keep my place. I'm not playing regular football at West Ham at the moment, but hopefully that will not affect my ambitions to start at Euro 2016. After experiencing the excitement of the playoff games, I want more of that.
Q. You came on as a substitute for the Germany game when Shay Given was injured. Did you know you were going to get a chance?
A. Not at all. The manager didn't tell us who was going to come on if Shay got injured, so myself and David Forde were waiting to see who was asked to go on. Thankfully it was me and it turned out to be a pretty amazing night to make my competitive debut for Ireland as we ended up winning the game.
Q. Were you nervous facing the world champions for your competitive debut?
A. I probably would have been more nervous if I was starting that match. Germany obviously have some pretty amazing players and it was a vital game for Ireland's hopes of qualifying, but I was suddenly on the pitch without any warning and that made life a little easier for me. I just had to get on with the job and thankfully I finished the night with a clean sheet.
Q. Have you ever experienced an atmosphere like it?
A. I was in the crowd with my Dad on the day when we beat Netherlands [World Cup qualifier in 2001] and the atmosphere at the Aviva Stadium for the Germany game was as close as I can remember to that in all the years since. The buzz was always amazing in the old Lansdowne Road venue for the big qualifiers, when we were doing well and pushing for qualification for major tournaments every couple of years. It hasn't been quite so good since they rebuilt the stadium, but the noise generated in that Germany game was as close as I can remember to those days at the old Lansdowne. To be playing in that was amazing.
Q. Do you feel like you have been rewarded for your patience?
A. There was a lot of travelling around with Ireland in the knowledge that I was unlikely to get a game. That wasn't easy, but that's the situation when you are a keeper. Only one person can play in my position and if you are not the man, you have to wait for your time.
Q. Are you happy to wait for your chance at club level as well, behind West Ham No. 1 Adrian?
A. I have played a few games this season and hopefully there will be more to come. West Ham is a club moving forward and we all want to be a part of it when they we in the Olympic Stadium next season. That move gives the club a real chance to go on to the next level.
Q. Do you worry that a lack of playing time for West Ham will stop you playing for Ireland at Euro 2016?
A. Not at the moment. I just need to impress the manager and the coaching staff when I go over for the Ireland matches and hopefully that will be enough to keep me in the team.
Kevin Palmer is a sports writer. You can follow him on Twitter: @RealKevinPalmer.