Milan Skriniar's breakout success goes beyond his fit in Inter's system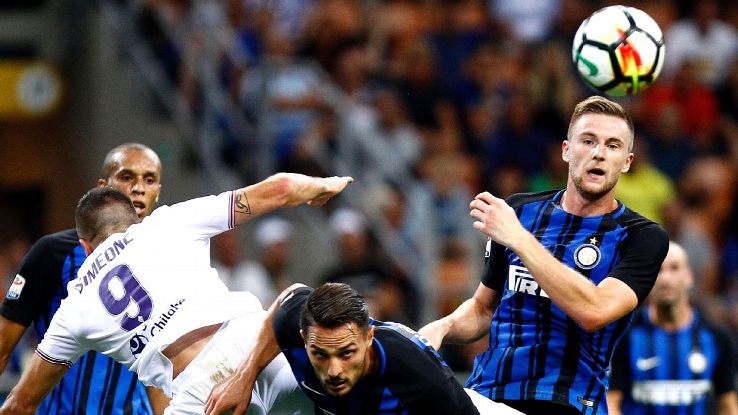 By late August, it looked like Inter were going into the season horribly short of competent defenders.
With Jeison Murillo gone, the Nerazzurri had signed Milan Skriniar in what appeared to be a bad deal (Gianluca Caprari plus €8 million), while rivals Milan got Leonardo Bonucci, one of the best defenders in the world.
Where was that Walter Sabatini transfer magic? Instead of signing a veteran late in the window as everyone expected, he spent training camp talking up a player who had only spent one season in Serie A, repeatedly telling reporters that they'd "see how good [Skriniar will] become." Nobody believed Sabatini and many feared that everyone's favourite giraffe on skates -- Andrea Ranocchia, for those unfamiliar -- would be in the starting line-up before long.
Crotone
Internazionale
Game Details
One month on, Bonucci was being sold a dummy by Lazio's Ciro Immobile, while Skriniar's every touch is being applauded by a league-high 57,000 fans as he plays with a fearlessness reminiscent of Walter Samuel. Could "The Screen" be the man who finally picks up the mantle of "The Wall"?
The early signs are good. The 22-year-old has showed great poise and man-marking, as well as a good read of the game and ability to cover space. Inter look far more comfortable on set pieces with him and opposition goalkeepers will have to watch out for his attempts at emulating the film "Shaolin Soccer"; Skriniar hit the bar with a fizzer last Sunday.
Skriniar has gone from potential bust to being touted as a future world star by Luciano Spalletti, who said: "All the best clubs will be asking for him inside of a year". Nerazzurri fans haven't been this excited about a defensive prospect since Murillo burst onto the scene in late 2015.
And therein lies the problem: How can we be sure that Skriniar won't regress, just as Murillo did? Three league games aren't enough to put Skriniar's name on the backs of our shirts.
One noticeable occurrence is that Joao Miranda has been playing worse since Skriniar's arrival. Could it be that he is being asked to do more to allow his teammate a simpler role? This may explain why the Brazilian central defender was caught out twice against SPAL: Is his young partner sticking to a man-marking role?
It's certainly plausible that we're biased in Skriniar's favour because he is new. What will he be like when we expect him to produce this kind of football week in, week out and not clear the ball an average of 8.3 times a game, twice as much as last year?
But things may not be that simple. Skriniar may not be perfect and he will continue to make mistakes -- he was responsible for Edin Dzeko's goal in the win at Roma -- but he's also getting plenty of calls right. It's freakish just how many times he has intervened in exactly the right moment, with one last-gasp clearance last week vs. Spal being a typical example.
Working under Spalletti will also be beneficial: Inter's new boss spent a lot of preseason crafting the defence to play exactly as he wants and focusing on defensive technique. Remember the job he did on Federico Fazio, who was excellent in a three-man backline at Roma?
That's the thing about football: It's becoming so tactically complex that it's beginning to resemble NFL. A player can be excellent in one system but average in another and teams are buying their players younger so that they can mould them to work in their system.
Think back to Spalletti's Roma team of 2006-07: None of the defenders -- Philippe Mexes, Max Tonetto, Marco Cassetti and Christian Chivu -- were arguably ever as good again and winger Mancini certainly wasn't.
In this light, it could well be that Spalletti is having Skriniar play to his strengths, something borne out by the Opta stats, which show that he is making a similar number of tackles (1.3 to 1.1) and interceptions (1.7 to 1.5) to last season.
Unlike Murillo when he arrived, Skriniar already knows the league and looks completely unruffled. This wouldn't be the first time that Sabatini has picked out a strong defender -- he signed Medhi Benatia, Kostas Manolas and Marquinhos in Rome -- or that Sampdoria have helped a centre-back -- Shkodran Mustafi and Alessio Romagnoli -- prepare for the big time.
In fact, as Skriniar was being criticized last season while he adapted to Serie A, it was Samp coach Marco Giampaolo who came to the rescue, claiming that he'd "become one of the best centre-backs in Europe".
With the ghost of Ranocchia still wandering the San Siro halls, Inter fans hope he's right.
Edoardo Dalmonte covers Inter Milan for ESPN FC. Follow him on Twitter: @EdoDalmonte.