Hertha BSC making their Bundesliga mark under Pal Dardai
Throughout the top five European leagues, a fleet of clubs are punching above their weight. In France, three clubs -- Caen, Nice and Angers -- are very much in the mix after 14 matchdays; in England, Leicester City top the Premier League; and in Italy, Sassuolo have managed to pick up 22 points from 13 games.
All those clubs come from relatively small cities.
It is different in Bundesliga, where Berlin-based Hertha BSC have put the German capital back on the domestic football map, at least for now. Not many have taken notice but under coach Pal Dardai, Hertha have developed a realism that could see the club slowly progress and wake from its long slumber.
Hertha hail from the biggest city in Germany by far and, in the Olympiastadion, have one of the biggest stadiums, but Berlin offers its residents many distractions, and attending a Hertha match is not one of them at present.
When Hertha faced Hoffenheim on Sunday, the Olympiastadion -- which played host to last season's Champions League final -- was only half-full amid a snowstorm that hit Berlin.
Despite failing to register a single shot on target, Hertha picked up their seventh victory of the season as they won 1-0 thanks to an own goal by Eugen Polanski. The result not only sent Hoffenheim to the bottom of the league but also returned Hertha to fourth spot in the Bundesliga.
Down in the stadium catacombs after the game, reporters gathered around club captain Fabian Lustenberger, who took a deep breath and said: "We're competing for the Champions League spots, and nothing else." He smiled, knowing that he was feeding the reporters a fib. The reporters knew it too, and smiled back.
Even so, having only avoided the relegation playoff by virtue of their goal difference last season, the question is raised as to how Hertha find themselves in position for next season's Champions League playoff.
Primarily, the resurgence is down to one man: Dardai.
The 39-old Hungarian has been at the club since January 1997. As a midfielder he made a name for himself in the Bundesliga, and even attracted the interest of Bayern Munich in 1999, but he never moved on and, when he retired in 2012, had nearly 300 appearances for Hertha to his name.
In Dardai's last season, which he spent playing for the club's under-23 team, he earned his coaching credentials, and started working for the Hertha youth academy.
When Hungary needed a coach close to the end of 2014, he took over, and stayed in charge of the national team until the summer. During his reign, he laid the foundations for the nation's first tournament qualification since the 1986 World Cup.
Hertha, meanwhile, dropped back into the relegation zone in February following a 1-0 home defeat to Bayer Leverkusen.
Sporting director Michael Preetz sacked coach Jos Luhukay -- and not before time, in the eyes of many -- and looked no further than his club's under-15 team, where Dardai also held a role. Preetz gave him one task: to avoid relegation.
Dardai stabilised the defense but did little to improve the team's midfield or attack and Hertha scored only 12 goals in his first 15 matches in charge. By the end of the campaign, Hertha had enjoyed only 42.4 percent of possession on average, the least of all Bundesliga teams.
Even so, the Hungarian accomplished his mission and finished 15th, ahead of Hamburg in the battle to avoid the relegation playoff spot by virtue of a superior goal difference. In the summer, Dardai set about making further improvements.
Hertha brought in Freiburg's hard-running midfielder Vladimir Darida, Bayern outcast Mitchell Weiser, Nurnberg youngster Nicklas Stark and Stuttgart's Vedad Ibisevic.
They offloaded players like former club captain Peter Niemeyer, attacker Sandro Wagner and defender Johnny Heitinga. While the departures were not always handled in the most diplomatic fashion, they achieved their aim of clearing out those they no longer needed.
"Somehow, in preseason, the coach has flicked a switch," Henry Cieslarczyk, one of the founders of Hertha's new "Damenwahl" podcast, told ESPN FC.
This season, Hertha have pushed their back four up the pitch, pressed higher, increased their possession stats to close to 50 percent and used the wings to open up the pitch in the attacking half.
Up front, Salomon Kalou has converted 23 shots into seven goals, while Ibisevic scored four in only six appearances prior to a red card against Schalke.
Kalou has played in every position up front, as has the speedy winger Genki Harachguchi.
In midfield, Dardai -- mostly playing a traditional 4-2-3-1 formation but also occasionally using a 4-4-2 formation -- has rotated his players to his needs. Mitchell Weiser started out as an attacking right-back but has also been played in midfield.
"It's a demanding idea of football, and we work hard so the automatic aspects function," defender Sebastian Langkamp recently told local paper Tagesspiegel.
Last Sunday, when the snowstorm hit the Olympiastadion, Hertha were in control of the match. They held the lead and had close to 60 percent possession. At half-time, the "Old Dame" shifted down a couple of gears and ultimately secured the three points.
"We wanted to avoid the counter-attacks," Dardai said of his team, which did next to nothing in attack. Dardai added that he feared his "inclined triangle" -- the heartbeat of his game, featuring Nos. 6, 8 and 10 -- could slip and lose the ball while trying to dribble through midfield.
That philosophy, while not always fun to look at, plays its part in Hertha's outstanding defensive record, which has seen them concede just 29 goals in 28 games under Dardai. Only Bayern's defence has been more miserly.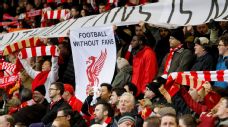 On Saturday, Hertha will travel to the Allianz Arena to face the champions and Dardai will most likely play to their core strengths and defend.
They hope to return with a draw but, given that they have lost against Schalke, Wolfsburg, Borussia Dortmund and Borussia Monchengladbach under Dardai, they will not only face the most in-form team in Europe right now but also their biggest problem: Getting results against superior teams.
Hertha might not be the hottest team in Germany right now but they are one that is very much aware of their limits. Their wins have come against Augsburg, Stuttgart, Cologne, Hamburg, Ingolstadt, Hannover and Hoffenheim; clubs of a similar calibre, but against whom they traditionally drop points.
Dardai has brought back a sense of proportion to the German capital and, asked if the team had new targets on Sunday, Lustenberg had said: "23 points are pretty good, as the fourth place. We're just enjoying it."
Cieslarczyk also kept his expectations in check: "Hertha won't up stay there until the end of the season, but maybe they'll sneak into the top half of the table."
Slowly, little by little, they want to push the limits. A fortunate run of results, with more wins against teams from the bottom half, could see the Bundesliga's capital club booking their tickets to Europe.
Stephan Uersfeld is the Germany correspondent for ESPN FC. Follow him on Twitter @uersfeld.