Oswaldo Alanis' goal wins Copa MX final for Chivas Guadalajara
A lone goal from Oswaldo Alanis in the 70th minute was enough for Chivas to defeat Leon 1-0 in the Copa MX Apertura final on Wednesday and end a nine-year trophy drought.
Here's what we learned:
1. Relief all around for Chivas institution
It has been difficult to be a Chivas fan or player in recent times. It hasn't just been the lack of trophies, but the race slowly to the bottom and into the mess of relegation. Fans have put up with jokes from their rivals and have often been angry at the state of the club.
But in the midst of what has been a dark past few years, piqued with regular changes of coach, sporting directors and structure, it appears owner Jorge Vergara has struck gold with Argentine coach Matias Almeyda.
León
Guadalajara
Game Details
Chivas played the Copa MX final like a grande (big club), taking it to a strong Leon team and attempting to force the game. Leon -- part owned by one of the world's richest people in Carlos Slim -- replied in kind, creating a game worthy of being called a final.
In the end, it was a deserved victory for Chivas, even if Leon's fans were heartbroken when first Carlos "Gullit" Pena and then Luis "Chapo" Montes came agonizingly close to equalizing in second-half injury time.
The celebrations of the players were wild, Vergara broke down in a TV interview, and back in Guadalajara, La Minerva -- one of the city's landmark and traditional gathering points for Chivas celebrations -- was packed with fans. It was a welcome reminder of what Chivas, one of Mexico's 'big two' clubs and who have a policy of playing only Mexican players, can be.
"The people were in need of all this," said Almeyda, summing up the sentiment aptly.
Nothing the coach seems to do at the moment is wrong; even the way Almeyda kept some of the usual Liga MX starters like Carlos Salcedo, Antonio Rodriguez, Israel Castro and Isaac Brizuela on the bench for the start.
The Argentine's love affair with Chivas is only just beginning, but there appears to be chemistry and Vergara has already said he wanted Almeyda to become the club's Sir Alex Ferguson. Considering Chivas' record of hiring and firing managers, such statements from the owner are wildly premature, but the early signs are undeniably good.
Chivas fans celebrating Copa MX title at La Minerva in Guadalajara https://t.co/Ihhq2v3mxC

- Tom Marshall (@mexicoworldcup) November 5, 2015
2. Cota, Alanis, Lopez the stars for Chivas
It was Alanis' name that will go down in the history books as the one who gave Chivas their first major trophy since the Liga MX Apertura 2006. Alanis rose and produced a controlled header at a vital time, with the game very much in the balance. Hopefully for Chivas, the goal will lift Alanis from his tepid start to life at the club and he'll go on to be the kind of leader for Los Rojiblancos he has the attributes to become.
But it was another peach of a ball in from Raul Lopez from a left wing free kick. Lopez's right foot has become Chivas' chief offensive weapon and the quick crosses he whips in are extremely difficult to defend, as Leon found out. In the Copa MX final it made the difference, as it has so often in the Liga MX this season.
Finally, at the other end of the pitch, Rodolfo Cota deserves a mention. The goalkeeper was slightly lucky to get away with just a yellow card when he came storming out just before half-time and appeared to handle outside the box.
But the usual reserve keeper also came up big. In the 57th minute, Cota parried over Efrain Velarde's fiercely struck shot and in the 83rd he was rapidly off his line to smother the deadly Mauro Boselli, who had found himself clear through on goal.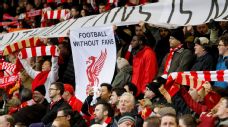 3. Title charge realistic for Guadalajara
This win has to be taken with a little pinch of salt. Yes, the Copa MX win was important, but even the most fervent Chivas fan knows it is not the Liga MX.
What lifting the cup does do for Chivas is give the young players a boost of confidence and belief. Chivas fielded an under-strength team against Leon's best available 11 and yet wasn't overawed at any point.
Chivas need at least seven points from upcoming Liga MX matches against Dorados (on Saturday, away), Atlas (away) and Santos Laguna (home) to have a realistic chance of making the playoffs. It is a tall order, but with team spirit sky high, the union between players and coaching staff clearly strong and momentum behind them, you wouldn't bet against Chivas at present.
And if they can make the playoffs, then anything is possible...
Tom Marshall covers Liga MX and the Mexican national team for ESPN FC. Twitter: @MexicoWorldCup.