Everton need backbone to turn crisis around and avoid relegation battle
When Everton began preparing for the new season amid a growing wave of optimism after £150 million of summer investment and the return of European football, not even the most pessimistic supporter could have forecast this situation.
But having lost 2-1 to Chelsea in the Carabao Cup, a 3-0 defeat at Lyon on Thursday saw Everton eliminated from the Europa League with two, now meaningless, group games still to play. Alongside two cup exits in as many weeks, Everton also occupy a place in the Premier League relegation zone.
Talk of relegation battles may be premature, yet there is little doubt this is a crisis and after sacking Ronald Koeman last month the next permanent manager faces a monumental challenge. Defeat in France on Thursday under caretaker manager David Unsworth dropped Everton to five successive defeats for the first time in over 12 years. The Toffees are eight matches without a win and have won only twice in their last 16 games in all competitions. A total of 10 defeats in the last 14 games may be the most alarming statistic of the lot.
The wretched start that accounted for manager Koeman has shown little sign of abating as occasional promise under Unsworth has yet to translate to results. Admittedly, Unsworth has faced a tough schedule, with away matches against Chelsea, Leicester and Lyon, but those matches merely underline the work required to rescue this season. Everton are 20 matches into their season in all competitions and appear no nearer to finding their best starting XI or the formation in which to use them.
Unsworth will hope the first home game of his spell can yield a first win, as three points are an absolute necessity against Watford at Goodison Park on Sunday. Everton have lost three successive home games in all competitions and conceded eight goals in the process. If there is any hope of that first victory, there can be no place for the familiar traits evident in the closing stages against Lyon.
Even accounting for a much-changed team, the outcome was a story told too many times already this season. One particular incident that resonated was the dismissal of Morgan Schneiderlin; two needless bookings resulting in a red card was just another example of an experienced senior player letting the team down.
In less than 18 months, Everton have sacked two managers, Koeman and Roberto Martinez, two managers that the club went out of their way to recruit and sign to impressive contracts. At some point attention has to turn to a group of players that did very little to ease the pressure which eventually saw both managers lose their jobs.
Everton lack leadership and have done for some time. Despite a number of the squad captaining Everton, their former clubs or their countries in the past, there are no standout leaders in this squad. The club need players that inspire by example, or through communication on the pitch, but have little of either.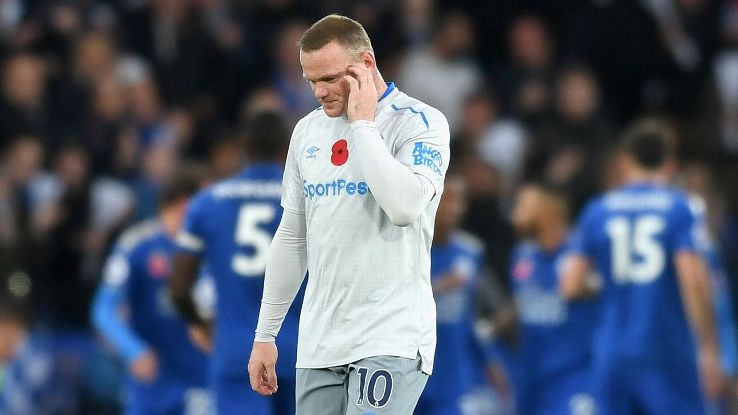 Unsworth rested experienced trio Wayne Rooney, Phil Jagielka and Leighton Baines in Europe to be ready for the Watford match this weekend. Yet for all their experience, none convince as the leader Everton require. Jagielka and Baines offer faultless commitment but neither inspires, while Rooney becomes a liability once frustration take over, as it often does when he or Everton are underperforming. Energy best used on teammates is often directed in anger at match officials.
Irrespective of formation or personnel, Everton too often ship goals in bunches and lose matches in an instant. One goal opens the floodgate and obliterates whatever mild resistance remained within this apparently fragile group of players.
League defeats to Chelsea and Leicester saw the opposition score twice within 13 and 11 minutes respectively, while matches against Tottenham, Atalanta, Manchester United, and Lyon on Thursday, saw the Toffees concede three goals in 20 minutes or less each time. In the space of 21 second half minutes against Arsenal, the score went from a retrievable 2-1 deficit to a 5-2 mauling.
For all the talk of tactics, personnel, the balance of the side and everything else that has gone wrong this term, there are serious doubts over the backbone of the players at the centre of this mess. The moment the ball hits the back of the net for the first time, any composure and organisation seems to evaporate. One clean sheet in the last 16 games in all competitions is indicative of a squad that crumbles under pressure.
When the next permanent manager takes charge, arguably the biggest challenge is getting this team to show some resolve. There is little doubt Martinez and Koeman stayed too long, but these players also have to take responsibility for this mess. Supporters deserve better than weak capitulations at the first sign of trouble.
Luke is ESPN FC's Everton blogger. Follow Luke on Twitter @lukeofarrell.