Everton supporters' tolerance of Roberto Martinez has all but run out
As Roberto Martinez breezed through the Goodison doors in the summer of 2013, stating his Champions League aspirations and employing a vibrant, fearless brand of football, optimism reached unprecedented levels. His new team fell narrowly short of Europe's premier cup competition in an impressive debut season.
The new Everton manager had supporters daring to dream again. While David Moyes ended his tenure with many believing the club had found their glass ceiling, Martinez smashed the ceiling to pieces and reinvigorated the club with a sprinkling of quality additions and a well-balanced setup. Matches against the so-called bigger teams began with hope rather than fear.
Manchester City

Everton
Game Details
Shift to the present day, the mood has turned full circle; the crushing League Cup semifinal defeat at Manchester City on Wednesday saw Everton concede three or more goals for the seventh time in all competitions this season.
Ross Barkley's superb individual goal had cancelled out the away goal that City poached in the first leg, provided a two-goal aggregate cushion and a fantastic platform for a first League Cup final date in 32 years.
Failure to see the job through will come as no surprise to anybody familiar with Everton in the past two seasons. The only statistic on the up is the number of goals conceded per game. The Blues are winless in five league games ahead of an FA Cup trip to Carlisle that screams cup upset on current form. Six wins in 23 league games paints a stark picture.
Everton are low on confidence and heavily reliant on a handful of players, with a manager inflicting further damage thanks to a blinkered approach, blind faith in underperforming players and tactics that no longer stand up to scrutiny.
Martinez revels in the outlandish and the ultra-positive but too often at the expense of logic and common sense, especially in recent months. On the eve of the League Cup defeat, the Everton boss reinforced his preference for winning in style over clean sheets and a defensive approach. The problem is that this team neither wins matches nor keeps clean sheets.
Martinez talked the talk in his first season, matching bravado with results on the pitch. As his tenure progresses, the sound bites continue but results are drying up. Positivity has become hollow rhetoric, and this nonsensical approach merely fuels fan frustration to the point Simon Magner, chair of the Everton Supporters Trust, told Press Association Sport on Thursday that the "vast majority" of Everton fans feel Martinez should no longer be the club's manager.
Martinez lives in a world of picnics and flowers, blissfully unaware that his house is burning down under his nose. You suspect supporters would be more accepting if there was a degree of honesty and realism, some kind of acknowledgement toward the plight afflicting this team.
The Everton boss is acutely aware of the problems facing his team, his pre- and postmatch reactions show as much. But talking about what is going wrong and actively addressing said issues are different things entirely, and that is where it is falling apart, there appears little attempt to rectify the situation. For the past two seasons, the glaring holes within the playing squad remain unchecked, and the same failings on the pitch are plain to see.
There was a degree of misfortune attached to defeat on Wednesday -- a deflected equaliser and a decisive City second arriving from a ball crossing the dead-ball line -- but this merely created an easy excuse. Surrendering leads is the only thing you can rely on this team for. It happens too often. Any grievances felt at poor officiating in midweek and the late 3-3 draw at Chelsea fades compared to the self-inflicted damage leading to a spate of dropped points and missed opportunities in recent months.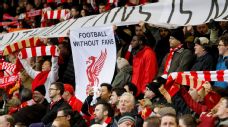 Tactical flexibility has faded. This once inventive and courageous manager has withered in plain sight, replaced by the predictable and stubborn custodian stood before us.
Players out of position are the biggest, and most avoidable, issue and resurfaced en route to the defeat. John Stones is many things; a right-back is not one of them. At fault more than once for the second City goal, poor positioning underscored slack marking for a third that ended any hope of a Wembley date. Meanwhile, first choice full-back Seamus Coleman warmed the bench until it was too late.
The other glaring error was Gerard Deulofeu departing on the hour mark for Arouna Kone. No amount of playing time in wide areas can turn Kone into a competent midfielder -- just as this foolhardy experiment seemed over, it resumed at the worst possible moment. As Deulofeu retreated to the bench, he took with him any hope of progress in this cup tie.
For the umpteenth time in the past 18 months, Everton began with purpose and intent but ended the match with no shape, no pace and no ideas. The longer the Martinez tenure advances, the weaker his team becomes, too soft, too lacking in bite without the injured Muhamed Besic.
Everton won 21 matches in Martinez's opening season. Since the start of the 2014-15 campaign, the league record stands at 18 wins in 61 matches. The win ratio has almost halved, dropping from 55 percent in the first season to 30 percent in matches since.
Victory at Carlisle is necessary, but it may not be enough. The goodwill Martinez earned during an excellent first season has all but expired. Everton have lost direction and Martinez is losing more and more support with each bad result. Managers rarely recover once the fans start to leave them behind. His only potential redeeming feature, at this moment, it seems, is the club hierarchy.
It is reasonable to expect a club with any hint of ambition would have pulled the plug long before now, but recent history points to Everton decision-makers content in merely surviving while the television deal boosts club revenue.
On the pitch, in the dugout and in a sparsely populated boardroom there is a distinct lack of progressive ideas or people determined to seize on the potential lurking within this club.
Until that day arrives, Martinez and a frustrated fan base are likely to continue their increasingly-tense relationship. Unless results and performances show immediate and drastic improvement, it is difficult to know whom this benefits.
Luke is ESPN FC's Everton blogger. Follow Luke on Twitter @lukeofarrell.