Everton season hinges on defining period for Roberto Martinez's men
January has proved unrelenting for an Everton side stuttering in the league and increasingly looking to domestic cup competitions for much-needed positives and a clearer route to European football.
The frustrating 3-3 draw at Chelsea marked a fifth match in 14 days across three competitions. When Everton host Swansea on Sunday, that exact sequence begins again, with this second batch of matches potentially season-defining.
There is the not-so-small matter of a League Cup semifinal second leg at Manchester City on Wednesday, with the Blues guarding a slender 2-1 advantage, before a tricky FA Cup tie at Carlisle on Sunday. Defeat in either would push this season into further despair.

Everton

Swansea City
Game Details
Before two domestic cup fixtures in the space of five days, three points are imperative against a Swansea side joining their hosts in occupying a league position far below preseason expectations. Everton are nearer to their weekend opponents in 17th than Manchester United in fifth.
Everton chase a first home win since dismantling bottom of the table Aston Villa 4-0 in November. Three wins in the last 13 matches at Goodison Park is symptomatic of a team unable to cross the winning line.
For all the plaudits earned from vibrant attacking football and a quartet of highly rated youngsters the envy of the continent, it is impossible to ignore another Everton league campaign close to fizzling out.
While the quality of football on display has increased dramatically since the previous campaign, this cavalier approach is yet to transmit into results. Everton are a point below the top half in 11th, the exact position they ended last season.
On three separate occasions, against Bournemouth, Stoke and Chelsea, Everton have scored three goals and failed to collect the three points. The 3-2 home defeat to Leicester stands as another missed opportunity. Everton cannot continue needing to score four goals to win a football match.
The Blues have won six leagues games in 2015-16, the same as Bournemouth and Norwich and only one more than Newcastle and Sunderland in the bottom three. One win for every month played so far this season.
Victory with the last kick of the game at Newcastle on Boxing Day remains the sole win in nine league games. Ten points is the gap to Champions League football, a dream shelved for another season.
These disappointing team figures are at odds with the fine individual contributions running throughout the squad. Romelu Lukaku is the league's joint top scorer, Gerard Deulofeu trails only Mesut Ozil and Kevin De Bruyne on assists, Ross Barkley is the standout English player in the division while Deulofeu to Lukaku is the most frequent assist combination.
Manchester City (43) are the only team with more goals scored (39), but only six teams possess weaker defences than the Everton one shipping 32 goals in 22 matches. Swansea arrive boasting a stronger defence, conceding two goals fewer than their hosts. This is a visiting team one point and one place above a relegation zone they occupied as recently as Monday.
That is the problem. Aside from a 34-year-old Gareth Barry covering more distance than almost every player in the division -- Bournemouth's Andrew Surman knocks the veteran midfielder into second place -- the standout statistics lean heavily toward the offensive third of the pitch.
Two clean sheets since Boxing Day and three in 16 matches since a 0-0 draw in the corresponding fixture in September tell the story of a team unable to hold on to leads and manage games toward their desired conclusion.
The stand-in captain when injury sidelined Phil Jagielka, Barry has previously voiced concerns on getting the balance right and did so again on the eve of this fixture. "The important thing now is to learn from what has happened previously when we have gone ahead by seeing future games through until the end," Barry told the club website.
After the 3-3 draw at Stamford Bridge, Leighton Baines pinpointed the issue. "We've only got ourselves to blame for not managing the game well enough really," he said.
"We went in front again, 3-2, and threw it away. The goal was offside but we have to manage games better."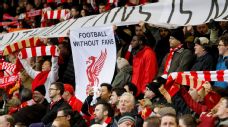 Martinez insists his team are ruthless enough, but 11 points dropped from winning positions in the past nine matches suggests otherwise. This trend for squandering advantages started with the fateful surrendering of 2-0 and 3-2 leads at Bournemouth in November.
In a season of widespread inconsistency, surprise contenders and so-called big clubs falling by the wayside, no team matches Everton for sheer frustration and underperformance, evidenced by a league-high 11 draws in 22 matches.
Only Leicester, Tottenham and Arsenal have fewer defeats this season. Everton are hard to beat but too easily denied victory, they play match-winning football but do not win matches. That must change ahead of hugely important week and beyond, starting with Swansea on Sunday.
Luke is ESPN FC's Everton blogger. Follow Luke on Twitter @lukeofarrell.