England hoping to avoid past mistakes with new generation
Football observers speak regularly about "generations" when discussing international football -- and with good reason.
An international manager can only work with the tools he's given, and the quality of footballers any country produces varies significantly from one era to the next, even for those nations currently admired by the rest of Europe.
For England, this is particularly true. The so-called "golden generation" (a term coined, somewhat unfairly, by former FA chief Adam Crozier) eventually failed to deliver a trophy, but whatever the reasons for their underwhelming performance in major tournaments, it's difficult not to look back with wonder about the talents of that era.
Looking at players who were born between 1974 and 1981, England could call upon Sol Campbell, Paul Scholes, David Beckham, Gary Neville, Frank Lampard, Rio Ferdinand, Jamie Carragher, Michael Owen, Steven Gerrard, John Terry, Ashley Cole, Owen Hargreaves, Joe Cole and Michael Carrick. Each of these players won either the Premier League or the Champions League. Over half of them won both. Some of them won multiples of each. Four of these were once voted into the top three of the Ballon d'Or.
OK, collectively, there were problems: England could never quite find the right system; they lacked a top-class goalkeeper; managers were guilty of overlooking disciplined team players like Carrick and Hargreaves. Nevertheless, this was a seriously talented generation, and none will look back upon their careers with anything but pride.
Skip forward eight years, and England boast another promising generation born between 1989 and 1996. The likes of Chris Smalling, Daniel Sturridge, Theo Walcott, Danny Welbeck, Jordan Henderson, Nathaniel Clyne, Phil Jones, Jack Wilshere, Harry Kane, Ross Barkley, Jack Butland, Alex Oxlade-Chamberlain, John Stones, Raheem Sterling, Eric Dier, Luke Shaw and Dele Alli are all already at top clubs, or likely to end up there within the next couple of years. Some will push on, some will fade away. But, if England don't get half-a-dozen top-class performers from this lot, it will be a real surprise.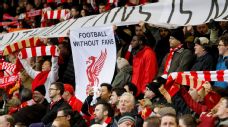 The problem for England, though, is the lost generation in between. From players born between 1982 and 1988, there are only two footballers who have ever been close to top-class performers: Wayne Rooney and Joe Hart. Rooney's dip in form is well-documented, and might be England's most serious individual problem.
Hart, meanwhile, has recovered close to his best form after a serious wobble a couple of seasons ago. It's peculiar that the "golden generation" lacked a goalkeeper more than anything else, whereas the following generation essentially only has a goalkeeper. But that, of course, is international football all over -- you get waves of talent.
Aside from Hart and Rooney, the 1982-88 generation is badly lacking. Going into next summer's Euro 2016 tournament in France, these would theoretically be footballers between the ages of 28 and 34, and dependable, established leaders with plenty of major tournament experience. They should be setting the standard for the talented younger generation, the way that the likes of Germany's Manuel Neuer, Philipp Lahm, Bastian Schweinsteiger and Miroslav Klose could inspire Toni Kroos, Mesut Ozil, Thomas Muller and Mario Gotze.
England, sadly, don't have much to speak of here. Of the 41 players called up by Roy Hodgson over the past year, just nine fall into this 1982-88 category. Aside from Hart and Rooney, these are generally players just outside top-class standard: Phil Jagielka, Leighton Baines, James Milner, Gary Cahill, Adam Lallana, Fraser Forster and Jamie Vardy. They're Europa League level rather than Champions League standard.
It's noticeable that these players generally made their debuts in their mid-20s. Milner was the earliest, and even he continued to play for the under-21s for a significant period, earning the somewhat unwanted distinction of possessing the most under-21 caps in history. There's nothing wrong with late developers, of course, but realistically England turned to these players when there wasn't really anyone else. Do you remember any hype about a teenaged Baines? Anyone calling Forster England's next great goalkeeper?
This lost generation is costing England. Successful international sides, in general have at least eight or nine solid, dependable leaders with plenty of big-game experience. England have two.
From the outset, Hodgson realised this. He depended upon the experience of Gerrard out of necessity, but he was keen to call up promising youngsters immediately. The likes of Sterling, Barkley, Butland and Stones were summoned at an extremely early stage -- and rightly so, as it's turned out -- while the decision to include Luke Shaw rather than Ashley Cole for last summer's World Cup was the clearest possible statement that Hodgson was looking to the future. It remains to be seen whether Hodgson will reap the benefits of blooding youngsters early, or whether a successor will enjoy these talents more.
The peculiar thing about Hodgson's reign, in fact, is that he's approached the England job in the complete opposite manner that everyone expected.
An old-school manager who would depend heavily upon experience? He's brought through plenty of youngsters.
A committed 4-4-2 man? He's experimented with 4-3-3, 4-2-3-1 and a midfield diamond over the last 18 months.
Too defensive? England's early exit from World Cup 2014 was, in hindsight, because Hodgson got a little carried away with Sterling's sensational form and essentially played four outright attackers.
Of course, whether Hodgson deserves credit for blooding youngsters is a matter of opinion -- his detractors would say, perhaps reasonably, that he didn't have much alternative because of the paucity of older options.
But it's unlikely those detractors will mention this gigantic problem should England underachieve at next summer's Euro 2016 tournament. If the worst happens, Hodgson will inevitably be blamed.
Realistically, though, England simply don't have enough top-quality players in the age range you usually need to win major international tournaments. The lost generation, rather than anything a manager can do, is England's major weakness.
Michael Cox is the editor of zonalmarking.net and a contributor to ESPN FC. Follow him on Twitter @Zonal_Marking.