D.C. United captain Steve Birnbaum has been diagnosed with a concussion after a head-to-head clash in Saturday's 2-0 loss to New York Red Bulls, general manager Dave Kasper said Monday.
The 26-year-old centre-back suffered the injury in the second minute of added time when he collided with Red Bulls defender Damien Perrinelle while vying for a long ball.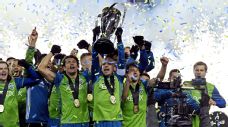 Subscribe to MLS LIVE today!
- MLS LIVE is back with an all-new platform for 2017
- Get the most matches ever, LIVE and ON DEMAND
- Packages start at only $14.99 a month
- Watch MLS on your phone, computer or TV
- Subscribe today at live.mlssoccer.com
He was taken to a New Jersey hospital after the match and remained in the team hotel an extra day, where he stayed with a team staff member before...