Emmanuel Adebayor could thrive at Crystal Palace under Alan Pardew
Life isn't perfect. It doesn't always turn out like you want or hoped. Sometimes you just have to compromise, whether it's taking that job you don't really want but pays well or changing your entire, life-defining principles.
And Crystal Palace fans are facing their own compromise crisis at the moment with news that controversial striker Emmanuel Adebayor could be joining the club.
The Eagles haven't scored in five league games and with the January transfer window now open, that means they've been linked with what feels like every single striker in Europe.
And yes, while Palace supporters accept a new striker is probably needed, most would rather have Loic Remy, Khouma Babacar or Charlie Austin, who turned South London down in favour of the salty sea air of Southampton. However, they're going to have to face the fact that none of those players are coming and they might just have to compromise with Adebayor.
Adebayor, like all of us, comes with baggage. It's just his baggage is enough to fill a private jet all the way from Togo to Thornton Heath, and that's the main stumbling block for most Palace fans coming around to the idea of the former Tottenham man rocking up at Selhurst.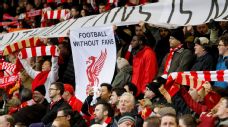 It's at this point that we need to remind ourselves, again, that Alan Pardew's team need goals. They haven't scored in the league since Chung Yong-Lee's superb 25-yard winner at Stoke on Dec. 19 and the team's collection of strikers have just one goal between them so far this season.
Meanwhile, Adebayor's record is not to be sniffed at: 176 goals in 483 games for the likes of Arsenal, Tottenham and Real Madrid is something the likes of Connor Wickham, Dwight Gayle and Fraizer Campbell must have regular dreams about.
But it's the stories surrounding Adebayor's behaviour off-the-pitch that has most Eagles fans hesitating; worried that his arrival could unbalance the delicate equilibrium among the current crop at Selhurst. Yet again, though, let's just return to the crux of the matter which is that Palace need goals.
And depending on which former professional footballer you listen to, Adebayor could be the perfect man to help Palace sort out their dry January or the worst thing to ever happen to the club. Ever.
Among those in favour of an Adebayor arrival is his ex-Tottenham teammate, Jermaine Jenas. "The first thing I remember is being almost shocked by his work ethic - and not in the way some people might expect," he said. "I think being away from the glare of the Premier League for the last six months will have reinvigorated him...on a short-term deal, it's a no-brainer," said Jenas.
Joey Barton, though, no stranger to off the field controversy himself, disagreed, while a guest on BT Sport's Fletch & Sav show. "Everyone is aware of what he earned at Manchester City and what he came to Tottenham on. Palace's wage structure is improving but it probably won't be at that level.
"Does it cause a little bit of unbalance in the dressing room in terms of players like [Yannick] Bolasie going 'well hang on a minute, I've done it for longer for this club.'? I just think there is all that to be taken into account, not only his ability on the football pitch."
But the same Barton also said this on the very same show: "I think he's the kind of player that looks like he needs a manager to put his arm round him. I think Pardew's perfect. He's a really good man-manager and will definitely get goals out of him."
So if the men who played with and against Adebayor can't agree on whether he will be a success at Palace, how can the fans already be writing him off? Desperate times often call for desperate measures and the Eagles are desperate for goals. They could do a lot worse than Adebayor.
Jim Daly is a freelance football writer and founder of Palace fanzine Five Year Plan. You can follow him on Twitter @jimdalycomedy.