Antonio Conte has lifted Chelsea from the doldrums of Jose Mourinho's exit
Saturday will mark the first anniversary of Chelsea pulling the plug on Jose Mourinho's second spell at the club. The defending champions were 16th in the table, a point above the Premier League relegation zone. "The club's focus is now on ensuring our talented squad reaches its potential," read the statement released that Thursday afternoon, making pointed reference to the backdrop behind Mourinho's sacking.
The club's current lofty position, fully six points clear at the top, means Mourinho has swiftly been consigned to Chelsea's history books. Antonio Conte's achievement of 10 straight league victories, with just two goals conceded, has scratched the itch of a manager who had been the most successful in the club's history.
These days, the former "Special One" is little more than the manager of rivals Manchester United, 13 points behind Conte's pacesetters. And star players who had failed Mourinho, chiefly Eden Hazard, Diego Costa and Cesc Fabregas, are renewed as leading lights by Conte's clarity of vision.
"Jose's job was to get the best out of them; he couldn't do that, and things were badly broken," former Chelsea defender Jason Cundy, and broadcaster with Chelsea TV, told ESPN FC. "And Conte is now getting the best from them."
Owner Roman Abramovich chose to push the button three days after a 2-1 loss at Leicester, the eventual champions, but at that time still very much a surprise package. The manner of defeat had hardly been emphatic, but what followed in the King Power Stadium press room exposed just how broken things had become. Mourinho unsparingly passed blame to his players.
"I feel my work is betrayed," Mourinho said. "I worked four days in training for this match. I went through it all with the players, you can ask them."
There had also been a flashpoint with Hazard. The previous season's Footballer of the Year and Mourinho had a sideline row, when, after sustaining a hip injury in the 31st minute, Hazard was asked to continue playing by his manager, only to limp off of on his own accord, aiming an angry broadside at Mourinho as he departed the field.
"It must be a serious injury," Mourinho remarked afterwards, his tone dripping with sarcasm, and little in the way of sympathy. Hazard's performance levels had dropped from a cliff, and though he was hardly alone in that with only Willian playing well, the Belgian's slide was the most striking.
Until missing Wednesday's 1-0 victory at Sunderland with a minor injury, Hazard's form has come close to replicating the player of 2014-15. As he collected November's player of the month award, he offered a reason for last season's slump, namely the hip problem that Mourinho dismissed.
"I'm playing without pain," he said. "Last year was complicated. Some people didn't believe it but I played with an injury for a long time. I was never 100 percent."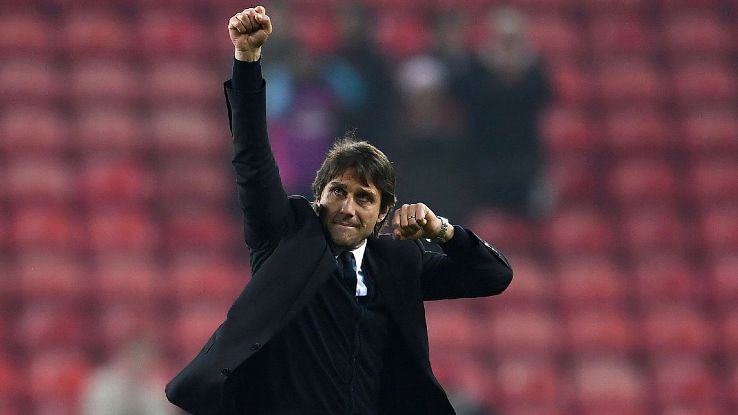 Hazard now plays like someone enjoying his football, and the same is true of Costa. During that Leicester defeat, the striker could be seen sarcastically applauding teammates for the defending that allowed first Jamie Vardy and then Riyad Mahrez to score. He was hardly doing so from a position of superiority, having not scored in almost two months.
"He looked frightened of getting into scoring positions," said Cundy.
This season, Costa conjures moments like Sunday's supreme winning goal against West Brom as a matter of course, and has not been booked since Chelsea's last league defeat, the 3-0 Sept. 24 loss at Arsenal during which Conte switched to three at the back, a formation he has persisted with ever since -- aside from a rejig during the West Brom game.
"Costa knows he cannot fight the world anymore," Chelsea fanzine writer Ollie Glanvill told ESPN FC. "He was annoyed with the manager, the manager annoyed with him, but now he's channeling that anger."
Costa is the Premier League's joint-top scorer on 12 goals, but took a backseat at Sunderland as Fabregas instead scored. The Spanish midfielder has endured a difficult 18 months, and had already fallen out of favour with Mourinho at Leicester, having been on the bench until the manager hauled off John Terry in the 51st minute and went to a three-man defence not nearly so successful as that employed by Conte.
A year on, Fabregas started at Sunderland having supplied Costa's late West Brom winner as a substitute. "It was important to change the cards on the table and find a new solution," explained Conte on Sunday.
"At the moment, whatever the scenario, he's coming up with the right answers," said Cundy of Conte. Chelsea's climb from the doldrums of last season, the crisis that precipitated Mourinho's removal, is fired by the revival his replacement has brought from Hazard, Costa and Fabregas.
John Brewin is a staff writer for ESPN FC. Follow him on Twitter @JohnBrewinESPN.