Man City's hiring of Guardiola leaves Chelsea adrift in managerial limbo
Much of the reaction to Monday's announcement of Pep Guardiola as Manchester City's next manager centred on what the decision meant for a Manchester United still clinging to an uneasy faith in Louis van Gaal. Rather less was said about how the reigning champions of England would respond.
Chelsea's spectacular slide into Premier League irrelevance this season has been so numbing that the blow dealt by a second Guardiola rejection barely registered in comparison to the humiliation felt by many connected to United that the Spaniard chose the Blue side of Manchester.
In truth, the world's most coveted coach has never seemed keen on a move to Stamford Bridge, one among several causes of his disdain reportedly being Roman Abramovich's reputation for ruthlessness in dealing with those who have been and gone before.
Yet ironically it was the Russian's determination to show patience that did the most to make Chelsea the least attractive landing spot in the Premier League this summer, allowing Jose Mourinho to preside over disaster and "palpable discord" before sacking him with hope of redemption and Champions League qualification all but extinguished.
The resulting mess leaves Chelsea in their worst crisis of the Abramovich era, just as many are heralding the onset of City's first sustained spell of Premier League dominance. It's a reasonable assumption -- Guus Hiddink is right when he says that Guardiola will have to adapt to the unique challenges of English football, but the Spaniard boasts an unrivalled track record of managing clubs loaded with wealth and talent to the limit of their resources.
Chelsea, in contrast, are a club on hold. The dynasty Mourinho was meant to build lies in ruin and the only thing left for Hiddink to do is salvage as much as he can from the wreckage until a new architect is found in the summer.
That search is made no easier by the fact that an untimely absence from the Champions League looks inevitable. It's hard to envision Diego Simeone leaving Atletico Madrid -- where his hero status exceeds even Mourinho's at Chelsea -- for a rebuilding project at Stamford Bridge high on risk and low on guarantees, even if he could be freed from his prohibitive contract in the Spanish capital.
Antonio Conte might be more amenable if, as reported, he is ready to quit his job as Italy manager after Euro 2016. But in the unlikely event that the Azzurri exit the tournament in the group stage, the earliest he could take over would be June 23 -- almost six weeks into a summer that Chelsea badly need to attack purposefully from day one.
Ultimately the most realistic candidates for the job may be Hiddink, the man keeping the suit warm, or Manuel Pellegrini, the man City traded in. Whoever is handed the responsibility faces the unenviable task of stamping a new identity on a brittle squad lacking entirely the key dressing room figures that underpinned the triumphs of the past 12 years.
John Terry, unmoved by the backtracking statement issued by Chelsea late on Sunday night, still expects to end his 18-year professional association with the club this summer and pursue a future outside the Premier League.
Didier Drogba has postponed his second return to Stamford Bridge in favour of honouring the final year of his deal with Montreal Impact. Frank Lampard, Ashley Cole and Petr Cech have already been discarded while Juan Mata and David Luiz, the emerging leaders of the next generation, were sold by Mourinho.
Last season's Premier League title-winning core remains intact, in body if not in spirit. Yet a season outside Europe's elite club competition will test the resolve of Eden Hazard and Diego Costa, both under long-term contracts but frequently linked with big-money moves to Madrid.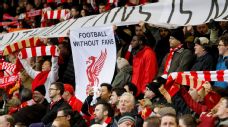 Replacing star talent while in the Champions League wilderness would be unprecedented and nigh on impossible. Even significantly improving this squad will be highly difficult as United resume their desperate hunt for marquee names and City scour the market in search of talent that meets Guardiola's very particular specifications.
Hiddink has no doubt that the Spaniard will hit the ground running. "[City] have a lot of time to prepare for the new season and they know the plans and you can adjust to that," he said on Friday.
"It's a new experience [for Guardiola] knowing that every week or three or four days there will be huge opposition. But he will be told and he is very experienced in his career. He has also the Spanish guys at Manchester City, who are very experienced in this league."
In the meantime United might have some soul-searching to do, but Chelsea have a mountain to climb before they can be considered a rival worthy of the title.
Liam is ESPN FC's Chelsea correspondent. Follow him on Twitter: @Liam_Twomey.