Chelsea approach with captain John Terry has left supporters reeling
John Terry's shocking revelation that he will leave Chelsea at the end of the season has taken the gloss off the club's recent revival.
His announcement that he'd been advised by prior to last weekend's 1-0 win at Arsenal that he would not get a contract extension -- and the skipper's insistence that he would have loved to stay -- left supporters reeling.
With the dust just settling from December's sacking of Jose Mourinho, Terry's news felt like another slap in the face for fans disgruntled with the short-term, blinkered and disrespectful approach the Chelsea board have when it comes to dealing with personnel they hold dear to their hearts.
Chelsea failing to issue a public statement at the time they made the decision, leaving a clearly frustrated and upset Terry to enlighten the world, looks like a PR gaffe of the highest order. Worse was to come in the form of a half-hearted response from the club that "the situation could change in the coming months," and that they would "keep the channels of dialogue open."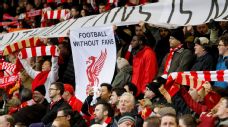 Interim manager Guus Hiddink has done a decent job of rebuilding team morale, but with his skipper Terry the focal point of the dressing room, this latest wholly unnecessary drama could throw Chelsea's season into disarray once more.
Yes, he's 35 and may not have many top-flight games left in him, but as fellow Chelsea icons Frank Lampard and Petr Cech have both capably demonstrated since being deemed surplus to Chelsea's requirements, the age of a player sometimes needs to be put into perspective. Like Lampard and Cech before him, the club's stance regarding Terry looks poorly thought out.
His glittering 21-year career at Stamford Bridge has brought Chelsea four Premier League titles, five FA Cups, three League Cups, the Champions League and the Europa League. That surely has a value to the club that far outweighs the cost of a one-year contract extension. Are owner Roman Abramovich and his minions blind to this?
In a similar fashion to Manchester United legend Ryan Giggs, who slowly moved into a coaching role at Old Trafford and now sits at the right hand of the manager with the aspiration to one day take his place, Terry, who has the credentials to be one day be acknowledged as Chelsea's greatest player, should be afforded the same opportunity.
His experience is priceless. From a schoolboy to the club captain, who better to pass on pearls of wisdom to younger players than a man who has done it all for the club they aspire to play for? One of the few success stories in what has been a turbulent season to date has been the continued emergence of young centre-back Kurt Zouma, who has clearly benefitted from playing alongside Terry. He has almost 700 appearances for Chelsea under his belt and the craft, guile and winning mentality to be the supreme tutor. Who will do this job if he leaves?
It's not just the stories of guts and glory that sees Terry recognised as a true giant of the game and someone younger players can learn from -- it's the adversity as well. From that penalty shootout miss against Manchester United in the 2008 Champions League final, to the dismissal in the Camp Nou in the second leg of the 2012 semifinal of the same competition in Barcelona, Terry picked himself up, dusted himself down, got on with it and came back stronger.
Then there is "Captain, Leader, Legend" Terry, the merchandising man's dream. How many "Terry 26" replica shirts could Chelsea still sell not only to tourists visiting the Stamford Bridge megastore, but in those territories where they are brand-building?
There is the distinct possibility that Terry, the hero of Stamford Bridge, may be too omnipotent a force to be reckoned with for many managers. Perhaps the board has taken the view that he would prove to be too much of an influence and distraction to players whom they want to be 100 percent behind their new man. It will be interesting to see just how open those "channels of communication" are when Chelsea announce their new manager in the summer.
Football supporters will always tell you that no player is bigger than the club. While that statement is true, Terry's phenomenal fable is so deeply woven into fabric of Stamford Bridge that his departure will leave a huge chasm.
Once again, as with the abrupt dismissal of managers Mourinho (the first time if not the second) and Carlo Ancelotti, Chelsea's succession planning looks abominable.
While the latest development regarding Terry's future provides a glimmer of hope for those who want him to stay at the Bridge, history suggests that common sense will once again be in short supply as the SW6 soap opera continues.
Mark Worrall is one of ESPN FC's Chelsea bloggers. You can follow him on Twitter: @gate17marco