Alexandre Pato will have to buck trend of Chelsea's misfiring reserve strikers
It sounds an ideal job. It is lucrative, yet not overly strenuous. It amounts to highly paid part-time employment, comes with the promise of rubbing shoulders with the stars and the prospect of silverware. When the borrowed Alexandre Pato takes up his new post as Chelsea's backup striker, many will be envious.
Yet the prognosis is bleak and not just because if Pato aims to play on the left, as he has done for Sao Paulo, he will face competition from the reigning Footballer of the Year Eden Hazard and the triple Champions League winner Pedro. Nor because the 26-year-old has yet to justify the predictions of greatness lavished upon him as a teenager at AC Milan. Pato has gone from Galactico-in-waiting to a Robinho-esque example of how some Brazilian prodigies do not realise their undoubted potential.
Nor, more often than not, do Chelsea's substitute strikers, which is his probable role. During the past dozen seasons, they have tended to be an illustrious lot. They have included a Ballon d'Or winner in Andriy Shevchenko and a man who finished third in the voting in Fernando Torres. Two, in Didier Drogba and Samuel Eto'o, have been African Footballers of the Year. Radamel Falcao was voted a member of the FIFPro World XI. Nicolas Anelka and Hernan Crespo had both been the world's most expensive footballer, either courtesy of an individual transfer or cumulative fees. Daniel Sturridge and Romelu Lukaku were, like Pato a few years ago, wunderkinds.
Factor in Loic Remy, Adrian Mutu, Mateja Kezman, Claudio Pizarro and Salomon Kalou and the benchwarmers in the Roman Abramovich years have come at a combined cost approaching £200 million. Given the expenditure, the talent and the pedigree, they ought to have represented a guarantee of goals. Too often they have not. Since Jose Mourinho first took over in 2004, Chelsea have seemed disproportionately dependent on one centre-forward in their squad: first Drogba and now Diego Costa.
That is in part a product of tactics. Mourinho was ideologue and pragmatist alike. He rebranded Chelsea. He reshaped them. Each of the other seven managers in the subsequent spell -- Avram Grant, Luiz Felipe Scolari, Guus Hiddink, Carlo Ancelotti, Andre Villas-Boas, Roberto Di Matteo and Rafa Benitez -- has followed his lead and played one-striker systems, either 4-2-3-1 or 4-3-3. Only in the first few weeks of Mourinho's reign and then with the uneasy experiment of pairing Drogba and Shevchenko have Chelsea really played with a pair.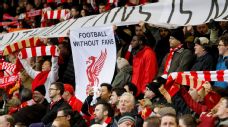 A successful strike duo featured at Stamford Bridge under Claudio Ranieri, but Jimmy Floyd Hasselbaink left with the Italian and Eidur Gudjohnsen generally dropped deeper thereafter. Since then, the second-choice attacker's lot has been a difficult one, deprived of chances to impress and hired when the pecking order is so entrenched there is little opportunity for progress. They have been judged on brief cameos, rather than trusted in major matches. The only career path leads to the exit.
Take Remy. In one respect, his record of eight goals in 29 league games is undistinguished. Reframe it as eight in seven starts and it is apparent the Frenchman has not failed. Yet despite Costa's wretched start to the season, Remy remained the reserve. Chelsea's style of play has been built around a battering ram, not a sleeker, speedier striker. Costa quickly became the reference point, just as Drogba had a decade earlier.
Abramovich's vanity buys indicate his preference for another brand of football. By the time Shevchenko and Torres became the substitute strikers, it was an indication of ignominious demotion. They were the superstars who were not trusted to start, successive club record buys who arrived for a combined £80 million. Chelsea never recouped a fee for either. The borrowed Falcao began on the bench but belongs in the same category of the busted flush. Chelsea have had strikers who declined quicker than they could run.
They had others on an upward curve, but who hit a brick wall at Stamford Bridge. Lukaku made a solitary league start for Chelsea. He preferred the added opportunities he got elsewhere. Sturridge featured more often, but often on the right.
That slot has facilitated some uncomfortable compromises. Drogba and Anelka were the duo who were not a partnership, either tactically or temperamentally. The Frenchman was a loner who often figured on the flank, never really a winger, neither a touchline-hugging crosser nor a man with the defensive diligence to support his right-back. Yet he was too good a player to be omitted, too important to alienate but not as emblematic as the Ivorian as the main striker.
Anelka won the Golden Boot in 2008-09 although, tellingly, Drogba only started 15 league games that season. Anelka served as a prolific deputy, but tended to be consigned back to the wing when the target man was available again. Kalou was a lesser talent, an unheralded figure and more of a winger. But his return of 60 goals in 251 games, the majority as either wide man or replacement, and his longevity, suggest he belongs among Chelsea's best backup forwards of the modern era.
Because the reality is that many have either failed or not been given the chance to succeed. Drogba, who changed the mould of Chelsea strikers, may have also been the best understudy during his comeback tour last season. Without the physical capability to play every game, but with the big-match temperament to flourish if Costa was sidelined, he excelled in both meetings with Manchester United and scored crucial goals against Tottenham and Leicester. Chelsea's win percentage was higher with Drogba in the starting XI than without. Because he was a similar sort of striker, they did not need to change their style of play.
Less of a warrior, Pato cannot claim to be a Costa duplicate.
Yet Drogba's deployment as his deputy was only ever going to be a short-term affair. Age dictated as much. It highlighted why there is such a high turnover of Chelsea's reserve forwards: Ambition drives many away, ineffectiveness removes others and a growing sense of embarrassment still more -- as Torres and Shevchenko can testify. Mutu, sacked after testing positive for cocaine, has to rank as the worst of the lot. If he is the anomaly, too many reputations have suffered, even as bank balances were boosted.
Few have seen their careers progress as Chelsea's second-choice striker. Pato may yet be an exception, but his physique suggests otherwise. So does history.
Richard Jolly covers the Premier League and Champions League for ESPN FC. Twitter: @RichJolly.