Chelsea enjoy familiar success over Arsenal to give Hiddink belief
In this bizarre Premier League season full of twists and turns, it is reassuring to know that some things never change. Reigning champions Chelsea might have flirted with relegation and last season's great escape artists Leicester City might now be sitting pretty at the top of the table but as sure as night follows day, you can still rely on Chelsea beating Arsenal when it really matters.
The two teams have enjoyed contrasting fortunes over the past few months and while they both entered Sunday's match on the back of consecutive draws, the context of those results and their respective campaigns suggested that it was finally time for Arsenal to break their Chelsea hoodoo. Instead, what transpired was 90 minutes reminiscent of so many of these encounters over the last 10 years. A positive Blues side bullied and dominated their London rivals to ensure that even without boasting Arsenal's traditional nemeses of Jose Mourinho or Didier Drogba, Chelsea could continue to inflict significant damage.

Arsenal

Chelsea
Game Details
To borrow a favoured terrace chant, Chelsea must wish they could play Arsenal every week. This is not merely to rub Arsene Wenger's nose in it, but because all the evidence points to the Blues definitively raising their game every time they are confronted by those red and white shirts. The 1-0 win at the Emirates saw the visitors put in their best display of the season by far, to follow on from a similarly professional outing when they beat the same opponents 2-0 at Stamford Bridge in September. That they have executed their two standout performances this season against a team fancied by many to finally win the Premier League after a 12-year gap is both infuriating and encouraging. It proves the talent and ability is undoubtedly still there though perhaps the team's attitude isn't always what it should be.
Sunday's victory was no smash and grab, either. Controlled and composed, positive and precise, Chelsea were the better side even before Per Mertesacker was sent off for bringing down Diego Costa. That they were able to capitalise on their numerical advantage by scoring the winner almost immediately after the sending off showed a rare ruthless edge that has been markedly absent this season.
Costa was a marauding menace all afternoon and he is swiftly becoming as influential in these fixtures as his illustrious predecessor, Drogba. Just his mere presence seems to strike fear into the hearts of the Arsenal's centre-backs with him being able to provoke hasty reactions and poor decisions from them almost at will. By the same token, the pugnacious striker was also able to control his own tendency to combust. There were the usual array of nudges and niggles but nothing unnecessarily untoward and few real gestures of annoyance aimed in the direction of the officials. This really was the Costa of last season, something that bodes extremely well for the rest of the current one.
But while Costa's ability to dominate his opponents is nothing new, the sight of Chelsea's midfield performing so admirably was a very pleasant surprise. Striking the right balance in that part of the field has troubled them for more than 12 months with the issue pushed into stark relief in their previous two matches, the 2-2 draw with West Brom and the 3-3 draw against Everton.
In their previous fixture, the pairing of Nemanja Matic and John Obi Mikel was pulled apart by Roberto Martinez's team as Cesc Fabregas, sitting in front of them, struggled to get on the ball effectively in the opening hour of the game. Fast forward one week and the same combination provided a display of calm assuredness and game intelligence. Mikel's positioning was immaculate and his tranquillity in the heat of the battle ensured that all around him were just as measured in their own actions. Lately, Matic has not scaled the peaks that he did in the first 18 months since he returned to the club though this was a more encouraging display, full of excellent timing and neat distribution.
But the jewel in the midfield crown was undoubtedly Fabregas. Here was a man reborn, a player suddenly exhibiting all his best qualities and now the semblance of the player that helped orchestrate last season's successful title tilt. At the Emirates he was simply everywhere. Freed from the defensive shackles imposed upon him when deployed in a more rigid deeper role, he could be found popping up all along the front line or collecting the ball off the back four. His exquisite touch punched numerous holes for his forwards to exploit and Arsenal's midfield was left chasing his shadow for much of the afternoon. With every round of boos from the home crowd that rung in his ears, the former Gunner seemed to grow in stature. It was a masterful individual display and one that Guus Hiddink will be hoping to see more regularly in the coming weeks.
This was certainly a match to provide encouragement to everyone connected with Chelsea though before everyone gets carried away with talk of corners being turned, there was still some evidence of this season's wobbles. The nervy last 10 minutes, for instance, belied the fragile confidence that permeates the squad. Rather than assume control against a team reduced to 10 men, Chelsea conceded possession cheaply on a number of occasions with memories of this season's defensive calamities clearly at the forefront of their minds.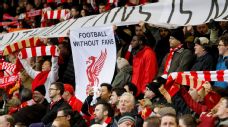 There was also a distinct lack of edge once Costa had to be substituted due to a flare up of the shin injury suffered a week earlier against Everton. His replacement, Loic Remy, entered the fray as if he had just been woken up from a deep sleep and lumbered around the pitch as if still in slumber. Twice Eden Hazard supplied him with an excellent opportunity to settle the match with a second goal and twice the Frenchman made a complete mess of the situation. Perhaps it is too much to expect a player that has been denied so much game time to instantly flick a switch and become a deadly striker, but it was notable how blunt Chelsea's threat was once their main spearhead was removed.
Ultimately, this was a match to inject some much-needed joy into the hearts of Chelsea supporters. This was more like the team they had cheered toward the title last May. Although repeating that feat is now all but impossible, the remainder of the season and specifically the Champions League double-header with Paris Saint-Germain can now be approached with a degree of hope rather than dread.
Phil is one of ESPN's Chelsea bloggers. You can follow him on Twitter @PhilLythell.