Chelsea should forget Premier League, focus on Champions League, FA Cup
We have heard a lot about priorities in recent months. This is the time of year when fixture lists become almost intolerably crowded, when cup and league games are crammed into too little space and managers have to juggle their resources to channel energy toward the most important competition.
Invariably, the most important competition is deemed to be the Premier League, the golden egg of English football in which most teams are trying to challenge for the title, break into the top four, qualify for Europe in some other way, avoid relegation, or simply just progress and improve toward one of those goals. The FA Cup and Capital One Cup, and even the Europa League, typically suffer in deference to what has become the default priority for most clubs.
This season, none of those things apply to Chelsea. Their stuttering start gave way some time ago to a genuinely calamitous campaign, to the extent that with nearly two-thirds of it gone, they're almost closer to the relegation zone than the top half of the table, never mind the top four and the Champions League places.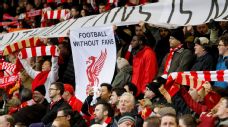 With 16 games of the season remaining, Chelsea are 19 points off Arsenal and Leicester at the top, 14 away from Tottenham in fourth place. They're obviously not going to win the title and it would take a minor miracle for them to make the top four, but they won't be relegated either. The phrase "too good to go down" is a dangerous one, but it certainly applies to Chelsea, under whom there are at least three teams whose incompetence eclipses their own.
"We all like to look forward and to the top of the table," said interim manager Guus Hiddink last week, "but also don't be unrealistic -- you're six points off the line of relegation. That's also a fact. We have to work hard and be very concentrated and gather our points to step up."
At this stage, the height of Chelsea's ambitions in the league is to achieve a respectable finish, perhaps sneak into the top half.
But, frankly, what's the point in that? For a side like Chelsea, there's little real difference between finishing anywhere between fifth and 17th. If they aren't going to win the league, or even qualify for the Champions League, they have little to prove given that they won the Premier League last season.
The prize money, which increases the higher a team finishes in the table and was worth an extra £1.2 million per position last season, nevertheless has little relevance to a club owned by Roman Abramovich, and is rendered virtually pointless by the windfall of cash from the colossal television deal which kicks in next season. Thus, there's little reason for them to try excessively to improve their league position.
Instead, the most sensible course of action for Chelsea to reverse the usual position of Premier League managers and basically "punt" the league campaign and concentrate on the cup competitions. They made their way through to the fourth round of the FA Cup and have an admittedly ticklish but ultimately favourable draw against Northampton or MK Dons, while in the Champions League they will face Paris Saint-Germain, another tough but clearly winnable tie. It seems fairly obvious that they have a better chance of winning both of those competitions than doing anything remotely interesting in the league, so why not concentrate their resources on doing something achievable?
In the coming weeks, Chelsea have some theoretically "big" league fixtures, against Arsenal this weekend and Manchester United in February, but aside from a morale booster, what really is the difference between the teams they will face? It would be much better to focus their attention on the PSG game, and make sure all of their efforts are concentrated on progressing in Europe.
It's not an outlandish idea to think that Chelsea could win the Champions League, either. While it is clearly a more difficult competition to win than in years past, that doesn't always mean that the best team in it will triumph. Chelsea are probably the most recent example of that, as they finished a profoundly underwhelming sixth in the Premier League in 2011-12, but won both the FA Cup and the Champions League.
Hiddink should treat the rest of the Premier League season as an extended training exercise for the Champions League, balancing the playing time of his key players to make sure they stay sharp, while at the same time ensuring they remain fresh. A pleasing side effect of this will be the opportunity to give some of their younger peripheral players a good amount of playing time in some meaningful football -- the likes of Ruben Loftus-Cheek, Kenedy, Bertrand Traore and perhaps even Patrick Bamford. If they succeed, they will have half a season under their belts and realistic options for the first-team next season and beyond, while if they don't, it provides a good chance for them to be properly assessed.
In short, there really is little to be gained for Chelsea to bust their guts in the Premier League. Their attention should be focused on winning the Champions League and FA Cup.
Nick Miller is a writer for ESPN FC, covering Premier League and European football. Follow him on Twitter @NickMiller79.