Chelsea a club on hold, happy to get every point in this terrible season
After a 3-3 draw with Everton on Sunday, the Chelsea line was of spirit, of momentum, of a point gained. The Blues had twice come from behind to draw, and the roar at Stamford Bridge as the home side poured forward in the final minutes was louder than any time in this nightmare season.
When it arrived, John Terry's 98th-minute backheel (from an offside position) felt like a winner and was celebrated as such. But it wasn't. Chelsea could only enjoy the moment in the moment, before the crushing context of the Premier League table hit home again.
Guus Hiddink's second interim spell may yet to encounter defeat -- with three wins and four draws from his seven games -- but a team that were champions only eight months ago still find themselves incomprehensibly much closer in terms of places and points to the relegation zone than the top four with 22 matches played.

Chelsea

Everton
Game Details
At the start of Saturday's match, the gap between Tottenham Hotspur in fourth and Chelsea in 14th was 12 points. By the time Stamford Bridge emptied, it had grown to 14, courtesy of Sunderland's comprehensive 4-1 defeat at White Hart Lane. Hiddink's claim of "a point gained" made a degree of sense but rang hollow with the knowledge that Champions League qualification -- a distant dream for several months -- had moved further than ever.
For much of the afternoon Chelsea didn't play like a team that believed their season could be salvaged. A tentative first half was punctuated only by Everton half-chances as Hiddink's men struggled for space and ideas in the final third.
The previously untried midfield partnership of John Obi Mikel and Nemanja Matic, installed in a bid to create the "balance" between defence and attack that the new manager craves, found only sideways and backward passes while Cesc Fabregas laboured in the advanced role normally occupied by Oscar.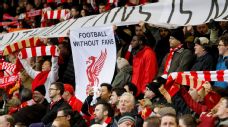 Terry's first decisive contribution, turning Leighton Baines' pinpoint cross from the left into his own net five minutes into the second half, failed to wake Chelsea from their creative slumber. Nor could Mikel or Matic prevent Everton finding opportunities to trouble the Blues' back line whenever they surged forward. Ross Barkley struck a post, and by the time Kevin Mirallas lashed Everton's second goal past Thibaut Courtois on 56 minutes, the visitors should have been out of sight.
Asked how it felt that his side had only started playing at 2-0 down, Hiddink replied in his postmatch news conference: "It's frustrating because we want to dominate and control the games, but [Everton are] one of the smartest teams in the Premier League in the way they play. I want to focus on the reaction of the team. That's very good for momentum to go on in the rest of the season."
The reaction was as impressive as Chelsea's previous inertia had been baffling. Diego Costa bullied the Everton defence while the enthusiasm of Kenedy was a significant upgrade on Pedro's second woeful performance in four days. Mikel proved a more effective midfield barrier alongside the roaming Fabregas than he and Matic had been together, and at times during the closing siege it felt like the Stamford Bridge pitch had been tilted toward the visiting goal.
Costa's revival under Hiddink -- five goals in five matches after four in his previous 21 this season -- is the biggest cause for optimism at Chelsea, which is why his limping, wincing exit with a shin injury 10 minutes from time is such a concern. Arsenal will relish the thought of welcoming a brittle Blues side spearheaded by a rusty Loic Remy to the Emirates Stadium next weekend.
Hiddink is adamant that Chelsea don't intend to sign a striker in January, even with Radamel Falcao poised to complete the final months of his season-long loan from Monaco in the hands of doctors and physios at Cobham. The Dutchman's wider admission on Friday that all transfer business at Stamford Bridge is on hold until the summer was more remarkable still, even if it made perfect sense.
On the pitch and off it, Chelsea are a club on hold. Jose Mourinho, the most charismatic and successful manager Stamford Bridge has ever seen, is gone. His successor will not be appointed until the summer. Between now and then, few long-term plans can be made and Hiddink is simply holding the fort, trying to navigate a season that has already fallen spectacularly short of the club's minimum objectives.
The FA Cup and Champions League may yet provide some cheer, and if they do, it wouldn't be the first time that Chelsea have snatched consolation from disaster in the Roman Abramovich era. In the meantime, all Hiddink can do is foster spirit, try to build momentum and cling to every point gained, however they get there.
Liam is ESPN FC's Chelsea correspondent. Follow him on Twitter: @Liam_Twomey.