Chelsea 'betrayal' leaves Jose Mourinho on the brink
<>p>video
Chelsea's cataclysmic decline from convincing Premier League champions to top-flight also-rans continued apace on Monday night at Leicester City's King Power Stadium where a ramshackle 2-1 defeat left the London club hovering above the relegation zone.
How much longer Blues owner Roman Abramovich will tolerate such appalling performances is anyone's guess, but defeat at Stamford Bridge on Saturday against second-bottom Sunderland will surely leave manager Jose Mourinho on the brink.
Last season, as they marched to the title, Mourinho's team had an aura of invincibility about them while Nigel Pearson's Leicester, a side who'd spent the first half of the campaign marooned at the foot of the table, seemed destined for the Championship.

Leicester City

Chelsea
Game Details
How times have changed. The fortunes of both clubs could not be more different. While Chelsea's demise continues to perplex the football world, Leicester have taken the Premier League by storm. Interestingly enough, the seeds for the success at the King Power were planted by Pearson, who steered the Foxes to safety before being unjustly sacked in the summer. Such was Leicester's form at the end of the season that if the league had been played over the last nine games, they would have won it.
Despite this, when the club's owners appointed journeyman manager Claudio Ranieri as Pearson's replacement, Leicester were immediately installed as favourites for relegation by bookmakers who had Chelsea as short-priced favourites to retain their title. Nobody disagreed -- although plenty of Blues supporters, remembering the excellent job Ranieri had done in his four-year stint at Stamford Bridge, thought Leicester had made a wise choice.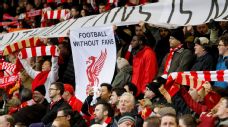 Ranieri simply maintained the team ethic established under Pearson and added his own brand of tactical nous and outstanding interpersonal skills, instilling an unshakeable belief in his players that they can not only beat the best but can actually be the best. Sounds familiar, doesn't it? Yes -- these are the very qualities for which Mourinho is renowned, and yet on Monday night his Chelsea team looked like a discombobulated bunch of strangers who had little interest in playing for each other or their manager.
<>p>video
Mourinho's gameplan should have been relatively simple to execute for players of the calibre of skipper John Terry, Kurt Zouma, Cesar Azpilicueta, Branislav Ivanovic, Nemanja Matic and Ramires. To prevent Leicester scoring, striker Jamie Vardy and midfielder Riyad Mahrez must be shackled. Prior to the game, the Foxes had netted 32 Premier League goals, with 14 of those coming come from Vardy, the top flight's leading marksman, and a further 10 from Mahrez.
It's not rocket science, but it may as well have been. The Leicester duo were allowed the freedom of the pitch by Chelsea and duly wreaked havoc. Another goal left Mourinho saying it was a "big frustration to accept [the goals] because I feel like my work was betrayed."
The Portuguese subbed off Terry on 53 minutes with the score at 2-0. The 35-year-old Chelsea captain had been made to look pedestrian by the pace of Vardy and Mahrez -- but that was always going to be a risk. That being the case, why did Mourinho make the gamble when he had a younger man in Gary Cahill, a player good enough to be a permanent fixture in the England side, available? Who was really betraying who?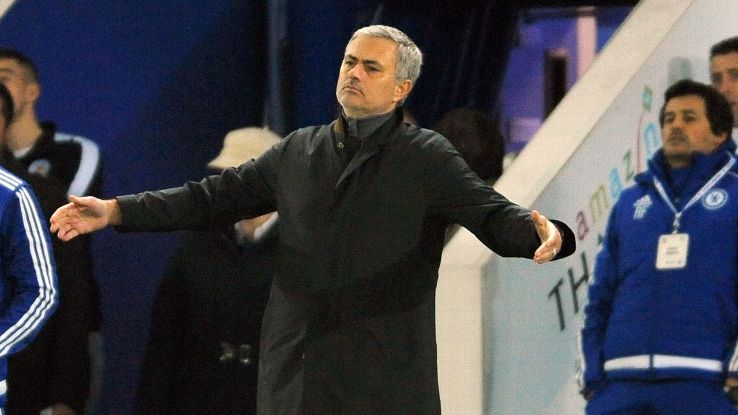 The sight of Diego Costa gesticulating at Chelsea's defence, seemingly advising them to wake up, rankled as much as the Blues backline's sleepiness. Costa's maverick attitude this season has been irksome to watch. There's no "i" in "team" -- but there is in "impostors" and that's what Mourinho's squad have become.
Ultimately, it will be Abramovich who will decide whether or not the players are betraying Mourinho and, if so, why. If the Russian decides that is the case, then what next? A January transfer window clear-out? That would be remarkable. Chelsea legend Frank Lampard, speaking about Mourinho's claims of betrayal on Sky Sports, said: "What I take from that is he's not sure where to go with it... He's not happy with them and I don't think he sees a way out." Lampard's opinion has to be respected as he knows both the Chelsea manager and the majority of the players very well.
In the wake of this latest setback, the key question that remains to be answered is whether Mourinho has lost the dressing room. Lampard said he did not know, but Terry most probably does.
Will Abramovich seek Terry's opinion or will he keep his own counsel and form his own opinion? Whatever the case may be, something has to give because the Russian is unlikely to sit idly by and watch the Blues slither into the Championship
Mark Worrall is one of ESPN FC's Chelsea bloggers. You can follow him on Twitter: @gate17marco