Chelsea Women prepare for Lyon showdown seven years in the making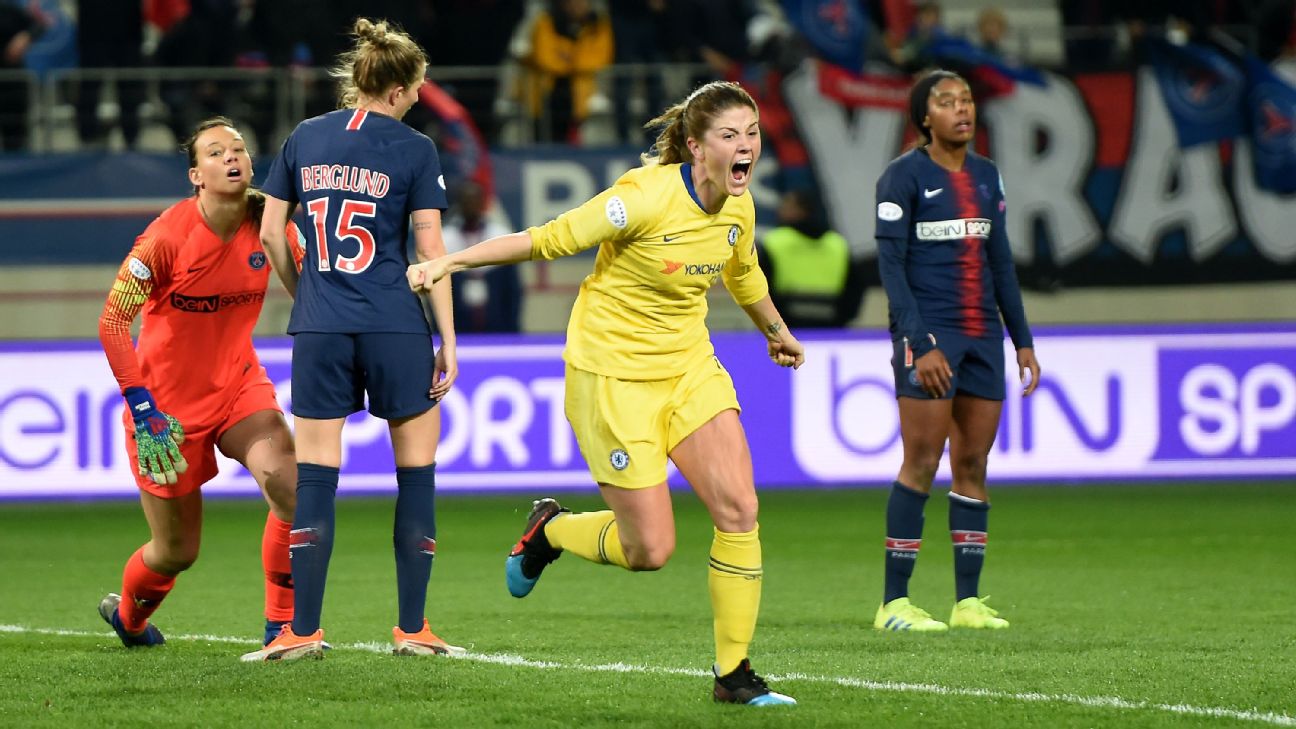 LONDON -- In the mind of Chelsea Women manager Emma Hayes, Sunday's first-leg showdown with Lyon in the Champions League semifinals is a moment seven years in the making.
"Not a week, not two weeks, not this season," she says during a 30-minute conversation in her office, which overlooks her team's plush pitches at the rear of Chelsea's sprawling Cobham training complex. "Everybody's aware of the disappointments we've had domestically, but sustained success is incredibly difficult."
English champions in 2017 and 2018, Chelsea are resigned to surrendering their domestic crown this time around. They have lost only two of their 18 matches but lie third, well adrift of an unbeaten Manchester City and leaders Arsenal with two rounds of fixtures left to play. Sunday's 1-0 defeat against City in an agonising FA Cup semifinal -- courtesy of a freakish late own goal by Magdalena Eriksson -- means Champions League glory is their last hope of silverware.
Easier said than done. No English side has conquered Europe since Arsenal won the UEFA Women's Cup in 2007 -- with Hayes as assistant coach -- and Lyon are far and away the dominant force in women's football. On the cusp of their eighth Champions League final appearance in 10 years, the French giants are bidding to win their fourth title in a row, and boast inaugural Ballon d'Or winner Ada Hegerberg as well as a galaxy of other stars within their ranks.
"I think we have to acknowledge that they're the best, and I think we have to acknowledge that we're not going to get a lot," Hayes admits. "But what I will say about my team is we always get an away goal. We have in Europe. We also don't need a lot of chances in the Champions League."
Paris Saint-Germain found that out to their cost in last month's quarterfinal second leg, with Norway international Maren Mjelde surging forward to score a dramatic away goal in injury time to send Chelsea through after Hayes' team had seen their 2-0 first-leg lead cancelled out before the hour mark in front of a hostile home crowd at Stade Jean-Bouin.
"It was like we were climbing anti-gravity paint in that game, and I was just thinking, 'Put the fire out. Put the fire out. Put the fire out,'" says Hayes. "I got to the end of the game and thought, 'I put the fire out'. The rest of it, Maren coming in to score... I asked her, 'Where did you get that from?' She said, 'I just knew I couldn't do extra time.'"
It was a moment that suggested the kind of resilience and maturity, both emotional and tactical, required to beat the very best in Europe. It was also far removed from a comprehensive 5-1 aggregate defeat against Wolfsburg, the other European powerhouse in women's football, on their first appearance at the Champions League semifinal stage last season.
"I think last year we learned we weren't quite there," Chelsea forward Fran Kirby tells ESPN FC. "We'd done so well domestically and then we came up against Wolfsburg and were outclassed. We put in a good performance, we gritted our teeth, we worked hard, but it's those fine details that win you games. I don't think last year we would have been able to do that in a game like the PSG one."
In the likes of Erin Cuthbert, Ramona Bachmann and Kirby -- voted PFA Player of the Year and FWA Footballer of the Year in 2018 -- Chelsea have no shortage of threats to trouble Lyon. In Hayes, they also have arguably the most charismatic and inspirational leader in women's football. Last season she masterminded a Women's Super League (WSL) and FA Cup double while pregnant with twins, enduring the loss of one child and giving birth to a baby boy in May.
It's difficult to spend any time in her presence and not come away confident in Chelsea's chances, even if it's clear that the unique, almost overwhelming challenge posed by Lyon is dominating her thoughts. At one point she gets up from behind her desk and walks over to a tactical white board, where she frantically moves counters around while animatedly explaining a few of the strategic decisions she faces.
"I've prepared for this for a long time, so I'm going to enjoy it," she insists. "I'm sleeping, which I haven't been for 11 months with a newborn. I've got more energy, I'm back to running, my hormones are under control, but I was a maniac before and I'm going to be even more of a maniac now."
"We need to go there with no fear," adds Kirby. "That's one thing we've said all along at this club: We want to play against the best, we want to test ourselves against them. We've fallen short now two years in a row to one of the best sides. We've worked on it, we've looked at it, and hopefully we can get a result."
Regardless of whether or not they can shock Lyon, Hayes and Chelsea have come a long way since she took over as manager in 2012. A steady stream of domestic trophies has entrenched them as perennial contenders in the increasingly competitive WSL, and European glory looks the natural next step in a remarkable journey.
"I'm ready to see how we've matured," Hayes concludes. "That's what I'm most looking forward to. Not Lyon, not the game -- I'm most looking forward to watching my players."