Marc Bartra must prove himself at Barcelona or consider leaving
Even Gary Neville would acknowledge that Barcelona's task against his Valencia side on Wednesday night is to see the job through.
A seven-goal Catalan lead from the first leg, combined with Los Che's status as one of the poorest form teams in Spain means that Luis Enrique will hope for a relatively straightforward encounter, and demand that his players commit as few mistakes as possible.
For one of the Blaugrana fringe figures likely to make an appearance at the Mestalla, avoiding errors will be particularly important if he wants to capitalise on an increasingly rare chance to impress his manager.
Brilliant on the ball, athletic and commanding in the air, Marc Bartra was once considered the future of Barcelona's defence. A fast developer as a youth, at Barca B he often looked a cut above the standard of centre-backs in the Spanish second division and the presumption was that he would continue on the same trajectory with the first team.
A few false starts aside, that hasn't happened and now the 25-year-old's situation has degraded significantly. With only 951 minutes under his belt in 2015-16, Bartra has played less than any other central defender in the Barca squad. Even Thomas Vermaelen has managed more minutes (1109), despite suffering a month-long injury earlier in the campaign.
For the sake of their fitness later on in the season, Gerard Pique and Javier Mascherano can't play every game, so when the Vermaelen's thigh problem left him on the sidelines between September and October, playing time became available.
Bartra had a window, but was unable to fully seize that opportunity, playing twice during the Belgian's seven-match absence compared to Jeremy Mathieu, who played three times. Mathieu's slight advantage over his teammate then grew and, by the winter, the Frenchman had gained a higher position in Luis Enrique's pecking order.
When Mascherano pulled up with an injury 27 minutes into Barca's meeting with Real Madrid in November, Mathieu was given over an hour in one of the toughest games of the season. Bartra wasn't even in the match day squad.
In all, the academy product has been omitted from squad lists three times since November and, tellingly, two of those snubs were in Barca's most challenging fixtures against Real and Atletico Madrid. On 22 occasions this season he has been unused by his coach despite being fit. Indeed, he didn't even manage to play a single minute in a Club World Cup mismatch with Guangzhou Evergrande.
That dynamic continues now; while Bartra is desperate for minutes at the Mestalla, it was Mathieu that was trusted with a start in the first leg of the tie. The 32-year-old delivered one of his most assured performances of the season, only making matters more complicated for his young challenger, who now needs to match that standard in Valencia.
When asked in January about Bartra's situation, Luis Enrique responded that "he has other players above him, but knows that if there is a coach out there whose opinion you can change, it's me". That may have been true in the past -- Sergi Roberto is a notable example -- but it is hard to avoid the feeling that the manager's patience is running out with Bartra.
When given a chance this season the young centre-back has looked far too uncertain in one-on-one situations and has made notable errors in judgement. Yet without regular playing time, it will be almost impossible to correct those issues.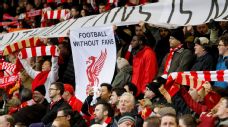 It's a Catch-22, therefore, and one that increasingly looks like it can only be resolved with a course of action the player has resisted until now. Since being promoted to the first team, Bartra has rejected multiple opportunities to leave the Camp Nou, but his former teammate Cristian Tello insists it's now time for him to go.
"He needs to play and feel important," said the winger, who is currently on loan at Fiorentina from Barcelona. "It's tough for a player to leave Barca, but to gain minutes and grow, and for the good of his career, it's a step he has to take.".
Speculation that Barcelona are in the hunt for Athletic Club's Aymeric Laporte only adds to the grim outlook for Bartra and, with a European Championship on the horizon, he needs to make headway now more than ever.
Spain coach Vicente del Bosque used the defender six times in friendlies and competitive fixtures during the Euro 2016 qualifying period, but if Bartra isn't sharp and playing regular club football, it will be difficult to justify taking him to France.
Has staying at Barca been a well-calculated gamble, or an unnecessary risk? If Bartra ends up spending the summer on his sofa, he might lament an opportunity missed.
Lee Roden is a European football writer based in Barcelona. Follow him on Twitter: @LeeRoden89.