Dani Alves awful and Neymar average for sub-standard Barcelona at Levante
A sub-standard Barcelona side could thank Levante's wayward shooting for Sunday's 2-0 win that was not representative of the true differences between the two teams in Valencia.
Dani Alves had an awful game at right-back, beaten in sprints, losing individual battles and even repeatedly giving away possession before he was withdrawn by Luis Enrique.
Fortunately for the Brazilian, both Gerard Pique and Javier Mascherano were on hand to bail him out with some impressive last ditch defending. When the Catalans went ahead early on, the move involved their two most influential creative forces of the afternoon; Lionel Messi and Andres Iniesta.
Messi drifted into the middle in the 20th minute and sucked a few opponents in before moving possession on to Iniesta, who weighted a neat pass to Jordi Alba. The left-back's cross was deflected into the net by David Navarro, to the away team's delight.
Barcelona couldn't capitalise on breaking the deadlock however, suffering for lengthy spells as Alves continued to flounder and Ivan Rakitic struggled to help him out. Only when Sergio Busquets was introduced late in the game did they finally look stable.
Even Luis Suarez was quiet, seemingly heading for a blank day in front of goal with seconds left on the clock. That changed when Messi jinked away from his man and put the striker through on goal in the final minute of added time. The Uruguayan obliged with a brilliant finish from the outside of his boot that wrapped the match up for the Blaugrana.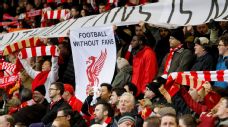 Player ratings (1-10; 10 = best. Players introduced after 70 minutes get no rating):
GK Claudio Bravo, 5 -- The keeper will be grateful Levante's shooting was so poor, as opposition attackers regularly bore down on his goal only to squander their chances. Made one good save from Giuseppe Rossi.
DF Dani Alves, 2 -- A nightmare game for the veteran, who was beaten time and time again on the right flank and regularly misjudged when to push up and when to drop back and track his man. One second half error in particular allowed Levante to attack with four players in Barca's final third. Booked for a foul on Deyverson that was a sign of his frustration, before being put out of his misery by Luis Enrique in the 73rd minute.
DF Gerard Pique, 6 -- An afternoon of contrasts for the centre-back, who was vital in cutting out multiple counter-attacks as the last man, but also suffered in individual duels with Rossi. The Italian American's invention forced two notable mistakes out of his former Manchester United teammate.
DF Javier Mascherano, 7 -- Though caught flat-footed in a couple of Levante's more direct moves during the first half, the Argentinean was otherwise solid, winning the ball back at several important moments and playing with the authority of a true leader.
DF Jordi Alba, 5 -- More incisive than Alves on the other side and more secure in defence. Made some useful runs on the overlap and capitalised on one by whipping a cross off David Navarro to force the opening goal.
MF Sergi Roberto, 6 -- Worked tirelessly to win the ball back and compensate when Barca were at their worst, and after Busquets' introduction his shift over to the right of midfield coincided with a general improvement from the away team.
MF Ivan Rakitic, 5 -- A slack first half from the midfielder only furthered the problems Alves was experiencing, but he did manage to step up after the break, winning a corner with a decent attempt and improving his overall play. Sacrificed for Busquets with just over 20 minutes to go.
MF Andres Iniesta, 7 -- Showed effortless class when supplying Alba for the opener, and on the further occasions the veteran popped up, he generally helped contributed to Barca's more fluid moments.
FW Lionel Messi, 8 -- Barca's strongest creative force in an otherwise scrappy encounter, the No.10 played a key role in the opening goal and set up several other chances that were wasted until Suarez finally took advantage of his creativity in added time.
FW Luis Suarez, 7 -- For 80 minutes Levante successfully managed to disconnect the striker from the rest of his team. But in the final phase of the second half, he forced his way into the game, pulling defenders out of position with smart runs then ending the afternoon by finding the back of the net with a classy finish.
FW Neymar, 5 -- The Brazilian went through peaks and troughs, forcing Diego Marino's first save of the encounter with a curling right-footed shot. He also took too much time on the ball in other moves, including one golden chance to put his team 2-0 up when Barca had outnumbered their rivals on the break.
Substitutes
MF Sergio Busquets, 7 -- On for Rakitic in the 67th minute as Luis Enrique looked to tighten up his team. The change worked, with the pivot closing off space, playing out of pressure and killing counter-attacks effectively.
DF Aleix Vidal, N/R -- Brought on when Enrique made an overdue change at right-back. The Catalan didn't have much time to affect affairs but was energetic on his flank.
Lee Roden is a European football writer based in Barcelona. Follow him on Twitter: @LeeRoden89.