Five-time Ballon d'Or winner Lionel Messi is continually improving
Almost inevitably, Lionel Messi has won his fifth Ballon d'Or.
The destination of the award will have surprised few. Johan Cruyff, quoted in El Pais, joked that he thought the Argentine already had five. It wouldn't have been impossible. Taking into account the total number of times he has been nominated for the prize, Messi could already have won nine.
Carles Puyol, speaking before the award was confirmed, said that if the fifth was Messi's last, it would be too few.
There is little to suggest that the No. 10 won't return to the podium next year, with a good chance of claiming his sixth Ballon d'Or. His biggest rival may well shift from Cristiano Ronaldo to Neymar, but as long as Messi wants to, he will almost certainly be there. Particularly when, as his former captain Puyol concluded, he keeps getting better.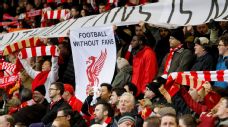 That is perhaps the most striking aspect of Messi's consistent success: his consistent improvement along the way. The initial, obvious manifestation of that was a staggering increase in the number of goals he scored. In his 2008-09 Ballon d'Or-winning season, he put away 38 for Barcelona, but by his 2011-12 win, that number had almost doubled to 73. Then there was the clear bettering of his collective, associative game. The sometimes centre-forward, sometimes central midfielder who drove the Barca team in his 2010-11 win was light years ahead of the exciting but not yet fully rounded right winger of 2008-09.
Along with pushing his strengths even further, terrifyingly, Messi has managed to focus on his weaknesses and successively reduce them to a degree that few remain. It is hard to imagine now, but there was a time when Dani Alves was one of the regular free-kick takers at Barcelona; Messi's quality from dead-ball situations generally limited him to chances closer to the goal. Now, there is one unrivalled free-kick master at the Camp Nou, capable of scoring from multiple distances and multiple angles, and he wears the No. 10. The numbers reflect the change: one goal from a direct free kick in 2008-09, four and counting at the halfway mark of 2015-16.
Throughout the past 18 months, Messi has even managed to vanquish one of the biggest weaknesses he is accused of having: a poor right foot. It is now far more common to see him opt to control the ball first time as well as cross on his less-favoured side, an obvious sign of the confidence produced from focused training work. Unsurprisingly, that is reflected in front of goal.
Prior to the 2014-15 season, the most he had scored from his right foot was 10 in a season. Last term, he increased that number by more than 50 percent, managing 16 goals on his right foot. Standout demonstrations of his newfound proficiency included a hat trick composed solely of right-footed strikes against APOEL, not to mention chipping the world's best goalkeeper on his right foot in a Champions League semifinal against Bayern Munich. There was even a period in December 2014 when he had scored more goals from his right foot (11) than his left (10) side -- unimaginable not long ago. So much for that weak foot.
In taking this year's award, Messi is now the winner of the same number of Ballon d'Or trophies as Franz Beckenbauer and Johan Cruyff combined. It's a stunning feat, and his legacy is already certain to be huge, yet at 28, he still exudes the enthusiasm and energy of a player with big goals left to meet.
Over the course of the day's events in Zurich, he twice referenced a desire to continue to add to his game and improve as a player. The challenge now is to find something else to better in the first place. He is clearly inspired by this endless quest for self-improvement and if Messi can manage to source another detail to focus on and strive for in the next 12 months, then the knock-on effect will be a return to the same stage, to collect the same trophy, this time next year.
Lee Roden is a European football writer based in Barcelona. Follow him on Twitter: @LeeRoden89.