Lionel Messi top-notch as Barcelona destroy Granada
Barcelona returned to their winning ways in La Liga with a convincing 4-0 win over Granada. Lionel Messi starred with the 33rd hat trick of his career, with Neymar also getting his name on the scoresheet late in the game. The Blaugrana, who dominated the game with an overwhelming 64 percent of possession, created 17 goal-scoring chances and attempted 16 shots, eight of them on target.
With the media and fans far more focused on their second leg Copa del Rey battle against Espanyol on Wednesday than facing Granada, there was a real danger of a potential slip-up in front of the Camp Nou faithful on Saturday. Fortunately, team captain Messi was switched on from the initial whistle and almost single-handedly granted his team a 2-0 advantage after just 13 minutes, ultimately deciding the contest.
From that point on, the Catalans' superiority at every level naturally developed into yet another comfortable home victory that would see them regain the top spot in the Spanish league table if Atletico Madrid fails to beat Celta Vigo on Sunday.
Barcelona

Granada
Game Details
Player Ratings (1-10; 10=best. Players introduced after 70 minutes get no rating):
GK Claudio Bravo, 7 -- Secured his fifth consecutive clean sheet after a game in which he remained virtually unchallenged.
DF Aleix Vidal, 8 -- An excellent league debut for the highly motivated Catalan. Caused the visitors endless trouble when overlapping Messi and tended well to his defensive duties.
DF Thomas Vermaelen, 7 -- Responded to manager Luis Enrique's trust with a commanding display at the heart of the Blaugrana back line. Solid in the air and tidy when building forward, the Belgian international proved he deserves to be ahead of both Jeremy Mathieu and Marc Bartra in the manager's pecking order.
DF Gerard Pique, 7 -- A robust performance which the No. 3 will definitely welcome after one of the most emotionally charged weeks of his career. If only his management could convince him that a player of his quality and stature should find better things to do than engaging in petty, pointless battles on social media.
DF Jordi Alba, 7 -- Wasted a clear chance to score the opener early on but went on to deliver a remarkable performance at both ends of the pitch.
MF Sergio Roberto, 8 -- The La Masia graduate was deployed as a holding midfielder from the initial whistle, deputing from the rested Sergio Busquets. As has been the case all season, Roberto excelled thanks to his immaculate fitness, faultless positional awareness and accurate passing.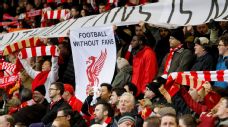 MF Arda Turan, 8 -- The Turkish international needed only eight minutes to assist Messi for his first goal, an impressive way to mark his Barcelona debut in La Liga. His creativity, hunger and freshness will be an invaluable weapon for Luis Enrique for years to come.
MF Ivan Rakitic, 7 -- Became more involved in attacking transitions in the absence of Andres Iniesta. Connected well with newcomer Turan and Barca's attacking trident, which ensured the hosts piled up constant pressure in their attacking third.
FW Neymar, 7 -- Zoomed constantly from the left wing, keeping markers unsuccessfully chasing his shadow for the vast majority of the game. Smashed the ball on the post before Messi's third. His perseverance was rewarded with a late goal, his 15th in 16 domestic league appearances this season.
FW Luis Suarez, 7 -- Provided goal assists for both Messi and Neymar, proving his ongoing desire to put the team's interests before his own once again. However, the Uruguayan striker was disappointingly wasteful in front of goal, as has been the case since 2016 began. Fans will hope that the No. 9 regains his former composure in the near future.
FW Lionel Messi, 9 -- The Argentinean record-breaker extended his legend with yet another memorable performance for the history books. While it is obvious that Granada are certainly not the most well-organised opponents in La Liga, the No. 10 was the decisive factor that tipped the balance in the hosts' favour. With 12 goals in the 11 games he's played since returning from a two-month absence for injury, nobody can deny Messi is now back to his best once again.
Substitutes:
DF Dani Alves, 6 -- Replaced Vidal at right-back after 65 minutes. The Camp Nou chanted his name as soon as he joined, showing the fans fully support his controversial attack against the Spanish media published on Instagram on Friday.
DF Adriano, NR -- Substituted Turan after 72 minutes, slotting relatively well in the Catalans' midfield. As the game was virtually won by then, the Brazilian did not feel the need to push forward desperately and remained calm on the ball instead.
Francesc Tomas is a freelance Catalan columnist who writes for Barcablog.com, WeLoveBarca and ESPN FC. Follow him on Twitter @TomasESPN.