Barcelona must regain focus after fiery encounter vs. Espanyol
The city of Barcelona is embroiled in a fierce battle and there won't be any letup for the time being. It's the Camp Nou vs. Cornella, the Blaugrana vs. the Blanc-i-blaus; Barca vs. Espanyol. At the moment, it's inescapable and the word Granada has scarcely been mentioned.
Barcelona have a league game against the Andalusians on Saturday but you'd be forgiven for not realising. Only a week ago, after a 0-0 league draw at Cornella-El Prat, there was a slightly patronising sense of how "nice" it was to have a real derby in the Catalan capital again, Espanyol enduring a four-year wait since the last time they took something from the fixture.
Any notion of pleasantries is now gone however, with a string of heated exchanges ensuring both sides of the divide are counting down the minutes until they can lock horns once more on Jan. 13.
The fans, unsurprisingly, stirred things up, with Barcelona supporters taunting their rivals by holding up a banner at the Camp Nou saying "Welcome to Barcelona," in Catalan and in Chinese, the latter no doubt directed at Espanyol's soon to be majority shareholder, Chen Yansheng.
La pancarta també en xinès. pic.twitter.com/xbm0HkxG2g

- Román Martínez (@RomanEl9) January 6, 2016
The players were involved too, with heated exchanges between them in the tunnels, not to mention in the media. In some cases, even the board members couldn't resist, Espanyol president Joan Collet complaining of the "Barcelonista media machine," that was working against his team.
A pending return leg of the derby in the Copa del Rey means the tension isn't going to go away any time soon. Local radio was still debating the fallout by the early hours of Friday morning -- yet for the sake of Barcelona's league campaign, their players will need to completely forget about it. At least momentarily.
In principle, Granada are not the most fearsome of rivals to meet this weekend. Jose Ramon Sandoval's side have just endured a 4-0 whipping from Valencia in the Copa del Rey -- even misfiring Alvaro Negredo managed to score a hat trick -- and they haven't managed a single point from any of La Liga's top six away from home this season. Yet even if Barcelona aren't tasked with the trickiest of fixtures, a distracted player is a vulnerable one and considering the ongoing fallout from the derby, there is a danger that the minds of some of Luis Enrique's squad will be elsewhere.
As exceptionally professional as Barcelona's players usually are, slip-ups can still happen, even to them. Just under a year ago, few would have backed Malaga to win 1-0 at the Camp Nou, but that's exactly what occurred. The Catalans had scored 10 goals over their two previous league games while Los Boquerones had conceded six and lost twice in the same two rounds. Barca had an unexpected off night in front of goal, Malaga stuck to coach Javi Gracia's plan with exceptional discipline and one Dani Alves lapse in concentration was all it took for the away team to score the winner. That's football.
Last year's Malaga were a better team than this year's Granada, but that doesn't mean the latter lack talent capable of causing problems for Barca. In Isaac Success and Adalberto Penaranda they have two of Spanish football's exciting young forwards. Both scored in a morale-boosting win over Sevilla last weekend, and both will be desperate to do so again.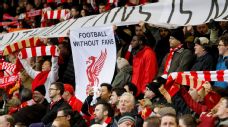 Success, the older of the two, showed sharp instincts to follow up on a spilled shot and put away the early opener against Unai Emery's team, while Penaranda's strike was one of the finest of the round. The Venezuelan pounced on a rare mistake from Grzegorz Krychowiak, darted between three opposition players, then finished accurately while off balance. Only promoted fully to the first team in November, he has scored four goals in his past four league games, and the sizable ability to take advantage of that confidence boost. Defenders, beware.
Even if there is a gulf of quality between both teams, Barcelona have drawn three of their past four league fixtures, so it would be wrong to underestimate Granada. The challenge for Luis Enrique is to make sure that his players concentrate fully, avoid any embarrassments, and pick up three points that are obligatory in order to calm any of the rising tension over recent mistakes in the league. Only then can the Blaugrana start to think about Espanyol again.
Lee Roden is a European football writer based in Barcelona. Follow him on Twitter: @LeeRoden89.