Barcelona, Espanyol must defuse tension before Copa del Rey return leg
Unfortunately, as was to be expected, the second match in four days between city rivals Barcelona and Espanyol ended up turning into another ferocious battle which produced far too many embarrassing situations that had little to do with football.
The Espanyol players adopted such an aggressive approach that they can consider themselves lucky to have reached the final whistle with only two players sent off: Hernan Perez for repeatedly kicking his opponents and Pape Diop for hurling insults toward Luis Suarez.
Rather than issue a public apology after the game, Diop explained: "You cannot say we were violent. There wasn't any blood. If we had wanted to be, the Barcelona players would have gone off on stretchers." A thoroughly charming message from the Senegal international.
However, the most shocking scene of the match at the Camp Nou happened when Espanyol goalkeeper Pau Lopez stomped on Lionel Messi's ankle for no apparent reason following one of the many Barca shots of the night. Although Lopez later explained to the media that his conscience was totally clean and his action was just part of the game, the way in which he applied force on La Pulga's shin, then used it as a platform to stand up on, was hardly an accident.
The Ballon d'Or candidate was terribly lucky to avoid injury after one the most tasteless actions the Camp Nou has witnessed in recent years. However, Espanyol captain Javi Lopez went on record to express how hurt his team felt after being branded "violent" following the game. In a move that can only be defined as comical, the Sevilla-born defender went a step further and blamed an imaginary media campaign against his club for having ended the game with nine men.
Don't get me wrong, the Barcelona players did not behave as innocent angels either. Suarez, Javier Mascherano and even newcomer Arda Turan refused to stand down when involved in the many altercations that took place during the match. In what is certainly a rarity whenever games get heated in domestic competition, overwhelmed referee Juan Martinez Munuera did not punish any Blaugranas with a red card on this occasion. Having said that, the 33-year-old referee did not hesitate to write about the tunnel bust-up following the final whistle, that provoked fiery confrontation between players, to the point that their coaches and even security guards had to take prompt action to ensure everyone's safety.
In true Luis Enrique style, the Asturian manager tried to defuse the tension by joking that both sets of players were just "singing Christmas carol"' in the tunnel -- although the Spanish authorities are not likely to believe his version of events, unfortunately.
The Uruguayan striker, who is certainly no stranger to spending long spells away from football due to his behaviour, is now at serious risk of facing disciplinary action once again. It is more than likely that the refereeing committee will issue him with a ban, predicted to be between one and three Copa matches, when they meet on Friday. If that ended up being the case, Luis Enrique would have to rely on Turan to star alongside Messi and Neymar upfront during the No. 9's absence.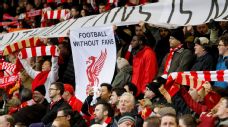 To make matters even more heated, Gerard Pique mocked the Espanyol supporters for their ongoing inability to fill their home stadium on a regular basis. These comments, which most would agree were totally uncalled for, will only add unnecessary fuel to the fire. If the return game at the 40,000-capacity Cornella-El Prat was always going to be difficult despite Barca's current 4-1 advantage, the No. 3's irresponsible comments can only make the match even more heated.
There's no two ways about it: Espanyol pushed the boundaries between aggressive and violent tackling and most Barca players were unable to keep a cool enough head. However, it is clear that the referee could and should have done far more earlier in the game to discipline those who were consistently breaking the rules. His far too permissive attitude in the opening minutes led to the spiral of non-sporting conduct that followed, regrettably.
It is certainly sad to see professionals of such calibre behaving so terribly in front of the eyes of the world and it is in everyone's interest to at least attempt to reduce the tension between both squads before the return leg, to be played next Wednesday.
With that in mind, Blaugrana captain Andres Iniesta has reportedly arranged a meeting with Lopez, his Espanyol counterpart, to discuss ways to defuse the situation and ensure that the game of football itself, not the constant tackles and complaining, take centre-stage when both teams meet again. Let's hope that Barca's No. 8, who is considered in high regard by the Perico squad and fanbase due to his friendship with former captain and club legend Dani Jarque, can use his influence and instil some much-needed sense into both sets of players.
Considering the many titles Barcelona have their eye on this season, the ideal scenario would be maintaining their current 4-1 advantage and qualifying for the next without losing anybody due to injury in the process. Whether the Espanyol players are prepared to give up without an aggressive fight in front of their infuriated home crowd is highly unlikely, however.
Francesc Tomas is a freelance Catalan columnist who writes for Barcablog.com, WeLoveBarca and ESPN FC. Follow him on Twitter @TomasESPN.