Barcelona frustrated by woodwork and aggressive Espanyol side
Barcelona could only manage a 0-0 draw against city rivals Espanyol in round 18 of La Liga. Despite securing 72 percent of possession and creating 10 goal-scoring chances, none of Barca's seven shots on target were good enough to secure the away victory. Being denied by the posts twice did not help their case, either.
As is normally the case, Espanyol played an aggressive game from the opening whistle, which, unfortunately, managed to take the Blaugrana's mind off displaying their best football. While the visitors were largely in control, it was an evenly contested match, given the lack of attacking clarity at either end of the pitch.
Barcelona, who failed to find an opponent's net for just the second time this season, added their third draw in their past four La Liga matches. While the situation is still far from alarming, it is clear that Luis Enrique can not be fully satisfied after his team missed yet another opportunity to break free at the top of the table.
Espanyol
Barcelona
Game Details
Player Ratings (1-10; 10=best. Players introduced after 70 minutes get no rating):
GK Claudio Bravo, 6 -- A relatively comfortable game for the Chilean goalkeeper, who was only forced to make one save to secure his fourth consecutive clean sheet.
DF Dani Alves, 4 -- The Brazilian full-back was definitely not as accurate on the ball as he would have hoped, particularly when crossing the ball into the box. He did not look comfortable defensively, either.
DF Javier Mascherano, 5 -- Forced to bring out his inner warrior to step up to the aggressive challenge posed by the Espanyol forwards, making some uncharacteristically clumsy tackles in the process.
DF Gerard Pique, 6 -- Although it was certainly not his best performance in terms of passing, Pique's continued focus, fighting spirit and determination were crucial for the Blaugrana backline to remain unbeaten.
DF Jordi Alba, 6 -- While he was clearly eager to push towards the Espanyol byline and provide his forwards with quick passes into the box, Alba's defensive duties stopped him from making a significant difference up front.
MF Sergio Busquets, 6 -- The leader that ensured Barcelona's spine remained consistent. Responded with prompt tackling when being faced with the rare counter-attacking transition, which helped his team remain in Espanyol's third for the vast majority of the game.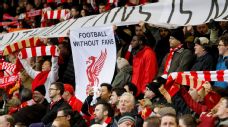 MF Ivan Rakitic, 5 -- The Croatian international was not as inspired as he usually is; definitely impeded by the hosts' relentless pressing. Despite working tirelessly to create an opening, failed to find a decent opportunity to shoot from long range.
MF Andres Iniesta, 5 -- Similar to Rakitic, the No. 8 found it impossible to dominate the game with his traditionally efficient passing across the park. The target of constant tackles, the Albacete-born playmaker should be disappointed after being held to one of his poorest performances in recent memory.
FW Neymar, 7 -- Without a doubt, the most incisive Blaugrana at the Lluis Companys stadium. Although the Brazilian failed to find the net, his relentless effort to break free of his markers and eagerness to get involved from the left flank was the crucial element that kept Barca's hopes alive until the final whistle.
FW Luis Suarez, 6 -- Will be frustrated after hitting the post following a fantastic individual play that could have unbalanced the game in Barcelona's favour. The Uruguayan's physicality and courageous spirit helped him in his constant battle with the Espanyol centre-backs, but that was just not enough to beat Pau Lopez.
FW Lionel Messi, 6 -- Drifted toward the middle more often as the game developed in an attempt to get more involved, but failed to celebrate the new year with the game-winning goal his team was so desperately craving. Smashed the crossbar with a a superb free kick that certainly deserved better. In what was a rarity, allowed his frustration to shine through in the dying minutes.
Substitutes:
MF Sergi Roberto, NR -- Replaced Rakitic after 71 minutes. Contributed with meaningful passes across the midfield, but was just not as incisive as his team needed him to be.
Francesc Tomas is a freelance Catalan columnist who writes for Barcablog.com, WeLoveBarca and ESPN FC. Follow him on Twitter @TomasESPN.