Barcelona's Claudio Bravo among the world's best goalkeepers
Claudio Bravo's year has been an astoundingly good one by anyone's standards. After almost a decade of toiling away in Spain with inconsistent Real Sociedad, one season at new club Barcelona was all it took for the Chilean to win his first La Liga title. Better still, his excellent league campaign was rewarded on an individual level, when he took home the Zamora Trophy for conceding the fewest goals in the Spanish top flight.
To top things off, the 32-year-old made history at international level in the summer, winning the Copa America on home soil in July. Playing every game in Chile's first ever trophy win, he was vital to their success in the final against Argentina, stopping a penalty in the decisive shootout.
Despite all of those achievements, Bravo could still have one gripe about the last 12 months: he has missed out on a slice of Champions League glory, and all the recognition that comes with it. While Marc-Andre ter Stegen's role in their 2014-15 win saw him recognised with a spot in the Champions League Squad of the Season as well as the Save of the Season award, Bravo could only watch on while the Blaugrana returned to the top of the pile in club football's biggest competition. He would instead have to content himself with maintaining solid performance levels in the league, to lesser fanfare.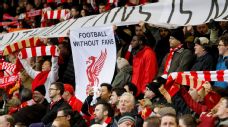 The last four months have produced two pivotal moments in Bravo and Ter Stegen's battle for Barca goalkeeping supremacy. The first arrived in September, when an injury to the older of the duo meant that the young German finally made his league debut for Barcelona, giving him a golden chance to seize the weekly starting position at the Camp Nou. He couldn't take advantage of his opportunity though, conceding in every one of his four league games in Bravo's absence, including a 4-1 loss to Celta Vigo that raised questions over just how ready Ter Stegen was to play every game at one of the toughest clubs in the world.
That meant a return to the status quo once Bravo was fit, with one keeper playing the cup games and the other the league, but in the last few weeks there has been a sign that the balance of power could now shift once more. When Barcelona travelled to Japan for the Club World Cup, Ter Stegen would have expected to start just as he had done in every other knockout tournament since arriving in Catalonia. Instead, Luis Enrique put his faith in Bravo, picking him in both of Barca's games while the younger keeper observed unhappily from the bench.
The Asturian's decision was rewarded with a sum of zero goals conceded by his team; Bravo consistently solid over 180 minutes. In the 3-0 final win against River Plate he was particularly outstanding, proving alert when called upon sporadically in the first half, before producing an exhibition of tricky saves in the dying minutes as River looked for a consolation goal. First, he showed astonishing agility to leap high and tip a powerful Lucas Alario header over the bar. Then, he went one better by getting his fingertips to a Gonzalo Martinez shot that was swerving unpredictably in the air, somehow managing to push it off the post to keep his clean sheet.
Lionel Messi, Neymar and Luis Suarez stole most of the attention in Japan, but while their excellence was nothing new, Luis Enrique will have taken more from the performance at the other end of the pitch. The goalkeeper's unwavering concentration and sharp reactions showed that he is just as viable an option for a decisive cup game as rival Ter Stegen is. Considering the Club World Cup is the only final Barcelona have managed to keep a clean sheet in under Luis Enrique, it could even be argued that Bravo is the safer choice.
The more consistent of the two keepers, Bravo has gone about proving his worth in a typically understated way. Ter Stegen catches the eye with his adventurous style, spectacular reaction saves and ambidexterity, but Bravo's less flashy qualities tend to pass without gaining the recognition they deserve.
With strong hands that permit him to tip powerful shots away with only a single palm, he is also an intimidating presence in the air, rarely troubled by crosses. Despite his bulky frame, Bravo is agile, not afraid to come off his line to either participate in play with Barcelona's advanced defence or kill off an opposition attack.
While Ter Stegen's high-risk approach to solving problems can create a tangible air of panic at the Camp Nou, Bravo is the opposite, exuding calm thanks to faultless decision-making that is too easily overlooked. He may not be as much of a showboat as his younger competitor, but Barca's No. 13 is no slouch with his feet either: his touch is excellent, his distribution almost always sound.
There are few faults to be found in Bravo's game these days, something that can be said about few players in his position. The spectacular levels he has attained this year mean it is time to start recognising him as one of the best goalkeepers in the world, and had he played in European competitions then he surely already would be.
Bravo may not rush out to the half-way line to attempt diving headers like Manuel Neuer, or try to win throw-ins by taking on wingers on the flank like Ter Stegen, but the number of high-profile errors he makes over the course of a season can be counted on one or two fingers. That is no small feat.
This year was already an outstanding one for the Chile international, but Luis Enrique's line-up decision in Japan suggests 2016 could be even better. The Barcelona coach now has proof that Bravo could produce the goods in a knockout competition like the Champions League, and if he decides to capitalise on that by playing him in Europe, then greater recognition of his world-class ability will surely follow. In any case, the stopper will continue to go about his business quietly, and spotlessly, as always.
Lee Roden is a European football writer based in Barcelona. Follow him on Twitter: @LeeRoden89.