Luis Enrique boosted by rising star Wilfrid Kaptoum at Barcelona
Barcelona will struggle to take anything positive from their 0-0 draw with CF Villanovense in the Copa del Rey on Wednesday night.
Aside from the lack of goals, the Blaugrana's performance also lacked spirit; too many players simply went through the motions, running down the clock and thinking about the flight back to Catalonia.
There was, however, one notable exception. One footballer who played with vigour, joy and the creativity necessary to earn the right to be a Barcelona player. While the majority of his teammates failed to turn up, Wilfrid Kaptoum turned on the style from the kick-off.
Picking up the ball in the middle of the pitch with less than three minutes played, he shrugged off a challenge then drove forward, dribbling past another opponent with ease and laying down a marker for how his night would go.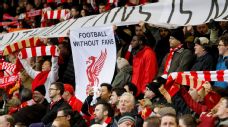 He was at it again minutes later. Robbing the ball this time, he changed pace, then burst into the box before being sandwiched by two desperate defenders. Over and over, Kaptoum attempted to eliminate rivals from the equation, sometimes charging at speed and other times putting on the brakes. In only 64 minutes on the pitch and in his competitive first team debut, the B team player proved Barca's best on the night by some distance.
Kaptoum is something of a hidden gem, a secret well kept by Barcelona whose talent outweighs his fame. Despite making his Barca B debut in August 2014, he has largely been kept away from the Spanish second division's television audiences -- and by extension eyes beyond Spain -- due to lengthy spells out of action with injury. Had he stayed fit, there is little doubt the midfielder's name would be doing the rounds alongside the likes of Sergi Samper in the ranks of young talents destined for bigger things.
The Cameroonian was one of 10 players brought from his home nation to Barca through the Samuel Eto'o foundation between 2005 and 2008; striker Jean Marie Dongou perhaps being the best known of the crop. The majority of those players have subsequently left the club as only four remain at Barca B.
Dongou, currently in his fifth season with Barcelona's second team, now seems unlikely to make the final grade, having failed to push on significantly despite ample playing time over the last four years. Defender Frank Bagnack has also proven unable to progress adequately, while goalkeeper Fabrice Ondoa struggles to get off the bench. With Kaptoum, however, there is hope.
Blessed with exceptional balance, the 19-year-old's quick feet are married with a natural love of the attacking side of football that gives him the spirit to quickly forget about a failed dribble, then drive at an opponent once more.
Time in the Barca academy has also helped refine the weaker side of his game. Unlike most of the players who came from the Eto'o foundation, he has managed to develop his tactical understanding significantly, a key factor in his continued presence at the club.
He is sometimes prone to giving away possession, but that is inevitable from a player who likes to take people on and with a good work ethic when out of possession, he makes up for those losses elsewhere. Barca TV presenter Jaume Marcet, one of the true experts on the club's academy, has likened the attacker to a young Thiago Alcantara and while comparisons with the Bayern man are perhaps a touch unfair at this stage, there is certainly a resemblance in his poise and rhythm.
Alex Gomez coached Kaptoum shortly after he arrived in the Catalan capital from Cameroon, and couldn't think more highly of his former pupil: "He has a great vision of the game, when it's time to work hard, he works hard. He's very complete, and he's the kind of player every coach would want in his team," he said.
Barca B coach Gerard Lopez evidently agrees, as he has given Kaptoum match time in every one of the team's third division fixtures since the player was declared fit in early October.
Judging by Wednesday night's starting line-up against Villanovense, Luis Enrique concurs too. Opting to hand Kaptoum a place in his first XI ahead of fellow youngster Aitor Cantalapiedra suggests the Asturian saw something he liked, and responding in turn with a noteworthy performance will have done the hopeful no harm.
With midfielders that can carry the ball a particular weakness of Luis Enrique's, it seems inevitable that more first team action will come for the B team star, provided he can stay fit and continue to learn.
Lee Roden is a European football writer based in Barcelona. Follow him on Twitter: @LeeRoden89.