Barcelona icon Laszlo Kubala, the man who shaped the club's history
Before Lionel Messi, Ronaldinho and Johan Cruyff, there was Laszlo Kubala. The Hungarian's time at Barcelona came well before the days of YouTube or even colour television, but his legend at the club persists strongly to this day, marked most clearly by the towering bronze statue of him that stands in the grounds of the Camp Nou.
On the 65th anniversary of his debut in the Blaugrana shirt, it is worth looking back at the player who -- as the Joan Manuel Serrat song goes -- even Pele, Diego Maradona and Alfredo Di Stefano couldn't touch.
Kubala was a true superstar of his time who caught the attention of locals so well that it was necessary to build the Camp Nou just to accommodate them. His route to Barcelona was incredibly complicated. He was born in pre-World War II Budapest, and when he was a child, his mother was concerned that he dedicated too much time to football and not enough to books, but in hindsight she needn't have worried.
At age 15 he played his first top-flight game, and at 17 he made his international debut for his birth nation and earned his first contract with Ferencvarosi TC. In what became a theme in his early career, he was soon on the move, beginning four years of journeys north, and then south again, in order to avoid military service in both his home country and the Czechoslovakia of his parents.
In 1948 he risked his life by fleeing communist Hungary, seeking to earn a decent living as a professional footballer and avoid participating in the propaganda of the regime.
Dressed as a soldier, he crossed the border first into Austria, and then Italy, where he lived in a refugee camp in Rome for a period. Undeterred, he continued to train, playing football in the camp and eventually helping to form a team comprised of its inhabitants. The side would eventually travel to Spain to play against the Spanish national team and Real Madrid, among others.
That tour proved to be pivotal in Kubala's story, as it would bring him into contact with then-Barcelona sporting director Pep Samitier. After watching Kubala, Samitier wasted little time in making an offer. There was only one problem: After being reported to FIFA as a defector by the Hungarian football federation, it wasn't clear that Kubala could legally play for any club in the first place. According to Jimmy Burns in "La Roja: A Journey Through Spanish Football," Samitier simply told the Hungarian attacker not to worry; Barca would fix it.
Fix it they did, and though the details of exactly how that was achieved are murky at best, it is believed that the sporting director used connections within the Franco regime to get around the red tape. The fact is that Kubala was cleared to play professionally within a year. His deal earned him seven times more than Cesar Rodriguez, Barcelona's then-icon and the club's all-time top scorer for decades.
Kubala made his Barcelona debut on Oct. 12, 1950, in a 4-0 friendly win over Osasuna, and it didn't take long for his teammates and coach to figure out that the side should be built around him.
"The coach, Ferdinand Daucik, used to give instructions to the starters, and Kubala would come over and give his own to the substitutes. On the pitch we'd do what he told us, and in many instances we'd perform better than the starters," noted his former Barca companion Francisco Canovas.
By the time Kubala was finally allowed to make his La Liga debut in April 1951, he had already spent months training with and shaping the team to his liking, further amplifying his impact.
Kubala had everything, and watching the still-impressive footage of him in his pomp, it isn't difficult to believe that assessment. Incredibly robust thanks to his love of amateur boxing, he was also capable of pirouetting on the ball or using a drag-back to dumbfound defenders and goalkeepers. To top it off, he possessed a finishing touch, scoring 280 goals in 345 games in 11 years in a Barca shirt.
The stunning individual numbers translated into trophies. Thanks largely to Kubala's inspiration, Barcelona won the league, domestic cup, domestic Super Cup, Latin Cup and Copa Martini & Rossi all in one year, in 1952.
Known thereafter as El Barca de les Cinc Copes (The Barca of the Five Cups), that legendary side would later be in the forefront of the news again when Pep Guardiola's Barcelona went one better by winning six trophies in 2009.
Kubala's success wasn't fleeting. Another three league titles, four domestic cups and even two Inter-Cities Fairs Cups followed the five-trophy season, but there was one title that would remain conspicuous in its absence.
In 1961, having eliminated Real Madrid in the first round, Barca lost the European Cup final 3-2 to Benfica. Kubala, who was by then in his mid-30s, hit the post twice against the Portuguese club. That Kubala is remembered as one of Barcelona's greatest ever despite failing to win the European Cup perhaps says as much about his class as converting one of those two chances in the final would have.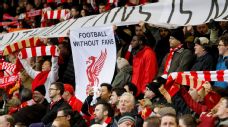 What certainly also helped was that his love affair with the club and the city of Barcelona continued long after he stopped playing for Barca in 1961. He went on to coach his old team twice, once in the 1960s and once in the 1980s, while he also played for the unofficial Catalan national team on several occasions.
His last game in a Catalan shirt came in 1993; at the age of 65, he played the first 10 minutes of a friendly against an International XI at Barcelona's Olympic Stadium. He continued to train regularly late into his life before he died at the age of 74 in May 2002.
The title of Frederic Porta's 2012 biography of Kubala is "The Hero Who Changed Barca's History," and that phrase sums up his importance to the club. A before-and-after moment is marked by his arrival: Without him, Barcelona's trophy cabinet would be significantly less full, and without his ability to fill Les Corts to the rafters, the plans to build the Camp Nou may not have pressed ahead.
Lee Roden is a European football writer based in Barcelona. Follow him on Twitter: @LeeRoden89.