Barcelona still hold the aces
With four goals apiece in their World Cup groups, Neymar and Lionel Messi are currently leading their sides to what could shape up to be a final between Brazil and Argentina.
The often spouted theory that both Messi and Neymar were saving themselves last season for a tournament in which their countries would badly need them is definitely picking up pace.
Meanwhile, sitting in front of his television in Barcelona, new head coach Luis Enrique has homework to do and needs to come up with a plan that allows the two players to work effectively together for Barca next season.
- Report: Alves eyes Barcelona captaincy
- Report: Barcelona signs goalkeeper Bravo
- Report: Suarez 'always had Barca dream'
In general terms, it has been a mixed bag for the 12 players who left the club bound for Brazil in May after the disappointment of losing that La Liga title in the last 45 minutes of the season to Atletico Madrid.
While Cesc Fabregas has already been sold to Chelsea, some are still considering moves or retirement while others contemplate legendary World Cup winning status with their countries.
Leaving to one side Spain's early and unexpected departure from the competition, let us dwell on what successful campaigns would mean for Barca.
Safe on home soil, Neymar is quickly forgetting what was a turbulent first season at the Camp Nou and has produced goal-scoring performances for Brazil. Now he is set to meet Alexis Sanchez's Chile in the last 16 on Saturday.
Neymar is carrying the enormous weight of the host nation on his shoulders remarkably well, and appears much more at home in a more central attacking position with Brazil than he ever did on the left hand side for Barca last season. While he did show flashes of genius last term, he will be expected to up his game in his second season at the club. Enrique will be carefully watching for clues on how to get the most from the mercurial talent.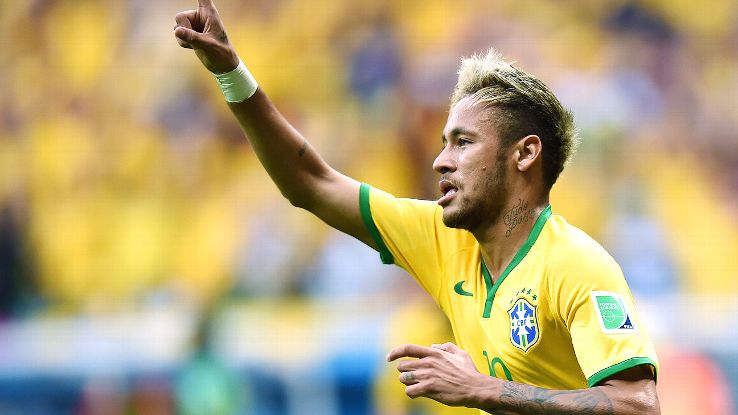 Sanchez and his Chile side will provide Neymar's team with their first real test and while his Barca future may be up in the air, one Chile player who did sign for the club on Wednesday was goalkeeper Claudio Bravo from Real Sociedad, and he will be trying to keep Neymar out in the last 16 clash. A good knockout stage from Sanchez could also win him a future at the club with Barcelona seemingly willing to listen to offers for him and Pedro Rodriguez at the moment.
With two first half goals against Nigeria on Wednesday, Messi is well on his way to fulfilling his potential and being one of the stars of this World Cup. The brilliant injury time winner when his country needed it against Iran in the second game was reminiscent of what he has done on so many occasions for Barca, but failed to consistently do last season when the key games came thick and fast.
Messi's two goals against Nigeria confirmed that he is back and in top form, something Barca will need if they are to push for major honours next season. With the added luxury of being rested for the final half hour, he will be ready to go again in the last 16 next Tuesday against the runners-up from Group E.
On the negative side there will be worries over Gerard Pique whose World Cup lasted just one game as the Netherlands thrashed Spain 5-1, but with time on his side he should be capable of coming back stronger and proving himself as a top centre half.
From a Barca point of view Andres Iniesta's performance in Spain's final face-saving win against Australia will give hope that he can rise again and still be a force in a Barca midfield in which he is likely to lose his long-time partner Xavi Hernandez. As he ages, Iniesta could be asked to take more of a Xavi-like role and sit deeper and more centrally to provide the type of passing that destroyed the Australians.
It was the kind of display the country of Spain had cried out for in the opening games from both Iniesta and Xavi, the latter being dropped for the second game after a tired performance against the Dutch. However, Iniesta will still have a role to play for Barca and how he fits in with Croatia captain Ivan Rakitic in that new look midfield will be key.
Rakitic showed signs of his driving power play in his side's three games, and although Croatia could not advance, he proved he will take the step up to the next stage of his career in stride.
Dermot lives in Spain, where he freelances for several publications, including AFP and the Press Association. Follow him on Twitter @dermotled.