Borja Baston may be the answer to Atletico Madrid's lack of goals
Following a meek surrender to Celta Vigo, Atletico Madrid now have to pick themselves up and travel to Barcelona this weekend for a top of the table six-pointer. Lose and the Catalan outfit have a significant gap in first place and what seems like a cakewalk to the title. All that hard work in the first half of the season could be undone. Gulp.
If that were not enough pressure, the end of the transfer window is nigh and a subsequent 12-month transfer ban is staring Atleti down the barrel. It is not exactly furious seas unsteadying the Diego Simeone-piloted ship, however there is a sense that trouble could be lurking in the distance.
As in last Sunday's 0-0 draw with Sevilla, Los Colchoneros' limitations up top were badly exposed on Wednesday and there is, all of a sudden a sense of urgency, and worry engulfing the Vicente Calderon.
Antoine Griezmann and the defence have enjoyed such brilliant seasons to date that the 'terrible trio' of strikers comprising Jackson Martinez, Fernando Torres and Luciano Vietto and their failings have gone somewhat under the radar.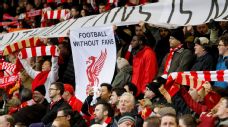 Martinez and Vietto, in particular, have been little more than abysmal. Signed for a combined €55 million, they have managed just three -- yes three -- La Liga goals between them.
Vietto has been given the nod as the side's first-choice striker of late and his performances have been so ineffectual that the Calderon crowd have now started to get on his back every time he misplaces a pass or meekly finishes when well placed (which, admittedly is quite often and the frustration is understandable). He is only 22 and will learn, but he looks nothing of the player who lit up Spain's top flight with Villarreal last year.
Jackson, meanwhile, did not even make it off the bench in midweek as Simeone elected to make just two substitutes while chasing the game -- speaking volumes about the levels of confidence the Argentine has in his big money forward.
Torres's case is a little different, given he is 32 years old, however he has not scored since September and has only contributed two league goals this campaign. In total Atleti's three No. 9s have managed five goals between them in La Liga.
When the clock strikes midnight on Monday, Los Rojiblancos will, in theory, have to make do with the squad they have until summer 2017. That means a potential further 18 months of Jackson and Vietto struggling, in addition to the possible departure of Griezmann following the Euros this summer and the seemingly inevitable parting of the ways with El Nino once his loan deal expires.
It is a far cry from the days of (a young) Torres, Sergio Aguero, Diego Forlan, Radamel Falcao, Diego Costa and even (retrospectively) Mario Mandzukic making the transition from one world class forward to another look so simple.
The future up front, if this season and these players are anything to go by, on the face of it looks bleak. If Atleti do not act soon enough, they will live to regret it and the word coming out of the club is that no further signings are expected before the window slams shut.
However, the answer to such striking woes might actually be closer to home in the shape of a player already on their books who is proving to be one of the best young players in the league this season: Borja Baston.
Many might be wondering "who?" But his is a name that should immediately jump out to followers of Spanish football. Borja Gonzalez, to use his full name, joined Atleti's youth system aged just four and set it alight from there on in, eventually graduating to Atletico's B team.
After making the transition to the reserves look easy -- scoring 16 goals in 28 starts for the second string between 2009 and 2011 -- he was then loaned out to gain experience in the Segunda. Spells at Murcia, Huesca and Deportivo La Coruna followed as the path to the first team at the Calderon was blocked. Baston, however, never stopped scoring.
Last year, with the arrivals of Mandzukic and Raul Jimenez, he was allowed to join Zaragoza for their promotion push. He fired in 22 league goals as the side from Aragon reached the playoff final before falling at the final hurdle to Las Palmas.
Frustratingly for the academy graduate, the signings of Vietto, Jackson and the return of Torres 12 months ago meant he faced another year away from the Spanish capital. This time, he was given the chance to play top flight football and joined this season's surprise package Eibar on loan.
Playing regularly, he has taken to La Liga like a duck to water. He has racked up 14 league goals thus far this term (almost triple the amount Atleti's three forwards have) and has fired the minnows to sixth in the table. All this aged just 23.
Baston has two more Liga goals than Griezmann (12), who many consider to be playing out of his skin. He has scored one more than the man many are crying out to be included in Spain's Euro 2016 squad, Aritz Aduriz (13). Five more than Paco Alcacer (nine), who is nailed on to go, and just two fewer than superstars Neymar and Cristiano Ronaldo (16 each).
He is the top Spanish scorer in Spain's top flight and, somewhat unbelievably, has even managed to bag three more than Ballon d'Or winner Lionel Messi.
The Spanish media have reported of late that Simeone has been a keen observer of Baston's exploits in the Basque country this campaign and is planning on having him involved next season in place of Torres: but why wait? With the club still joint top of the league, surely they should act now.
The club must do whatever it takes to get him back as soon as possible. If they have to pay a fine to cancel his loan spell, so be it. If they have to pay a fine to the league for breaching the deal they had agreed, so be it.
What price for 14 more goals from a forward this season? More pertinently, what price for a forward who can occupy defenders and at least look like he is capable of doing something? And what better to excite the crowd than another academy graduate? Quite possibly the league title.
Joseph Walker covers Atletico Madrid for ESPN FC. Follow him on Twitter: @Joe_in_espana.