Premier League Preview: Aston Villa
Lessons from last season
These are challenging times for Aston Villa, with a series of surprising events unfolding since the end of the 2013-14 season. Randy Lerner's admission to searching for a buyer to end his eight-year ownership of the club briefly raised supporter hopes of fresh investment and a resetting of strategy and direction.
There has been no progress on that front, while the departure of chief executive Paul Faulkner early in July only added to the sense of confusion.
Events took a further bizarre twist when it became apparent that the handful of senior players who have been ostracised from the squad in the last two seasons would be welcomed back; thus, Darren Bent, Alan Hutton and Shay Given have all been involved in Villa's early preseason matches.
On the positive side, the re-inclusion of these players at least suggests Paul Lambert has realised his team needs experience. That's one of the key lessons the Villa manager has learned during his time in charge -- he can ill afford to overlook the qualities of players who have been operating at this level for years.
As such, any new signings have been seasoned pros -- outgoing have been one or two who looked out of their depth in 2013-14.
Predicted starting lineup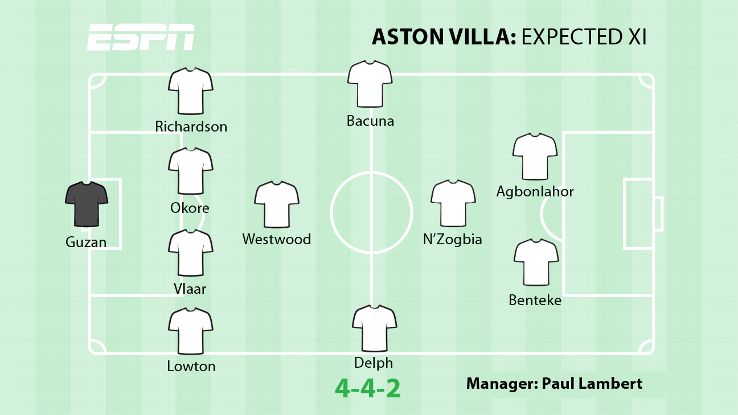 What's new?
Lambert had signed three new players by the time the squad departed for a two-match tour of the USA; two, Philippe Senderos and Joe Cole, were free transfers, while the third, Kieran Richardson, was for a nominal fee.
All three provide options and depth in positions where Villa were weak in last season. The fact that they are all the antithesis of the kind of player Lambert would have targeted two years ago shows how his thinking has modified: the "build for the future" model has been placed on pause, if not rejected entirely.
But the most intriguing new arrival was that of Roy Keane, brought in as assistant manager -- an announcement that triggered more headlines than the trio of playing recruits. A former Premier League manager himself, it will be fascinating to see how Keane adapts to working with Lambert, and what kind of improvement he can coax from the Villa players.
The public persona might be of an angry man, but Keane has a real opportunity here to establish and enhance his coaching reputation.
PREMIER LEAGUE PREVIEWS
As we count down to kickoff on Aug. 16, ESPN FC previews all 20 teams in this season's competition. Can Burnley, QPR and Leicester stay up? Will the new signings of Alexis Sanchez, Diego Costa and Adam Lallana help usurp Man City's crown? Will Manchester United get back on track under Louis van Gaal?
Strengths
Villa's squad is stronger than last season, and does look better balanced than a year ago.
It's sometimes said, with tongue in cheek, that a fit-again player is "like a new signing" but in Villa's case this is genuinely true -- the club should have half a team available again a couple of months into the season.
Jores Okore, Charles N'Zogbia, Libor Kozak and Christian Benteke -- and to a lesser extent, Samir Carruthers, who may challenge for a first-team squad place -- will all return after serious injuries, while Bent, Hutton and Given all appear to have opportunities to re-establish themselves.
In terms of specific positional strengths, when all players are fit and present, Villa should carry some attacking threat, with Gabby Agbonlahor and Andreas Weimann complementing Benteke, Bent and Kozak, giving Lambert several "types" of strikers to utilise.
Villa also have one of the best goalkeepers in the Premier League in Brad Guzan.
Weaknesses
There are concerns in several areas of the team, frankly.
Both full-back positions were problematic last season, with Matt Lowton suffering a dip in form at right-back, to the extent he was regularly dropped in favour of the versatile Leandro Bacuna.
At left-back, Antonio Luna was a failure, Joe Bennett unfit for too much of the campaign, and Ryan Bertrand was drafted in on loan in January.
A pair of consistent, regular full-backs would be an improvement -- as things stand, Lowton and Hutton will contest the right-back slot, while Richardson and Bennett will do the same at left-back.
The centre of defence has been an issue for Villa recently, too, and hopes rest mainly on the shoulders of captain Ron Vlaar and Okore. Yet Vlaar, with just a single year remaining on his contract, has been linked with a handful of clubs after an excellent World Cup, and Okore's Premier League career extends to just three games.
The worry is that the club's three other central defenders -- Ciaran Clark, Nathan Baker and Senderos -- are not reliable enough on a regular basis.
Villa's midfield also needs strengthening, and this should be Lambert's priority before the end of the transfer window. Aside from Ashley Westwood and Fabian Delph there is little of substance in the centre of midfield; this team needs a player to command and influence the game from that position.
Creativity from midfield should be improved with input from Cole and N'Zogbia, and the emergence of Jack Grealish, a genuinely exciting young talent.
Manager - ESPN FC profile
If Lambert considered the job a challenging one when he was hired two years ago, a penny for his honest thoughts right now.
The Villa manager is in a tight spot: essentially operating as a caretaker boss while the club is up for sale. It's inconceivable that, should a takeover occur during the season, the new ownership would retain him instead of conducting their own recruitment.
Lambert knows this, which is why his transfer activity has focused on footballers who can hit the ground running. The manager's body language towards the end of last season betrayed a tired and frustrated individual. He's on something of a hiding to nothing, but hopefully the arrival of a strong personality beside him, in Keane, has revitalized him somewhat.
Whatever the future holds for him, Lambert's immediate task is to get the best out of the squad, and find a style that works for this group of players. Too often last season, he persisted with a setup that didn't suit, using strikers as wide players and relying on a counterattacking plan first and foremost.
That has to change if Villa are to improve. A 3-5-2 system might be wise.
Key player
Among a squad that lacks top-class talent in abundance, Christian Benteke stands out like a beacon of light.
Despite missing almost a third of the Premier League season in 2013-14, the Belgian still managed 10 goals.
The striker's overall record for Villa is 29 goals in 60 league games -- a ratio to rival the very best. Until his Achilles tendon injury in March, Villa stood every chance of finishing in 10th or 11th position, but without Benteke the team's form collapsed completely.
The positive news for Villa is that he is making good progress, and was seen involved in light training during the club's two-match tour of the USA. He shouldn't be rushed back, by any means, but a return in October is a possibility, and Villa offer a significantly stronger attacking threat with him in the side. Benteke transforms the dynamic of the team almost completely.
The bottom line is that there are very few of Villa's nearest rivals -- those in the lower half of the league -- who have a striker as complete and prolific as the 23-year-old.
Predicted finish: 14th
The forecast can hardly be a positive one, given the experiences of the past three seasons, the turmoil off the field and the transfer activity so far. There is no ambition to drive the club forward, and seemingly no objective in place other than to keep the team ticking along without spending even a modest amount of money, and to stay in the Premier League.
Two or three new signings of proven quality would really transform Villa, but there seems little prospect of this occurring without a takeover going through and bringing fresh investment. At the time of writing, too many of the current squad are merely average at this level.
An ideal scenario sees Vlaar and Delph signing new contracts to extend their stays; Benteke, Kozak, N'Zogbia and Okore all roaring back to prime form after their respective serious injuries; Cole and Bent recapturing their vintage best; Grealish blossoming into one of the Premier League's most exciting young creative players; and Lambert given the funds to acquire a midfield general.
That's the dream, but with all that has happened at the club in recent years, it's rash to expect anything other than another campaign of inconsistent results and performances, and a finish around 14th. Sadly, unless real change is on the horizon, that's as much as Villa can hope for.